Running an IT Industry then just imagine the customers as fish and if you want to catch-up all of them for your work then there is a requirement of a net to catch them. Here a Net means software that can help you and we have a stellar software for you which is known as Customer Relationship Management (CRM). Let's get an insight into the role of CRM in the IT industry.
Daily you find a hassle to fulfil the need of the customer and the best part is you don't ignore this. Customers are the one that helps you to build up your business to face the competitors. Not only this objective, but there are also several ones that an IT industry needs to tackle. You can't handle all alone because at one time you just fed up and plunged into the software. So, don't waste your time and start working with the CRM software in your IT business. 74% of the Customer relationship will improve, 50% of business productivity will hike up, and 40% of labour cost will reduce when you have a CRM system in your business.
Okay, if you finally set your mind to go for the CRM system then you must be aware of its current statistics that 64.2% of companies agree that CRM tools are very much helpful. Expectation of CRM revenue in 2025 is $80 billion, companies used the CRM system and their sales figures improved 29% and 81% of the marketers are operating this software from multiple devices.
These crucial statistics indicate that the CRM system is the one that can play a key role to open up the doors of business growth and development that you are working on. Let's come to the point and talk about the IT Industry.
What is CRM for the IT Industry?
Before going to dig deeper into the role of CRM in the IT industry, let's understand this too. The expectation of rapid growth is true as you can expect this when you have CRM software in your working activity.
For example, if you are required to bring together to all departments of your organization then you go for the collaborative CRM. But if you want to spread our the presence if your website and overall digital operation then you need to check out for CMS vs CRM.
Furthermore, in case you're a newbie in your business & also doesn't carry a high level budget then you must go for basic in nature & advance in feature CRM. In addition to this condition, you can operate the open source CRM in your organization since this one free or almost free of cost. And provide innovative and bottomless features with a basic working procedure.
The IT industry needs to stop investing bundles of money on any vintage software because CRM can help to improve operational efficiency, save your countless hours on working on reports for the clients and much more. This software has a superior power to hike up retention, loyalty, acquisitions, etc.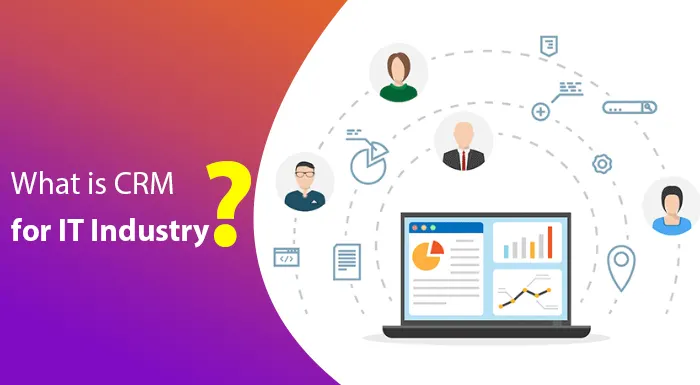 Encourage your employees to start learning and using the CRM software which is the future of business. The IT industry always showed massive changes but they never failed from any service. Sometimes they need to minus the complications and that is why we present this software which can share a seamless experience.
What is the role of CRM in the IT industry?
Hope the above paragraphs create interest in you about the CRM software to work on. The IT industry needs to take several things and want a complete growth in their work. Let's understand the below points-
Don't stay fret about sales and marketing activity
Around 74% of customer satisfaction will improve when you have a CRM system in your business. The software is best to manage the Sales and marketing work as we already told you in our previous blog regarding CRM importance in Sales and marketing.
So, here the role of CRM in the IT industry is it keeps every single information at one place for your employees so that it will be easier for you to reach there. It stores information by getting from social media, marketing, etc. So you can manage it and convert leads into loyal customers. 73% of business efficiency will boost up when you have this software.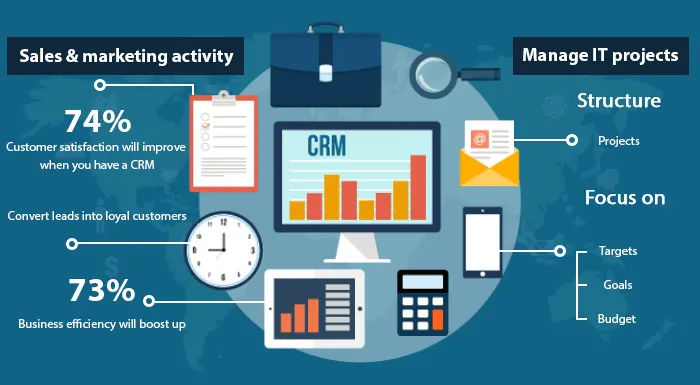 You can plan and manage IT projects here
Are you pondering the same thing as all activity in one system? This is correct because CRM is the one that handles your work to ease your high-efforts. Customer Relationship Management (CRM) can plan and control your crucial projects like you understood CRM in Hotels or CRM in the Travel industry.
It can handle your IT projects too as it can structure your projects, focus on target, goals, budget, etc from the starting. This is the best way for not meeting up with any big issues. You can also watch project status just for a reminder.
Are you aware of CRM Analytics?
Well, the term CRM Analytics is to inform you about the performance that you did in your work, like regarding the marketing campaign that you ran a few days back. It's hard to find such software that gives you the result of how you performed in your work for your customers. How will it be helpful?
It can help you to change the strategy if you find that customers don't like this or that. Think by putting yourself in the place of the customer. Also, your business employee can generate those reports and can share it to you regarding the customers that you deal with. The software hike up the sales forecast accuracy by 42%, conversation rate will rise up to 300% and lead cost can be reduced up to 23%.
Can recording be possible for team interaction?
Around 91% of the businesses today use the software CRM in their work. They believe that this superior software has much better functionality in comparison with other systems. So, if the IT business wants to record the interaction of their support team and customer then guess what it is totally valid.
You can create the records and after that generate a report to highlight the agent productivity. This is the best role of CRM in the IT industry where it can share the metrics too like the number of clicks, the number of open tickets, closed tickets, etc. Bear in mind: IT industry can improve the SLAs and provide a great service if CRM is there.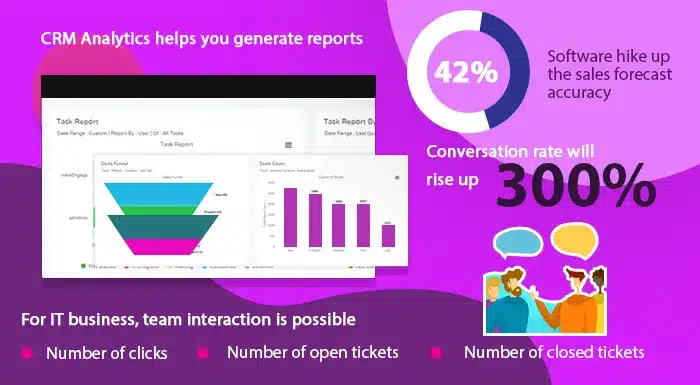 Boost up the customer satisfaction and loyalty
43% of the CRM users use less features of CRM. If they start focusing on every feature then their work can be done in a great way as well. We are talking about the IT industry, of course, this industry keeps their eyeballs on customer support service. After all, the customer is the king for every industry or for every sector.
Here the role of CRM in the IT industry is to offer the timely and efficient customer support and help to their customers that daily deals with them. This results in uplifts the customer satisfaction and loyalty as you are serving customers better, what else you need. 65% of the professionals say the CRM system is easy to use, 27% of schedule management improves after the entry of CRM and 18% of CRM data snapshot capability hike up.
Final result
After getting a complete insight of the CRM Healthcare industry and CRM for Manufacturing, we can say that the IT industry can also hit the mark correctly if they dovetail their work with the system like Customer Relationship Management. The current market size of this software is $120 billion and you never know what will be the future. We believe that the IT industry should also strive for this software that can reinforce their business and also offer a flawless experience all the time. We have mentioned some crucial points regarding the CRM IT industry and the role of CRM in the IT industry. Read out and hope this time IT industry investment goes straight for the CRM system.