It happens when your telephony system can create a situation of bewildering for you. Isn't it? You are managing communication with customers that means you are making your business stronger than before but we don't think so telephony system, an old method is a good solution for you. The industry has strive for Twilio click to call now which gives the best communication level beyond your expectation.
Twilio has something which your telephony system didn't. Every industry or every business has set their hands on Twilio and now it's your time to endeavor this advanced communication platform called Twilio. Twilio has built its infrastructure stronger and we are keen to share its best feature for your communication purpose and the name is Twilio Click to Call. Twilio has presented many platforms and features but today you all will understand as we are going to expound how this Click to Call can assist you in your business activities.
For example: You are running a call center industry from a long period of time and we guess you have humongous employees who manage every call of their customers every minute. It can be frustrating for them to dial a number then check the number and then call that customer. We have the best reliable solution called Click to Call Twilio which can save your precious time regarding communication purposes. In just one tap, you can call that person.
Why is Twilio Click to Call the best for business activities?
Twilio is considered to be a superior platform for communication. We don't think so its competitors can match the level of the feature's functionality that it offers to its clients. Now we are going to understand "Does Click to Call is a perfect choice or not"? Let's make a fresh start
Pop-up appears on your screen
Are you worried about a call that if someone calls you and by chance you missed that then what will happen?
Let us tell you that if you adapt the Click to Call feature in your CRM then always a pop-up appears on your screen. Three options are there and those were Accept the Call, Reject the Call or Forward the call. It's only up to you which option you want to choose.
Outright Store offers this extension for your business work, so dealing with us you will get all such exceptional features that you expected in Click to Call Twilio.
Always keep entire recordings safe
Suppose you are working in a call center business and daily you picked up numerous calls of your customers regarding any query or anything. Sometimes a person wants to hear that conversation then is it possible to hear those talks again?
It is possible in this feature of Twilio as you will see the finish status when you cut the call and Twilio after that shares a URL to you for saving recordings. This Click to Call Twilio will definitely enhance your experience.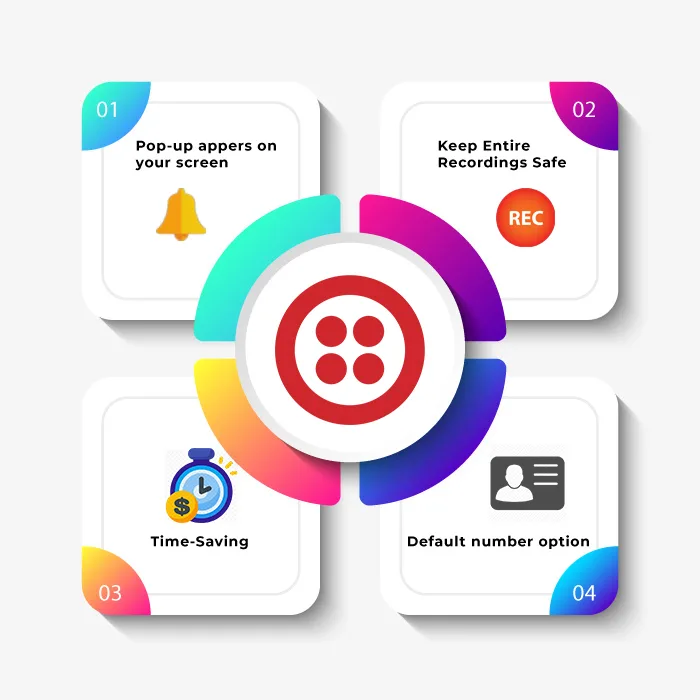 A feature is time-saving for you business
Who here doesn't want an extension that can save it's time and efforts related to their work? All of you want that extension correct? But let us tell you that if you start working via Click to Call then it can save your time and efforts.
You don't have to do a long process to dial a number. In just one click you can call that person. You can also add the notes too when using this Twilio feature. You will always get updated via status like Phone ringing, call disconnect, etc.
An option of Default number can help you too
Twilio is presenting one of the top advanced functionality that you never imagine. Now just assume that in your office 10 employees are calling by using only one number, do you think that it is possible?
Yes, of course, when dealing with us we are offering this feature for you called Default number in Click to Call when many users can call by using a single number. This is a time-saving extension as no such requirement to buy different-different numbers again and again.
How does this Click to Call enrich your experience in SuiteCRM?
Customer Relationship Management (CRM) has well-known software that is most trending in the market called SuiteCRM. Above you have read out the Twilio that how its feature called Click to Call gives outstanding functions.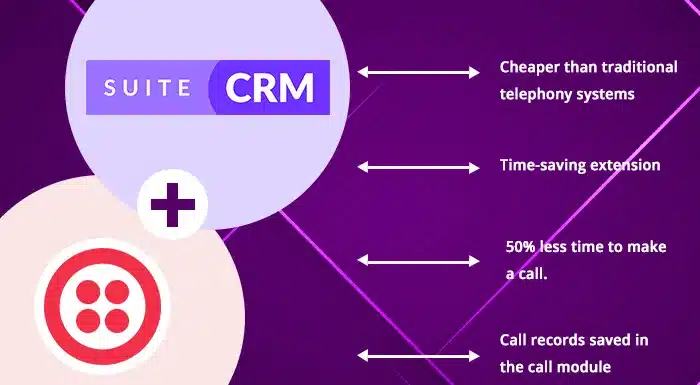 Now you all will understand its role in SuiteCRM. We have jotted down some points for you-
You all are aware of telephony systems and it's costing how much it may cost you if you call one by one to your customers. When using Click to Call Twilio in SuiteCRM then it is cheaper as your abundance of money will be saved.
The extension is time-saving as you don't have to work on both the platforms like you have opened both SuiteCRM and other platforms for communication. Stay in one platform to avoid this hassle and this is a big chance to upsurge business productivity as well.
Dialing a call to a customer can be a long process for you when working with any hardware system. But if Click to Call Twilio is your priority then it may take 50% less time to make a call.
To know where your call records are saved just go to the call module and tap on that call when you want to hear that customer conversation.
Way Forward
We already told you that you manage the communication with customers which means you are managing your business stronger. But why don't you try the best platform where communication goes smoothly without any bewildering? This is the reason we shared today about the Click to Call Twilio feature because that should be in your list regarding maintaining relationships with customers. You already understood our extensions Twilio SMS and Twilio Auto Dialer. You can try your hands in SuiteCRM too when using this Twilio feature because you want to strengthen your organization and that is only possible if you have a suitable platform to stay with you forever and give exceptional features all the time.