Running a business indicates the invitation of numerous responsibilities that needs to perform on time and in a systematic way. To satisfy these requirements, you serve differently like improving customer satisfaction, increasing engagement of your website observers, and operating automatic customer services. Additionally, use other software for enhancing productivity and accuracy, improve customer segmentation, streamline processes, etc. Most of these issues got diminished or completely vanished because of using the CRM system but what about others? But if you will integrate your CRM system with the ChatGPT tool then for sure you can dissipate your entire business-related issue at once.
What is CRM?
CRM or Customer Relationship Management is the process by which the administrator of the business interacts with the customers using multiple social channels. The CRM system helps your organization generate relations with potential customers and engage the current.
The overall goal of the CRM is to provide streamlined processes, make the flow smooth, analyze data, and improve sales of the company. Additionally, it'll trim the spending time on repetitive tasks, manage all records by keeping them in one place, & lastly, handle all the mentioned tasks in an automatic way.
What is ChatGPT?
ChatGPT is an Artificial Intelligent Model designed by open AI that does write the content including every query. It does respond to text-based questions and generates natural language responses which were launched in November 2022. The chatGPT work is based on reinforcement learning and supervised techniques.
The working procedure of the AI chatbot application is, it uses the extensive language model technique called deep learning to generate the text or responses. Furthermore, this AI application uses the GPT 3 or GPT 4 language models for the interaction of people.
Why do you need to Integrate the ChatGPT with the CRM System?
First, take some time and think- when CRM is individually enough to meet your business needs then what if it will integrate with ChatGPT? This is the point of discussion. So, let's have a basic knowledge that what the combination of CRM and ChatGPT can do to your business.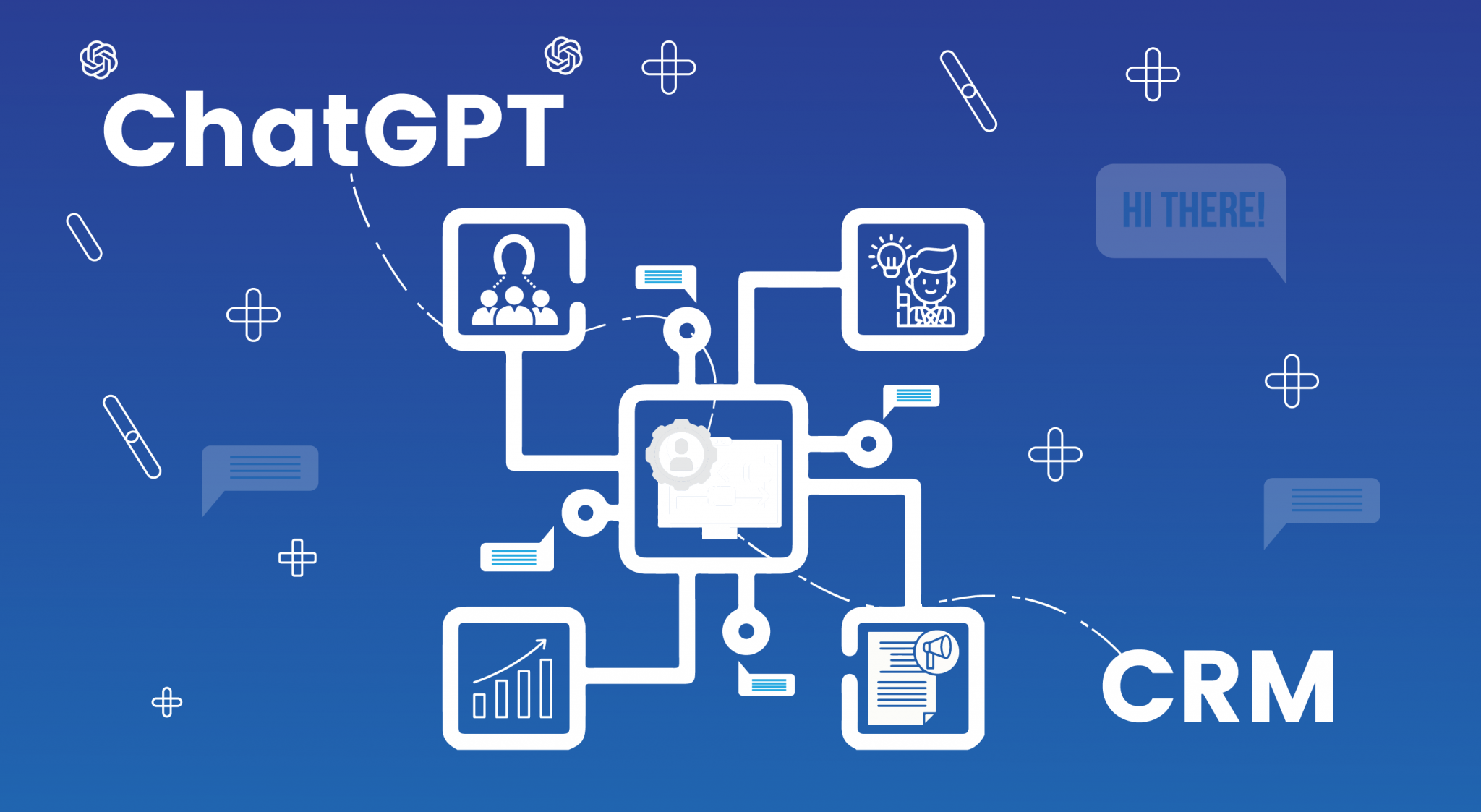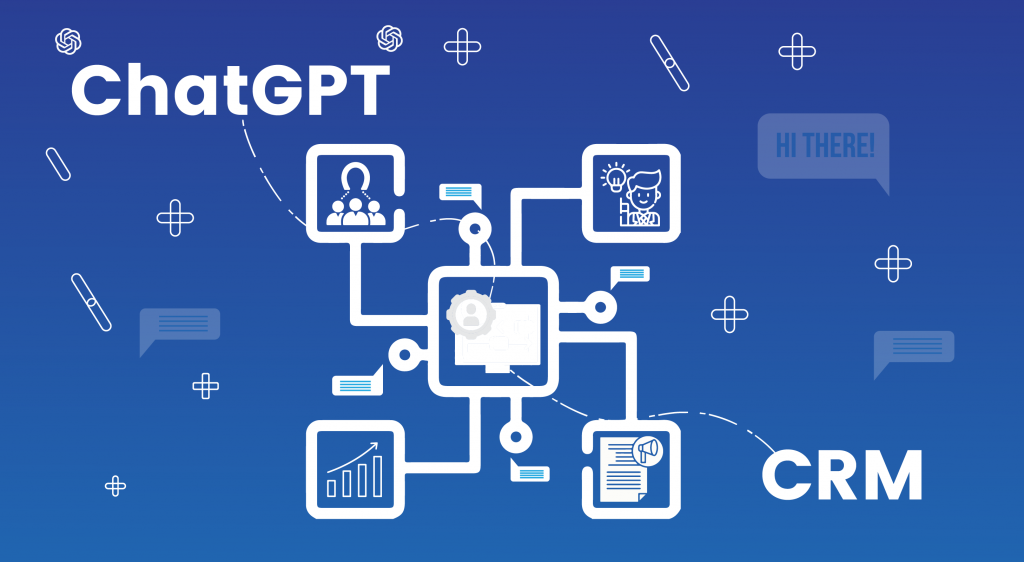 92% of businessmen discovered that you can eliminate all business-related issues in very less time & upsurge your business very quickly just by Integrating chatGPT with CRM. Also, will provide you with multiple ways to reach your business at the peak of the market.
The combination of an AI chatbot and CRM systems will intensify communication and enhance the personalized experience for your customers.
It will make your content creation very advance and also generate new ideas for your business workflow.
You can also refine the engagement of your customers using the combination of ChatGPT and CRM.
The integration will provide the predicted artificial intelligence-generated replies to your customers. That will help you to know what your customers like or dislike in deep and also help in providing the exact service that your customer wants.
Not only but also you're allowed to nurture the marketing lead successfully, manage the entire record in a systematic way, generate new leads & engage previous ones.
This process of consolidation is not accessible only for one kind of industry, instead, you can use it for all kinds of industries. It will work for all eCommerce services like healthcare, education, real estate, financial services, food delivery services, call centers, banking, and others.
We recommend you integrate ChatGPT with open source CRM to get more flexibility, scalability, and security in your CRM. You have to be extra sure when working with Artificial Intelligence and having unanimous control on the code will help you with that.
What are the uses of combining a ChatGPT with a CRM system?
The combination of the ChatGPT and the CRM system can improve your sales as well as your Customer Experience. More than it the integration can automate your routine tasks and can smoothen all complex and strategic issues.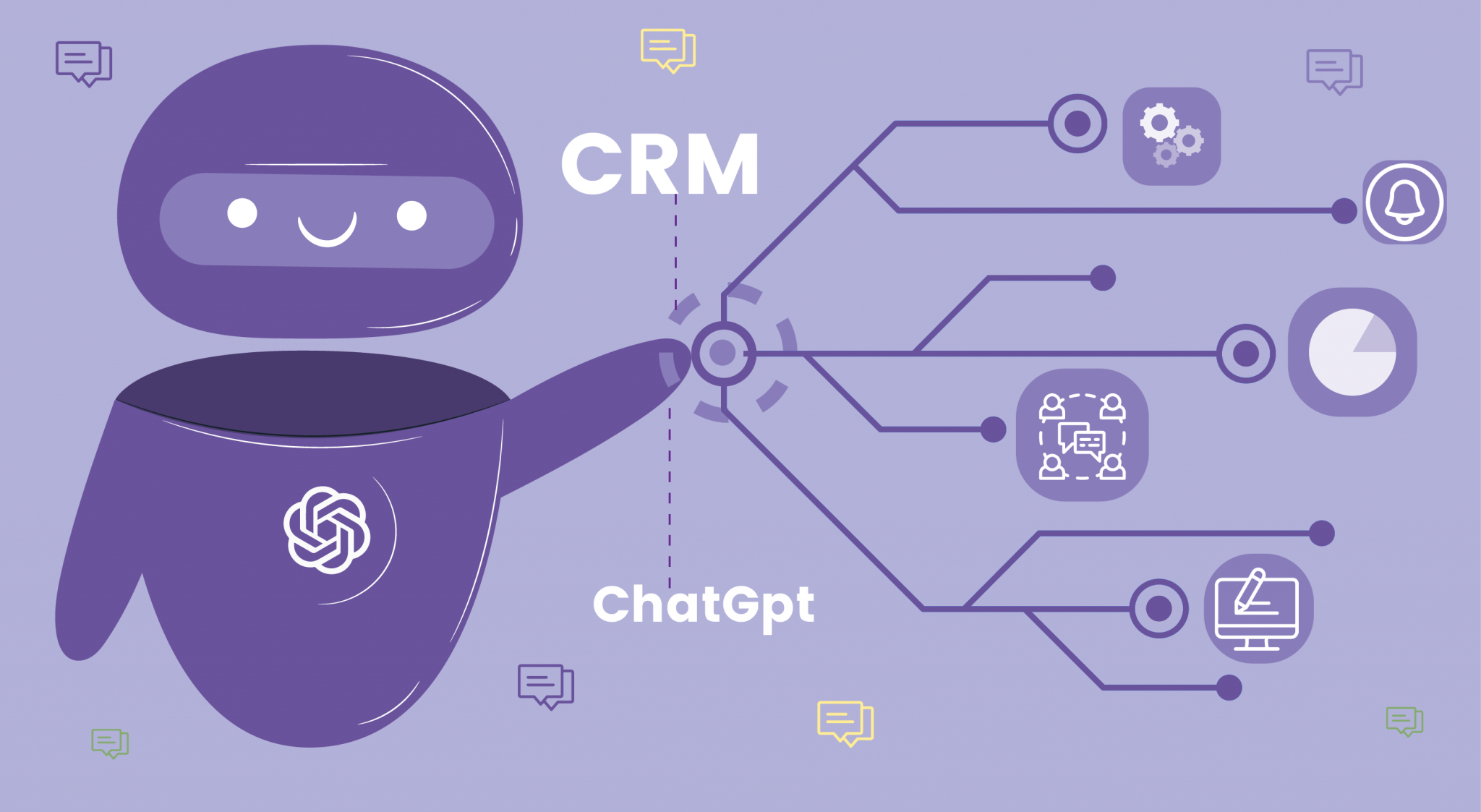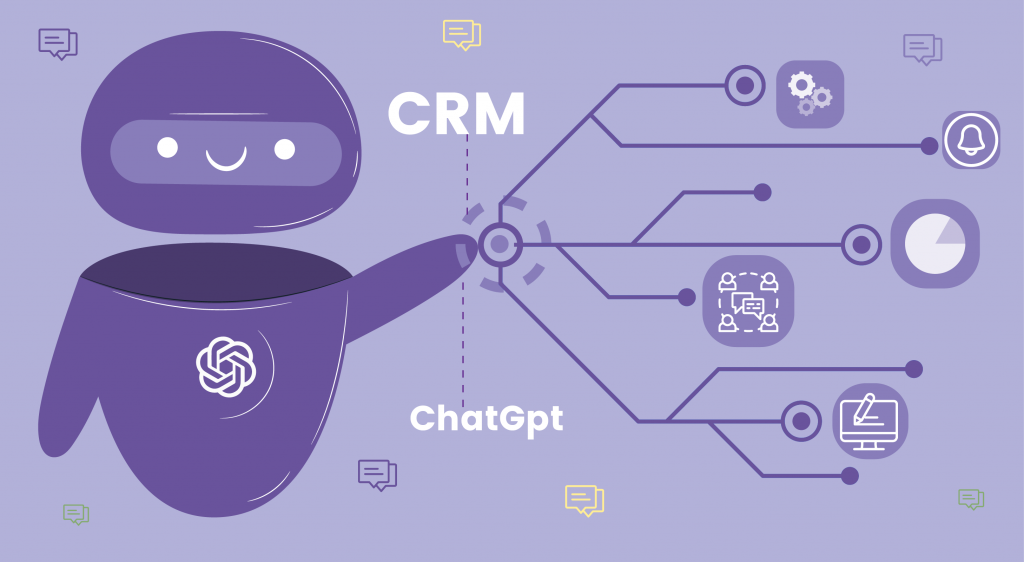 The integration of both, the AI chatbot and CRM system can heighten your business by saving precious time, earning high CX, and more. So, let's move ahead to know how many ways you can use the combination of the ChatGPT with the CRM system.
Immediate responses and worthwhile content:
ChatGPT is equally important in writing worthy responses and blogs as it is in writing sales copies. So, you can save the replies and blogs of the ChatGPT in the CRM system and can use them in real-time later.
This will assist you in sending the dignitary answer of your customer within the time limit, directly from your CRM. By responding the productive replies you can engage the customer and increase the customer retention rate and also the revenue.
Send the assassin sales campaign:
As ChatGPT can write any kind of content so it will help in writing sales copy like the advertisement headline, cold emails, and more. By combining ChatGPT with CRM, you can use custom sales copy written through ChatGPT & lately can use it for sales marketing & free email platforms like moments.
As your all customers will be CRM so the integration of ChatGPT and CRM will help you in sending a successful sales campaign written by ChatGPT without much effort and within very less time. Because here you don't need to move from one application to another again and again.
Create effective website content:
Here you can use the ChatGPT in writing the content for the landing page, website headline, and call-to-action topics. So, if you will integrate ChaGPT with the CRM system then you can create eye-catching content for your landing page.
Additionally, can get more effective ideas for your website and then use them directly from your CRM. It will make your digital marketing proficient and also save plenty of time that you may use in high-yielding.
Notify you when it's time to respond
After the integration of the CRM and the ChatGPT, you have no need to worry about missing time for customer queries. Since the integration process will help you through notification whenever any message will hit your inbox and also a deserving reply will send to them automatically.
In this way, you will save from missing any important messages or losing your potential customer. And also the integration strategy will increase the chances of converting your current customers into endless customers.
Enhance further communication from the previous summary record.
As ChatGPT has been combined with the CRM system so, here the combination of both, will improve future communication by taking experience from old ones time on time. First, it will analyze the previous chat record and get to know at which point of communication the customer has left your services.
Then it will find the perfect reply for that point of communication and will apply them to further conversation. So, here the combination of both AI chatbot with CRM will summarise the previous chat and help you in enhancing the time ahead communication. And will save you from the termination of customers from your business.
Conclusion:
The integration of (Customer Relationship Management) CRM and ChatGPT can help your business in numerous ways and eliminate more than half of your business issues. Using the combination of both, you can drive more sales, generate more leads, enhance communication, and develop a highly effective and attractive website. Moreover, can do other multiple things. So, in this article, you will know the use of ChatGPT with CRM, why it is needed to combine them, and more.