What is the first thing that strikes your mind when you read out "Customer Relationship Management"? Many think it's just software but the actual reality is it helps the businesses to manage the relationship with the customers. The name simply indicates Customer Relationship so it means no matter what your business is about, you can adapt the CRM software in your organization. It helps you to strengthen your relationship and to hone your other goals.
When it's about "improving the business operations" then let us inform you that it is remarkable for various sectors such as Banking or Healthcare. We always saw the ups and downs of CRM Statistics every year. So are you curious now to get aware of the CRM Market Statistics of 2020?
Well, we must say to understand or to put investment on any software, you must get to know about the statistics of it. Also, CRM is adding five stars in every organization so we decided to unhide all those CRM software stats that should be in your mind. This software will surely play an instrumental role so read out the content till the end.
Benefits of CRM System Stats
73% improvement in Business Efficiency now
Sales businesses saw 87% improvement in their work activity.
34% of Business Productivity can be possible when you have CRM software.
Business owners said that the CRM system enables them to increase Sales quota at least 65%.
Business owners said that the CRM system increased Customer Relationships by 74%.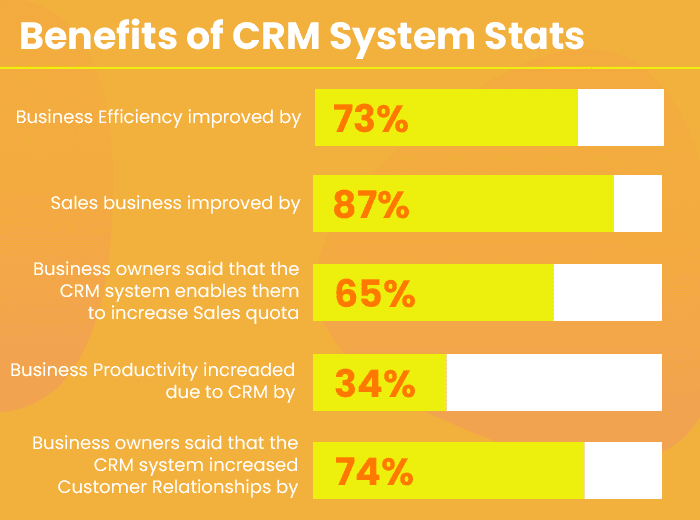 CRM statistics of Challenges
43% of users said that they use half of the CRM system features.
22% of salespeople said that they are not aware of "what is a CRM system".
Around 47% of businesses with an implemented CRM have an adoption rate of 90%.
6 salespeople out of 10 believe that when they use one software and see it working, they never change.
23% of users said that manual data entry was really challenging without the CRM system.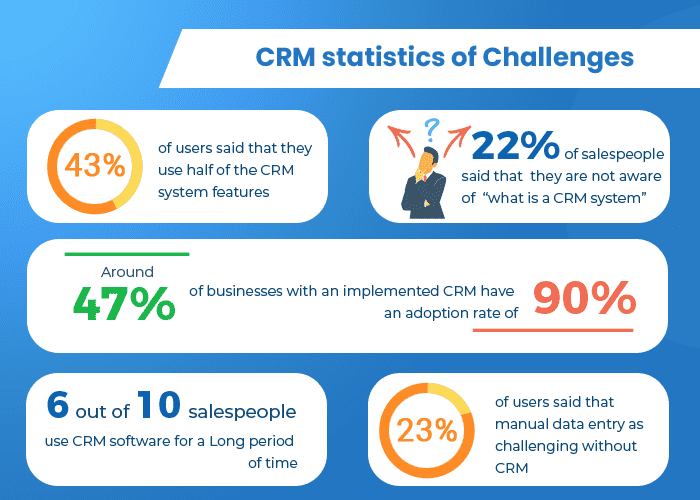 Top CRM software current valuation
Salesforce current valuation is $177.28 billion
Hubspot current valuation is $10.1 billion
Monday. com current valuation is $2.7 billion
SugarCRM current valuation is $350 million
Zoho CRM current valuation is between $5 billion and $15 billion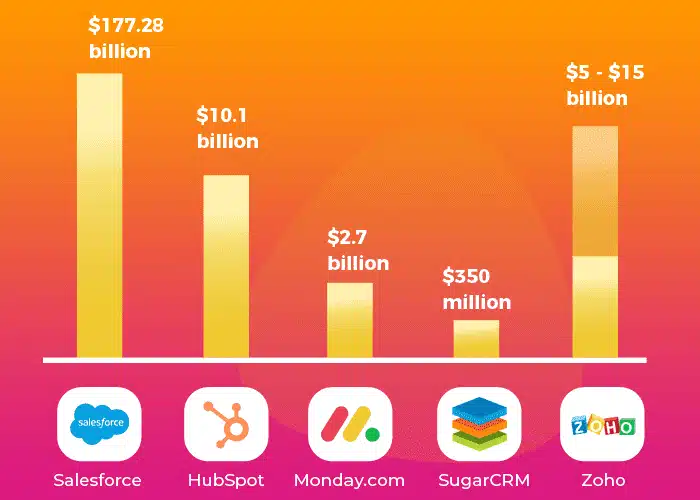 Industries use the CRM software
13% of Manufacturing industries use this software.
3% of Healthcare industries adopted this system.
5% of the Education sector working in the CRM system.
13% of the IT sector is using the CRM system.
32% of Service businesses have this software.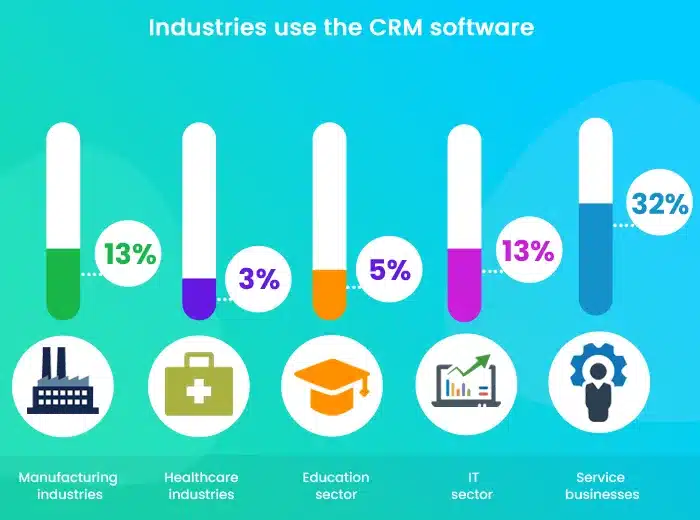 CRM Statistics of Usage
91% of the companies that have more than 10 employees use this software.
88% of users like the Interaction tracking functionality of CRM.
13% of businesses said that investing in this system is better for sales activity to evolve.
65% of the users said that this system is "Easy to Use".
Last year, the CRM system usage was 74%.
Concluding note
Are you pondering the same that the CRM system is irreplaceable? We are sure that this fast-growing software is beneficial for growth and development because everyone needs an advanced system and we all introduce this software first in front of them. Nevertheless, there are few amateurs who have not heard the word CRM. This is why we unhide the CRM Statistics above of different-different aspects. Like we highlighted the stats of its usage, industries, challenges, and much more. Might be surprising for most of you but the real fact is that CRM has seen staggering growth everywhere. Do you believe now?