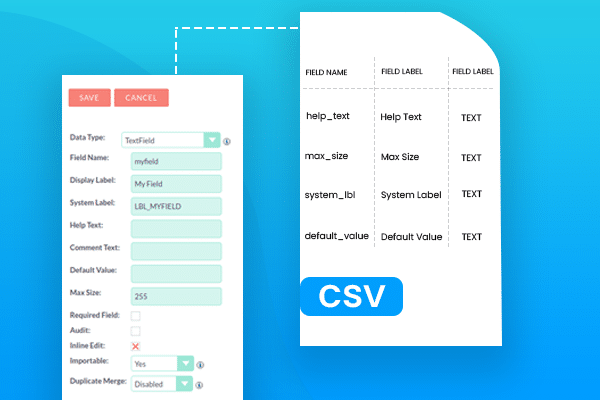 Import bulk fields from CSV to SuiteCRM
Import bulk fields from CSV to SuiteCRM

Upload fields in all core and custom SuiteCRM modules

Create any kind of field like text, phone, URL, etc.
Supported to All SuiteCRM Versions
Unlimited License for Single Domain & its Sub-domains

Free of Cost

Lifetime Updates
Screenshots
---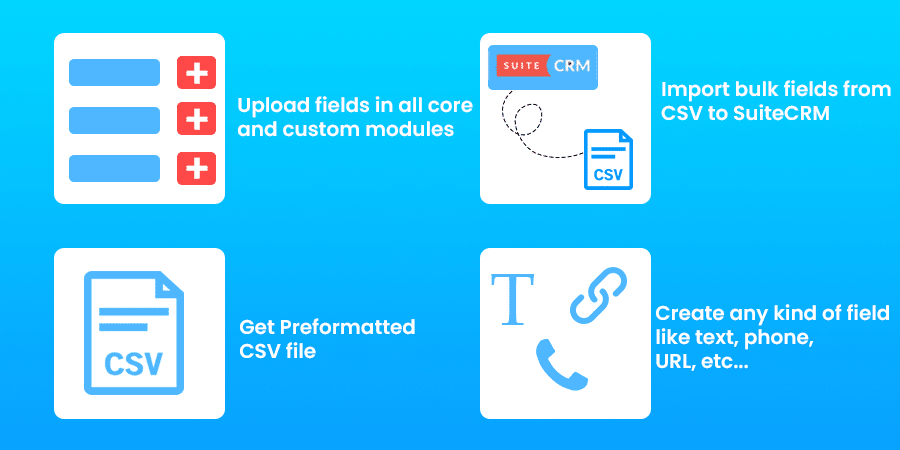 Creating multiple custom fields in SuiteCRM is a very mundane and time-consuming task. Therefore, it is important to have a tool that can save you from all the hassle. To solve this issue, we have developed a plugin that can import multiple fields from CSV to SuiteCRM. With help of this, you can create any kind of field in whichever module you want.
Real-Life Example: Nowadays, a person has many social media accounts and it is important to store all profile information in CRM. However, in SuiteCRM you don't get fields for all social media accounts, and creating custom fields one by one will take forever. In order to save time, it will be best to use the free SuiteCRM plugin called Bulk Field importer that can upload fields from CSV files.
Features of SuiteCRM Bulk Field Importer Plugin
Using this plugin, the user can upload bulk fields in SuiteCRM by importing the CSV file.

All field values will be accurately parsed from CSV to SuiteCRM, no matter if you have used special characters, separators, alphanumeric, or any other. You just need to choose the correct field type.

The extension is compatible with all core as well as custom modules.

You can upload any kind of field including but not limited to text, checkbox, URL, etc.

We also provide a preformatted sample CSV file that comprises the accurate layout.
Frequently Asked Questions
What CSV layout do I need to use?
You can download the sample CSV file in which you will get a preformatted CSV file. You need to use the exact same layout.
How many fields can I import in a single time?
You can upload as many fields as you want in a single time. Simply select the module in which you want to use the fields and upload the CSV file.
Does this plugin work in all SuiteCRM modules and versions?
Yes, the plugin is compatible with all core as well as custom fields. In addition, you can use this plugin in all SuiteCRM versions you want.
Video
---
Reviews
---
All Add-Ons are life time purchases, there are no recurring/hidden charges