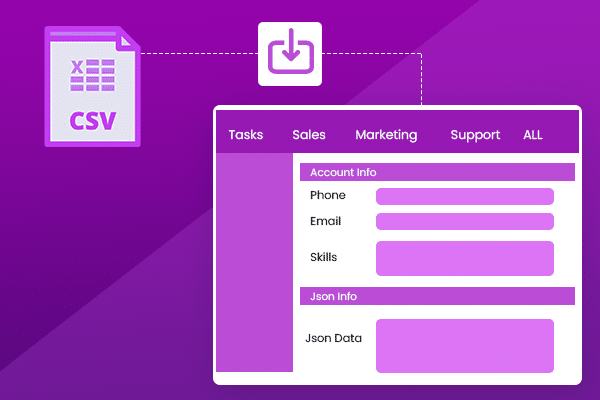 CSV to SuiteCRM - Fields & Panels Importer
Import Fields & Panels from CSV to SuiteCRM in bulk

Uploads fields data directly into the detail & edit view

Compatible with all core and custom SuiteCRM modules
Supported to All SuiteCRM Versions
Unlimited License for Single Domain & its Sub-domains

Lifetime Updates

Unlimited User
Screenshots
---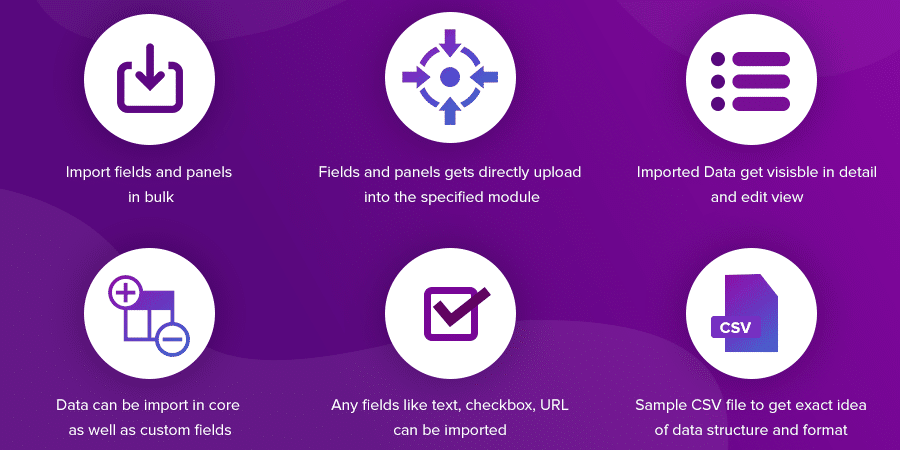 SuiteCRM fields and panel importer is a great productivity plugin that allows you to upload large sets of data from the CSV files. It will save the user's a lot of time because they don't create fields and panels one-by-one manually. This plugin comes in as a savior for those who frequently need to create new fields and panels in the SuiteCRM. Let's understand the significance of this SuiteCRM extension with a real-life example.
Real-life Example: Consider yourself in a scenario where you need to create and set up a new SuiteCRM from scratch. Obviously, you also need to create custom fields and panels as well. There will be two options in front of you, either create each field and panel manually or use the plugin to import them in bulk from a CSV file. We believe all of you would prefer automated and smart work instead of manually doing it.
Features of SuiteCRM Fields & Panels Importer
The plugin will allow you to import fields and panels in bulk from CSV files to the SuiteCRM module.

Fields and panels will directly upload into the specified module i.e. you don't need to go in Studio and drag & drop the fields manually.

Immediately after uploading, the imported data will start showing in detail view as well as edit view.

Through this extension, you can import data in core as well as custom SuiteCRM fields.

Users can upload any kinds of fields they want like text, checkbox, URL, etc under a panel.

For reference, we have also provided a sample CSV file. You can check it out to get the exact idea of the data structure and format.
Frequently Asked Questions
What CSV layout do I need to use?
You can download the sample CSV file in which you will get a preformatted CSV file. You need to use the exact same layout.
How many fields can I import in a single time?
You can upload as many fields as you want in a single time. Simply select the module in which you want to use the fields and upload the CSV file.
Does this plugin work in all SuiteCRM modules and versions?
Yes, the plugin is compatible with all core as well as custom fields. In addition, you can use this plugin in all SuiteCRM versions you want.
Do I need to manually set the fields and panels from the studio?
No, once you finish importing the fields and panels from the CSV file, they will automatically appear in the selected module.
Video
---
Reviews
---
All Add-Ons are life time purchases, there are no recurring/hidden charges