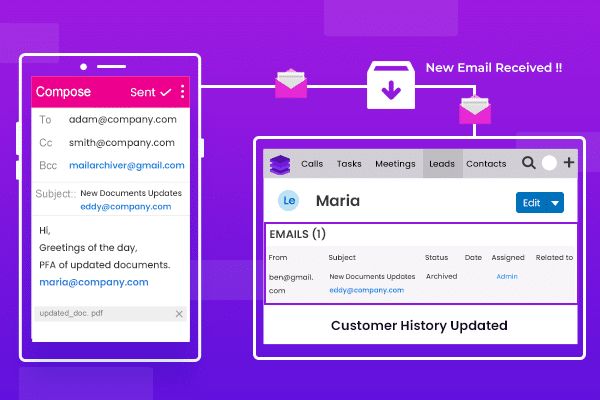 SugarCRM BCC Archive (Lite)
Real Time Scan Your BCC Email address for customer lookup.

Customer history is always updated as scanning does in all area of Email.

Emails scanning does in To, CC, BCC , subject and Body.
Supported to All SugarCRM Versions
Unlimited License for Single Domain & its Sub-domains

Lifetime Support

Unlimited User
Screenshots
---
SugarCRM BCC Archive (Lite)
The BCC Archive extension is the best way to centralize customer's email conversations in SugarCRM. Its extensive capabilities to parse information directly from different email fields like BCC, CC, Subject, and even email body are unparalleled. Apart from data centralization, the SugarCRM BCC Archive Lite Version assists users in providing the optimal customer experience and interaction. Furthermore, you'll get a bunch of more functionalities along with this extension.
Real-life Scenario: Within an organization, inconsistent conversations between different departments like sales, marketing, and customer service is a very common issue. Usually, sales reps don't have the slightest idea of email exchanges occurring between marketing personnel and customers. Our plugin can bridge this gap quite easily by centralizing the information through an inbound BCC Archive email e.g. ([email protected]).
Features of SugarCRM BCC Archive (Lite)
No information will be left behind as our extension can scan all the email fields like "TO", "CC", "BCC", Subject, and even Email body. After scanning, it will automatically fetch the information into SugarCRM.
There will be no discrepancy or any kind of delay between your email inbox and SugarCRM because our extension operates in real-time and syncs all necessary information.
The BCC Archive Lite plugin works with all email service providers and custom email domains as well. The default IMAP settings come for Gmail only. For other service providers, you need to configure it manually.
It will work with all core as well as custom SugarCRM modules. So don't worry if you have a bunch of custom modules in your CRM software.
Frequently Asked Questions
Why is my BCC Archive Product Licence Validation taking so long?
After clicking on the Validate now button, you will be required to reload the page. Otherwise, the message "Please wait while we process your request" will keep showing on the screen.
While setting up an inbound email, I keep getting an error. What should I do next?
To fix this issue, you need to disable the 2-factor authentication for your email address. You also need to allow access to the less secure apps.
Do I need to configure the inbound email settings manually?
If your email service provider is Gmail then inbound email settings will be configured automatically. However, if you are using Outlook, Yahoo, or any other email then you need to manually configure the settings.
How does custom date work in BCC Archive?
You need to select a custom date of one day earlier in order to have a seamless operation.
Do I manually need to create the email archiving settings?
No, the email archiving settings will be configured by default. There is no need to create other settings.
Can you create multiple inbound settings in the BCC Archive Lite plugin?
In the Lite version, you are allowed to create only one inbound setting. However, you can upgrade to the BCC Archive Premium if you want multiple inbound settings.
Video
---
Reviews
---
All Add-Ons are life time purchases, there are no recurring/hidden charges