You are communicating with your own clients/customers and the best part is a process done more quickly, what else is life. Every venture wants to stay away from every hassle so that no such long process to get connected with the customers. Let's come to the point we have written this blog just to bring a solution for you where you watch out that connected with the customers is a quicker process now and that is "SugarCRM Twilio Integration".
SugarCRM Twilio Integration is going to be a great option, see how?
This is a fact that every problem has a solution which can enable you to achieve more. Here if we put up the case of venture who want to get connected with customers within a few seconds then why don't you go for SugarCRM Twilio integration. We are sure that it will be your favorite solution as this Twilio integration for SMS sending enable you, people to get more in an efficient manner. Well, we guess now after the entry of SugarCRM Twilio integration, you don't have to contact or send messages one by one as in just a few clicks your Twilio SMS may reach all your customers to whom you want to get connected. Time saves and efforts too!
Some details are not enough to help you to understand this SugarCRM Twilio Integration so what we decided that sharing some special kind of features about this solution is a great idea. Keep your eyeballs below now and read out the blog till last.
Advanced features to know about SugarCRM Twilio integration
New introduction of dynamic variable insertion
Okay so those who are looking to outbound SMS from the application, we want to share something. Get aware of dynamic variable insertion now because while using it, it helps users to save their precious time and of course, no need to show to many efforts. Also, how about removing the manual errors? You can do this so thanks to Twilio integration.
Two options now for sending SMS, watch out what those are
This is a big surprise for most of you readers who are paying attention to this blog. Now if you have decided to send SMS to contact now check out the two options whether you want to send via list view or from details view. Suppose you click on send SMS button, now two options are there where you will be presented either by selecting a template or type message manually.

Reaching customers too quickly, credit to Twilio integration solution
The above heading raises a voice that Twilio integration is the best solution for you all folks. The big surprise here is you may get the option to receive the SMS within the app. Here the role of Twilio appear and it delivers the SMS directly to SugarCRM and this leads to the notification to the users.

Old SMS history always stay alive
This is a plus point of Twilio integration because you people can check the entire old conversation which happened earlier with your customers. This whole process is possible within the SMS conversation window. You can open the window and read out the entire SMS conversation which happened between you and your customers.
Wait, till now we have shared some special kind of features about this solution. Now the question is how this solution is going to change the business and make the right platform for them. Below some points can help you to get your answers.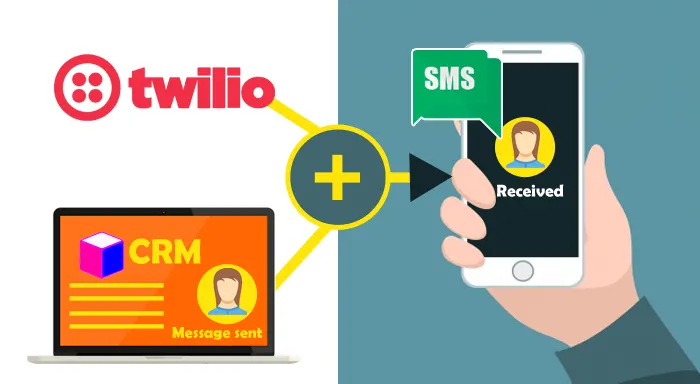 Business requires such high solutions, see how Twilio integration will help you
Communication problem solve, welcome Twilio integration
Twilio integration jumps into the pool of communication where it enables both you and your customers to save your time while communicating with each other. In just a few clicks, you are able to send SMS to your customers and get a response back quickly so go for this solution first.
Fast conversation in the easiest manner is possible here
No need to doubt this solution about working in a faster mode. If you have sent a personalized message to your customers then there is a big chance here to grow your business more and yes your former customers may find a great experience while having a conversation with you.
Sum it up:
Solutions are just made to help and this time it is regarding you and your customers where earlier you find difficult to have a conversation. Now we guess readers will go for this solution called SugarCRM Twilio integration because we always go where we find good comfort. Above we have explained some features which can help you gain more good experience in Twilio integration so now no need to think twice or search for other solution when Twilio integration is ready to help you.