SMS automation is the process of sending SMSs automatically to a predefined list of recipients based on the conditions you set. You can send general promotional SMSs or personalized SMSs to customers based on their behaviors. The most common use cases of SMS automation are confirming online orders, sending welcome messages, abandoned cart messages, alerting staff for various issues, personalized marketing offers, reminders of appointments, etc.
Benefits of SMS Automation
Better utilization of time
SMS automation saves a lot of time as you can send messages automatically, eliminating all the manual work. This allows your team to focus more on high-priority tasks.
Simple and easy setup and configuration
With SMS automation apps you can easily start with basic trigger and action rules and scale up to custom solutions. This makes SMS automation available even for businesses with minimal technical resources.
Increased customer engagement
With SMS automation you can personalize messages to specific customer actions, this increases e customer engagement and ultimately sales of your brand.
You can provide your customers with timely information thus maintaining regular communication.
As your business grows, your customer base will also grow. Hence you have to reach more customers. SMS automation makes this process very simple and convenient.
Must-Have Features in the Best SMS Automation Tools
You should be able to schedule and send messages in real-time. You should also be able to schedule them for later. Also, the time zone difference should be adjusted.
Your SMS automation service provider should be able to segregate the audiences based on the criteria you set.
You should be able to set a limit on the number of SMS messages sent during a specific time.
Businesses should be able to automate all the workflow with drag-and-drop builders and customizable templates.
Bulk and Drip SMS campaigns
You should be able to easily create and run bulk SMS campaigns and drip SMS campaigns.
Your SMS automation service provider should have personalization features with which you can make your messages more personalized.
Your SMS automation service provider should be able to integrate with other software tools and applications for added advantages.
Best SMS Automation Service Providers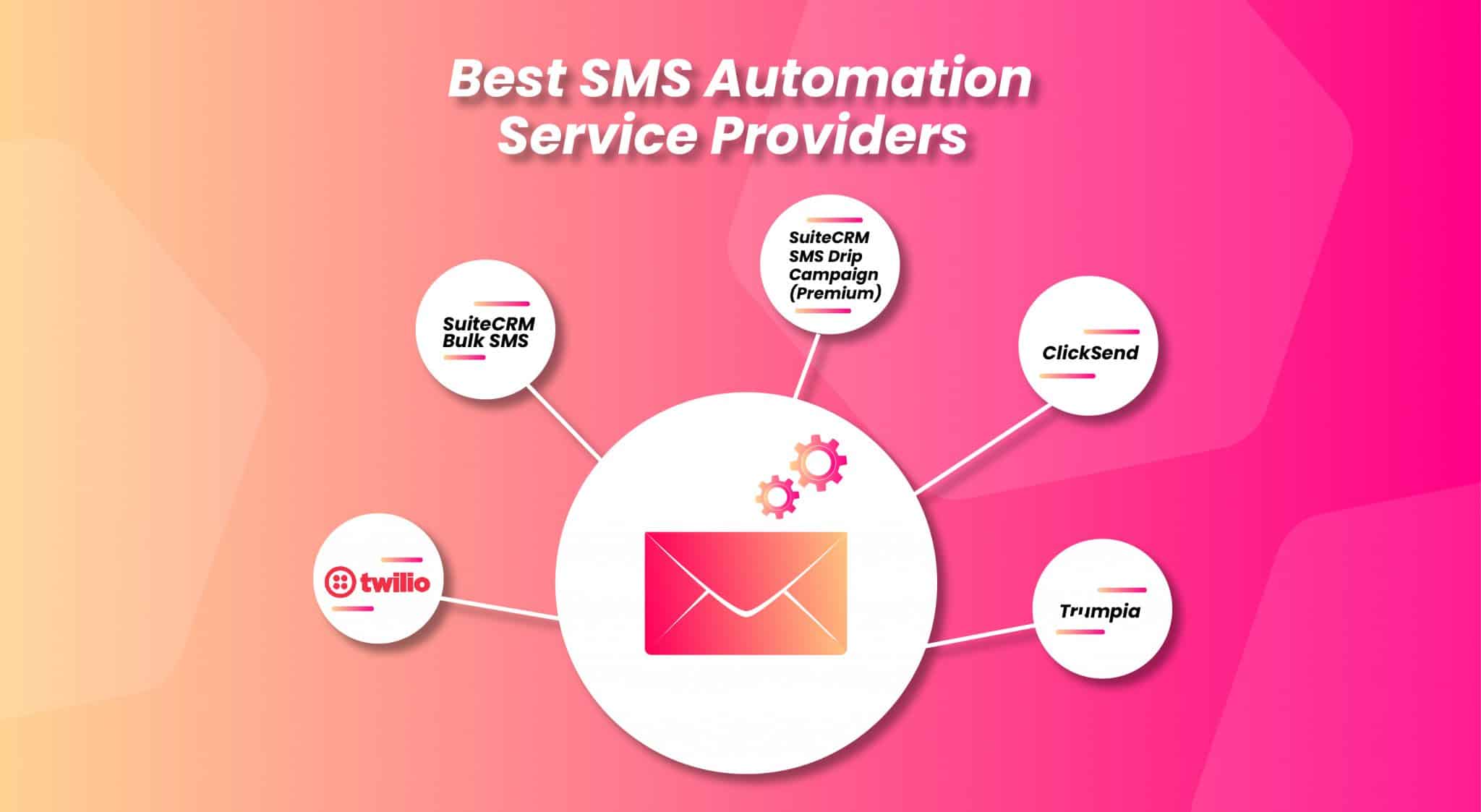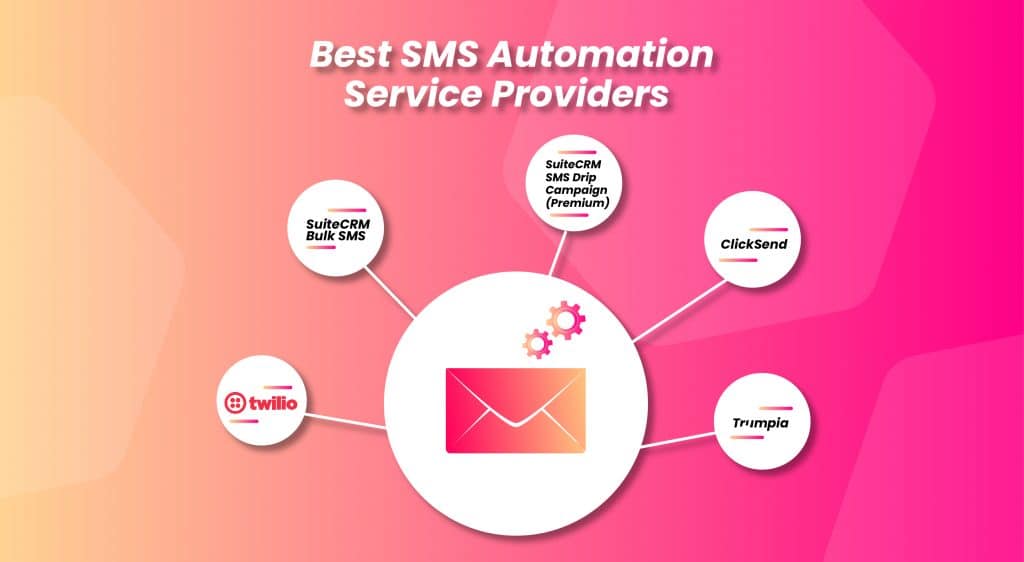 1. Twilio
It is a cloud communications platform where you have to integrate its API with your software to use it. You don't have to build another application from scratch. It supports communication in all forms like SMSs, voice calls, video calls, WhatsApp, emails, or even IoTs. Its communications infrastructure is hosted by Amazon Web Services and WebRTC. It is very customizable and has many no-code features which makes it very convenient for people with less technical knowledge. Twilio is used by famous brands like Uber, Netflix, Airbnb, etc. It can integrate with many software applications and tools as well as most CRM applications. It has different prices for different features.
2. SuiteCRM Bulk SMS
SuiteCRM Bulk SMS is a mass texting service which is powered by Twilio SMS API which is the best in the market. With this, you can send messages to bulk-segmented audiences at once. It makes the entire process of bulk SMS sending more easier and streamlined. For sending bulk messages you only have to choose the recipient and an SMS template. Rest everything will be automatically done by this extension. You can create multiple settings for multiple agents and, each agent can configure their own Twilio phone numbers. All the messages sent or received will be saved in SuiteCRM i.e. past conversation of every customer is present in the record's history.
It offers many customizable templates and even email templates can be used as SMS templates here. It also has a live chat option. You can chat with multiple customers simultaneously and a separate dedicated chat window will be opened for each customer. The segmented target lists of recipients for SMS marketing campaigns will automatically be created upon choosing the recipients. You will get a daily SMS report and SMS statistics for each day. It will also include a link from which you can jump to the record directly. Its price is $599.
3. SuiteCRM Drip SMS
This is an extension of SuiteCRM that helps you run SMS drip campaigns based on events, triggers, or statuses. A drip campaign is a marketing campaign where SMS are sent to segmented customers at a fixed schedule or triggered by their actions. It is powered by Twilio SMS API which is the best in the market. You can add any record to the drip campaign (sequence) based on its status and value. Also, you can choose the time at which the messages will be sent automatically. You can choose the senders in the SuiteCRM you want to send the drip campaigns.
It has a drip manager dashboard where you can select the module, field, and sender for which you want to create a drip. There is a multiple drip controller option where you can select the time you want to schedule the drip and SMS templates. You can create multiple controllers here. There is a drip manager dashboard where you can check the status of your drip campaigns like scheduled time, time remaining to send, etc. You can also check the queues, phone numbers missing, etc. There is a centralized menu from where you can navigate through all the options in the extension. There is an Add to Drip button from where you can add records to the drip individually. Its price is $599.
4. ClickSend
This is the best SMS marketing automation software for the price it offers. It can send up to 4800 messages per minute. You can easily run bulk SMS campaigns with it. You can customize your sender ID, access message status monitoring and upload from a CSV or Microsoft Excel file, automatically handle opt-outs, etc. Inbound messages are free, outbound messages pricing varies depending on their quantity. also, the rates of outbound messages get cheaper as the number of monthly messages increases.
It is a pay-as-you-go service it does not charge for subscriptions. Plus they always give the best deals and discounts. Companies must use it if they don't want the hassle of monthly and yearly subscriptions and pay only for the amount they use. It has a global reach.
5. Trumpia
Trumpia is the best SMS automation software for running SMS marketing campaigns and for medium to enterprise-level businesses that want to run SMS marketing with the help of features like customer data capture, smart targeting, and automated workflows. It offers robust automation and targeting features such as drip campaigns, dynamic targeting, link tracking, and data capture. It also has an advanced plan for auto campaigns, conditioned drip campaigns, real-time targeting, and behavior tracking. Its pricing starts at $94 per month.
Conclusion
SMS is a great way to connect with people and increase your customer base. Hence businesses must include SMS marketing in their marketing. SMS has the highest open and response rates plus it is cost-effective and doesn't require any internet connection. Hence it is a very good marketing option for businesses.