SMS marketing is an over-rated and foremost marketing platform used by 5 billion people worldwide and 2.292 only in North America. The SMS is a high deliverability service that hit the consumers" inboxes directly because they are too simple, short in size, & designed in a concise structure.
The (Short Messages Services) SMS include newsletters, updates, promotional or transactional offers, etc that can broadcast your brand easily. One more reason for its importance is that it allows two-way conversation between the brand's owner and the customers. This marketing channel is highly appreciated because of its cost-efficiency feature and also capable of making more sales with less effort.
SMS marketing has a pleasing open rate that is reported as 98%, which is the highest among the rest of the marketing channels. As you all know this direct communication strategy helps you to attract your website viewers and existing customers and generate interactions widely to promote your business. This will also help you to know the customers in deep and provide them with personalized support.
What is SMS Marketing?
SMS (Short Message Service) marketing refers to the practices that target the general audience through SMS messages using text format. This strategy works in an opt-in-based setup that allows the brand's owners to send their message campaigns to multiple customers with their permission. To reach your large number of subscribers you must have their contact list.
As you'll send messages with your clients' authority so here your prospects & customers will be more interested in your messages than on other platforms. Additionally will be highly willing to read them. This is how you can tell your all customers about your top discount offers, new launching, and, other effects in just seconds.
The SMS Marketing platform does provide an unparalleled customer experience to their potential and current customers because. Also, it increases the (Average Order Value) AOV & the retention that helps you to identify as an authentic company. By building genuine goodwill, you can get long-term customer loyalty, trustable bonding, better experience, smooth-running interaction and communication, and more.
Statistical Report of SMS Marketing Services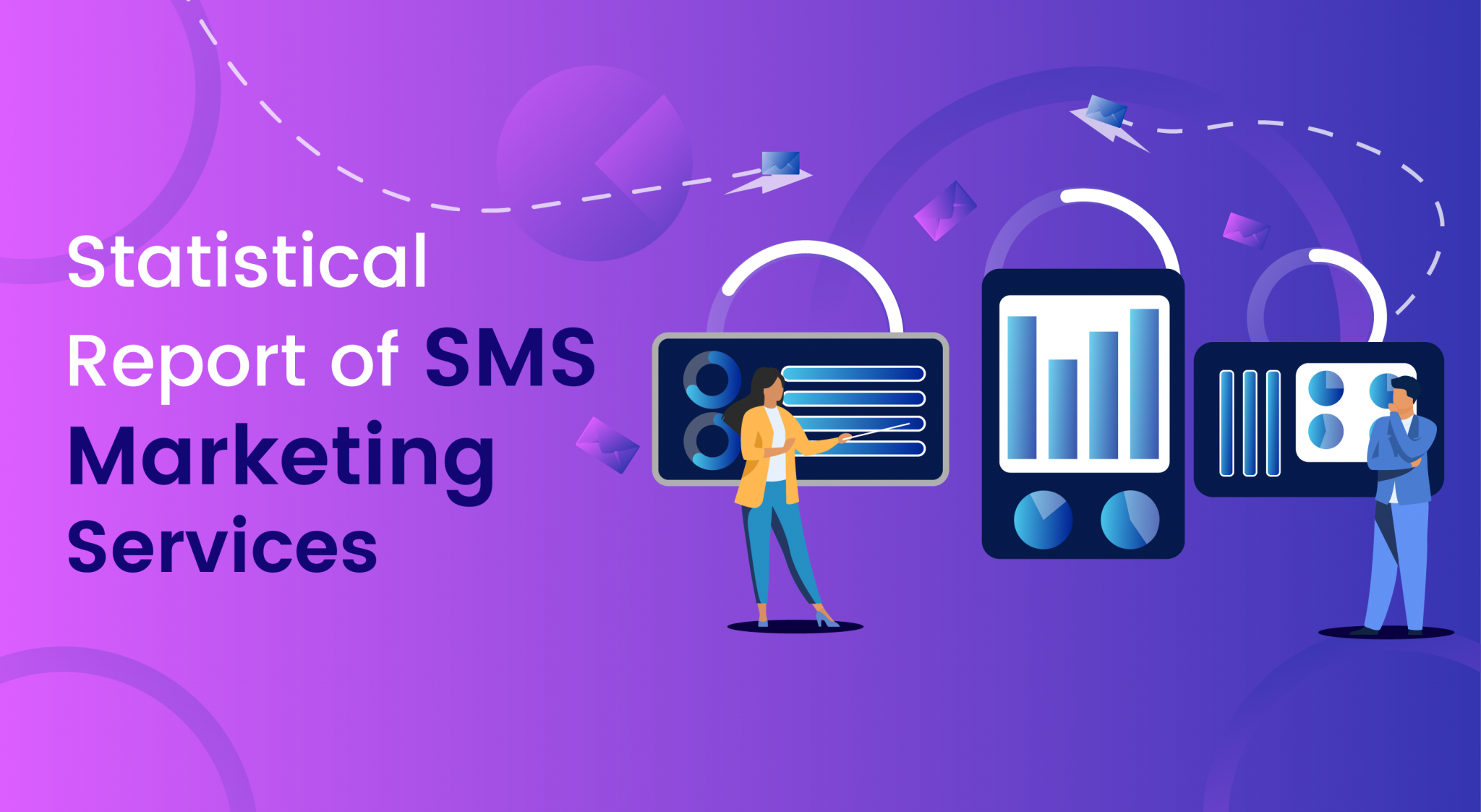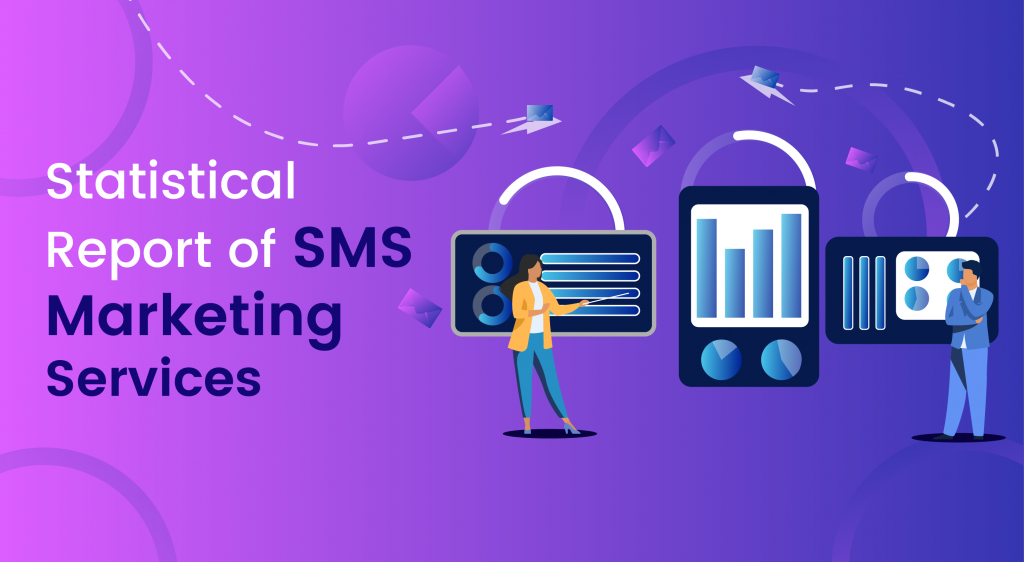 SMS is used by 5 billion public which is 65% of the total population.
This instant channel has whopping open rates which are around 98% while emails have only 20%.
More than half of the people like to receive, send or check their opt-in messages instantly. They open their inbox 11 times or more than that in a day to check their short messages instead of opening other important applications.
This marketing service has a large existing mobile audience that is as high as 52%.
Approximately 55% of companies use SMS marketing strategy for conveying their product & service information to a wide audience & notice 27% of customer engagement within a year.
It is reported that 65% of consumers want to reply back at their received business messages.
1 out of 3 individuals goes through their message inbox within 1 to 5 minutes.
According to 58% of consumers, text marketing is a highly effective way to reach product and service news globally as well as attract potential customers.
The most effective feature of this marketing strategy is that it has the fastest delivery said by 62% of marketers surveyed.
59% of marketers prefer to have direct contact with their brands' owners instead of having to download a particular app on their mobile phones.
The CAGR (Compound Annual Growth Rate) of the SMS Marketing Platform is predicted as 4.50% between the years 2022 to 2029.
The Market value of the text Marketing Services is expected to be 91710.13 USD Millions by the last of the year 2029.
What mistakes do You need to avoid while sending SMS message Campaigns?
When there are limitless benefits to sending SMSs then there is no doubt that you've to avoid some mistakes that may cause losing interest in your customers. Let's get to know what errors you need to avoid.
As your customer is in need of a solution that may end up with their all pain points so you've to understand their problem areas first. Then need to send the relevant message campaign in a concise format. Also, you have to make sure that the sharing time is matching with the customer's schedule.
In SMS Marketing Platform customers haven't any option to open text messages shortly like emails. So, you are required to send short, relevant with their problems and clear messages that can easily grab their attention.
Sending messages to unsubscribers
You've to follow the opt-out option for your unsubscribers since sending messages to those customers who haven't subscribed to your channel may detect your SMS spam. And for sending spam messages you have to pay a high amount as a penalty.
Because of breaching spam law, you have to pay approximately a $210,000 per day penalty. Well, it does matter on your country's law, how much you have to pay for spamming and action in the federal court of your country.
Unfollow the Can-Spam Act
Here you need to follow the Can-Spam Act which allows you to send the opt-out controller in your Short Message Service. This may save your customers from receiving your SMS messages and allow them to easily exist. Using this market trick you can maximize the gap between your messages (interactions) and convert your leads into sales (stage).
Now, you have no need to create the opt-out from scratch since there is multiple SMS marketing platform in the market that gives you this functionality.
Dropping messages with different Phone Numbers
For running the SMS messages campaigns you should have the specific phone numbers from which you drop the SMS messages to your clients. By doing this, your customers will get to know that they are receiving messages from their subscribed channel & will read them more interestingly.
Basically, there are four choices that will recognize you as a sender, sender ID, business name, alpha tag from, and originator. You need to follow these rules for making your conversation more pleasing and your customers more interesting.
Sharing your Message campaign untimely
Time is money or time is precious. This may indicate that sending the right message at the wrong time does waste your efforts and will not convert your lead into paying customers. So, the timing of your SMS message campaign should be around 10 AM to 8 PM on any 5 days of the week.
Here you need to take a break on Saturday and Sunday in which you can analyze the entire work you've done weekly. This strategy will increase your productivity as you got to know how much you have achieved and how much is pending.
Read Out The Top Examples Of SMS Marketing Practices
Short Message Services is growing unconditionally in the last few years and is in trend for all sizes of industries to increase their sales. So, let us introduce the SMS marketing examples that can give you a deep understanding of its uses. Now, you can learn how to use the SMS marketing platform for your business.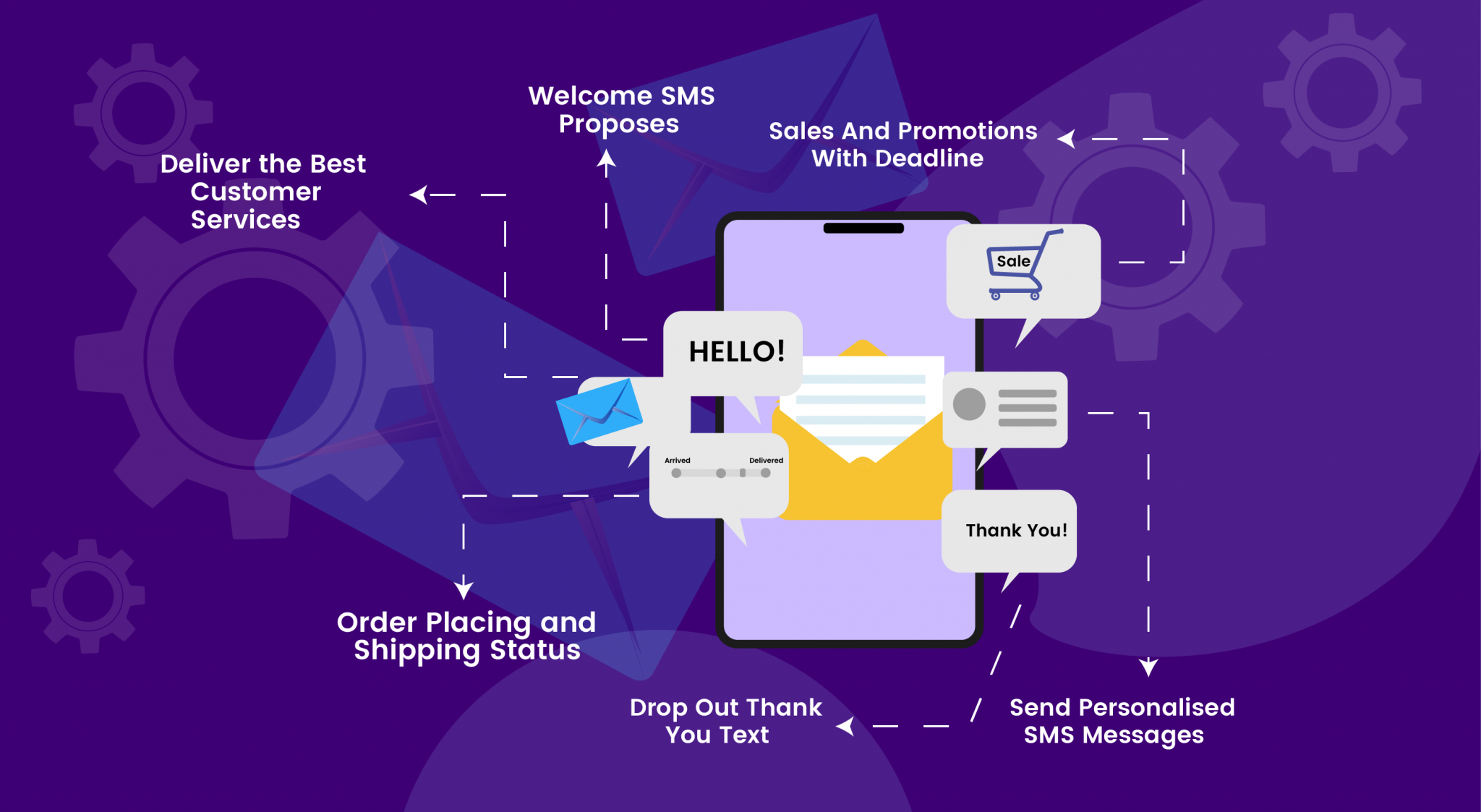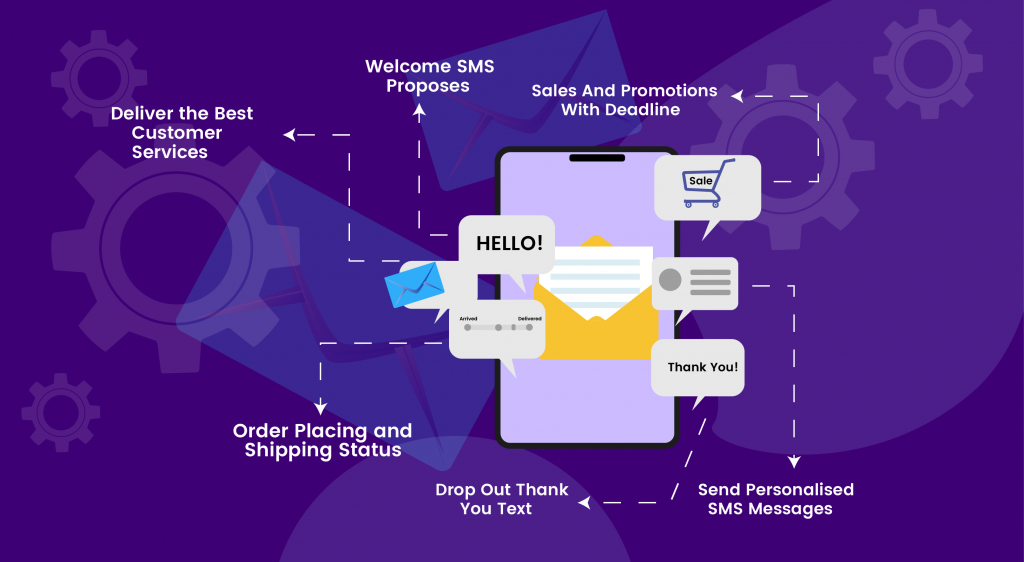 Welcome SMS Proposes
At the time of signing up on any app, customers mostly get a welcome message that may look nice and give a pleasing experience. By involving in the particular application, consumers get an amazing service in the first stage of usage.
As the SMS campaigns are designed systematically or tersely so sometimes they don't have enough information about the product or services. For this, you may get some links (Hyperlinks) or other kinds of product names where you can get the entire knowledge of the brand.
Order Placing and Shipping Status
When your customers place an order and the SMS of its confirmation or shipping hits your customers' inbox they shine differently. Customers like it when you send them the order follow-up SMS messages or when they can track their orders.
By doing this, you can build up a strong relationship with your customers because it levels up the reliability stage of your business. Additionally, helps you to keep your customers engaged.
Sales And Promotions With Deadlines
We all worry about losing an opportunity as the same customers are also afraid to miss out on the best sales deals or discount offers. The limited discount offers attract your current customers as well as potential customers more. One-Time-Offers works like a charm since they compel the customers to make purchases.
As everybody looks for ideas to save money, customers also prefer where they can get the best items or products at the lowest prices.
Send Personalised SMS Messages
Sending personal SMS messages to your customers may keep you at the top of their minds. Since it will show them that your customers are not just a number to you, they matter a lot.
For providing a personal experience you can send them a birthday wishing SMS, anniversary completion messages, amazing rewards, and special discount offers on their birthday. Personal SMS messages affect your customers differently since they belong to emotional attachment.
Drop Out Thank You Text
It is reported that 68% of the customers have unsubscribed from the channel and left the brands of their purchasing store. It is because they believe that their business does not care for them and does not provide any personal experience. So, here you can get how important the messages are.
For creating meaningful connections with your customers you need to send them direct Short Messages Services (SMS) messages. Using these personalized messages (magical words) will impact supernatural forces that will compel the customers to be consistent with your brands.
Deliver the Best Customer Services
You use the SMS message campaigns for taking follow-ups for positive as well as negative feedback from the customers. This will help you to know the percentage of the customers' enjoyment in reference to your brands. And you can know what exactly the customers are expecting from your product and services and can make your brands more ideal.
Do you think that SMS messages can be operated only for sales purposes? Nope! The SMS messages proactively handle the clients' issues before they convert into serious problems.
Promote Your Products By Posting Content for National Holidays
This might be rare to post relevant content on the national holidays but it is an effective way to promote your brands broadly. If you will post on national holidays or other occasions that will help you in gaining the attention of a wide audience or making more connections.
Posting content on multi-social channels at the time of national holidays or other festivals with tag labels (LOGO) impacts the awareness of your potential customers positively.
Best SMS Marketing Software For 2023
In this content, you will learn about the best software to serve your SMS marketing business more. Here, you can find the application, its features, and its pricing plan. You just have to pick the best one that can fulfill your requirements as well as match your budget.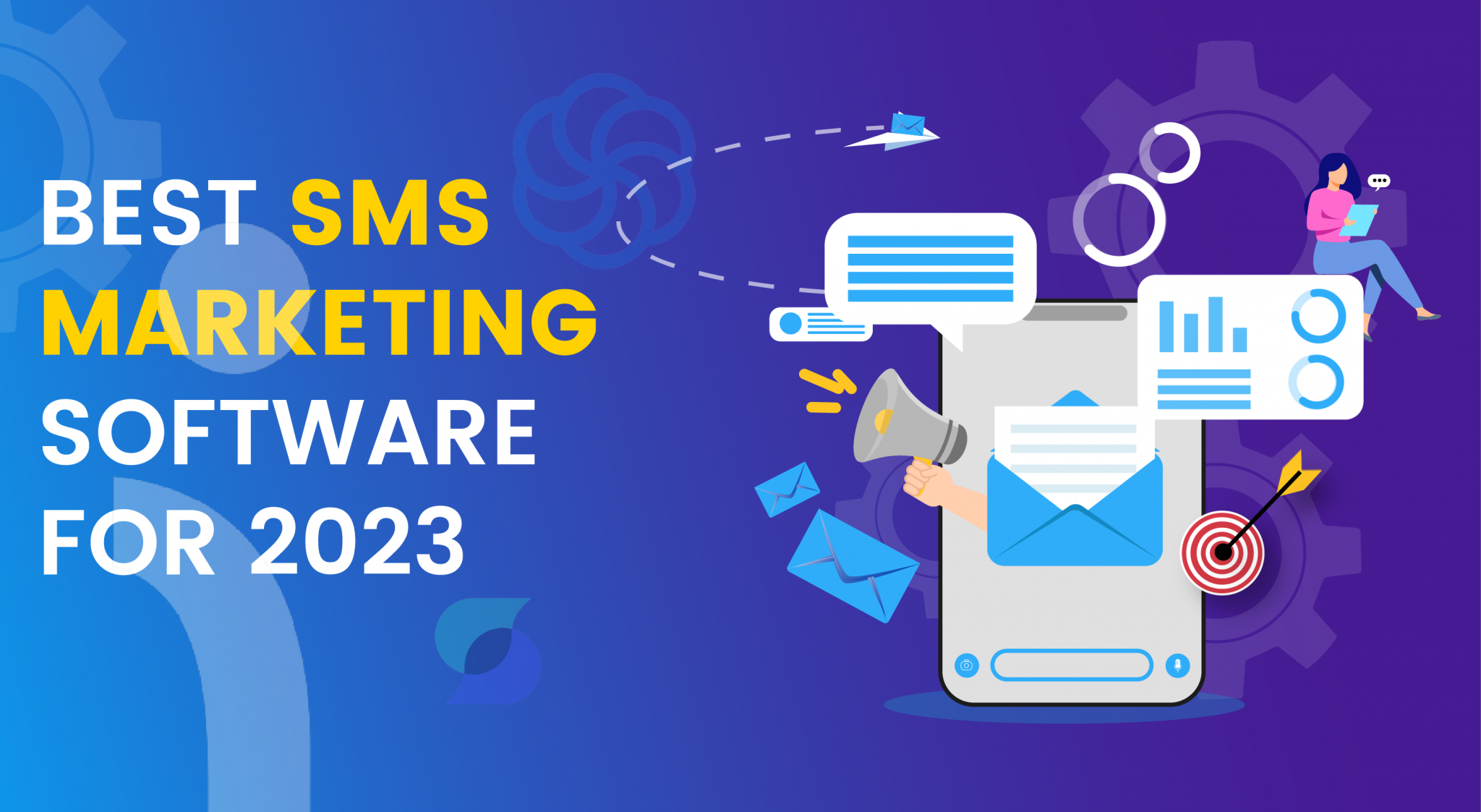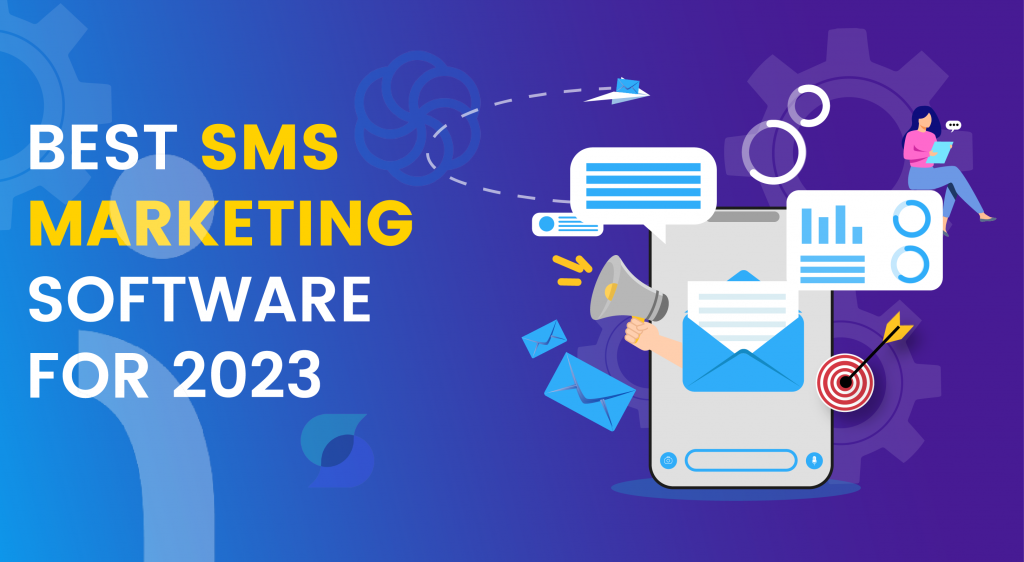 Omnisend
The Omnisend channel allows you to send a combination of automated email or SMS message campaigns to your customers and provide a personalized experience to them.
It will be provided you with a prebuilt library that has predetermined message campaigns whether it is for cart abandonment, birthday wishing, welcome series, etc. Also, hasn't set any limit on the use case. It allows you to contact your loyal customers globally.
Features
Provide integrated web forms for generating more contact easily.
Using the pre-build automation you can streamline the marketing process.
You can simply build your SMS campaigns using the marketing automation functionality.
Pricing Plan
The pricing plan of the Omnisend tool begins at $16 per month but for the advanced level, it depends on the number of messages you send to your customers.
Slick Text
You can use this tool for a wide variety of business connections such as education, real estate employees, eateries, eCommerce business, hospitality, and other digital stores. You can target a large number of people at the same time without mattering their countries.
With this marketing tool, you can perform SMS texting for business activities in a wide range. You just need to perform a single click and this tool will add to your store and integrate with your other software application.
Features
It provides you with two ways to texting service.
Here you can use QR Code opt-in functionality.
Using this tool you can create web opt-in forms as well as links.
You can integrate it with your eCommerce app and other email platforms.
Offer you the functionality to easily execute promotional campaigns and series-based campaigns.
Pricing Plan
The Lite pricing plan is started at $29 that allows you to send 500 message campaigns per month.
Sendinblue
Sendinblue is an SMS marketing tool that gives you the opportunity to use its free version for a period of time. This one is a highly appreciated marketing platform because it is trusted by more than 3,00,000 marketers globally.
This tool is able to cover your entire marketing funnel with its automation functionality. It gives you a workflow with high safety & security and also provides you the services with an experience of 10 years.
Features
In Sendinblue software, you can use the pre-defined and attractive designed Short Messages Services Campaigns.
It manages all your customers' conversations in one place and allows your customers to conversate in different places whether they are on Facebook, Instagram, Messenger, etc.
Also, provide you with an attractive, flexible, and interactive live chatbox that you can use to chat with your customers.
As a marketing platform, it provides you the features for SMS marketing, Emails Marketing, WhatsApp campaigns, Landing Pages, Signup forms, Marketing Automation, Facebook Ads, etc.
As an email API feature provider, it gives you the availability for sending promotional and transactional emails, manipulates templates, enables access to email metrics, and more.
Pricing Plan
This software has different pricing plans based on the size of the company's requirement i.e. Free, Starter, Business, and last is Enterprise.
You have to pay according to your need here which are 1575 per month for the starter, 4075 per for month the business, and lastly custom prices for the enterprise.
In all pricing plans, you will get different features but you can send unlimited SMS messages which are common in all the plans.
Conclusion
SMS Marketing is a marketing service that allowed you to send your business-related message campaigns directly to your potential, current, and future customers' inboxes. These are permission-based messages that need your clients' phone numbers and are sent to their inboxes in text and concise format. SMS (Short Message Services) gives you the authority to broadcast your product and services worldwide.
This marketing service is highly appreciated because of its high open rates, versatility, inexpensive cost, instant deliverability, high retention rate, better conversion rate, high engagement rate, and more. On the other hand, customers prefer this service because they found it discounts offering services, personal experience, privacy, etc.