Every business has its own unique dynamics that molds and shapes its processes, which makes it even more important to integrate them into the CRM. When it comes to CRM retail business customized business solutions are required.
Psychometric and demographic data is needed for a retail business to operate smoothly. Apart from that constant communication with the suppliers is also important and efficient customer support. Due to such demands, a retail business needs a unique custom-built business solution to solve their issues.
SuiteCRM is Ideal For Retail Business Custom-Built
Default CRM cannot meet all your business are custom-built requirements and therefore a need for a customized CRM that is in sync with your business requirements required. That is where the SuiteCRM comes into the picture.
SuiteCRM allows users to customize and tailor the platform in accordance with their business requirements. Even though there are other similar options available, none is as flexible and fluid as the SuiteCRM platform. A customized SuiteCRM is the best free SuiteCRM for small business that will perfectly complement your business processes. Let us further discuss some of the features of your retail SuiteCRM.
SuiteCRM is Most Suitable For Retail Business
Here are some of the benefits of using SuiteCRM for your retail business.
Customer satisfaction through ideal support
Combined data on one platform
Smoothens business operations
Effectively executing marketing operation
Tool for customer division
Different Modules for Retail Business
Some of the features that need to be incorporated into the SuiteCRM to make it more ideal for your retail business are the following: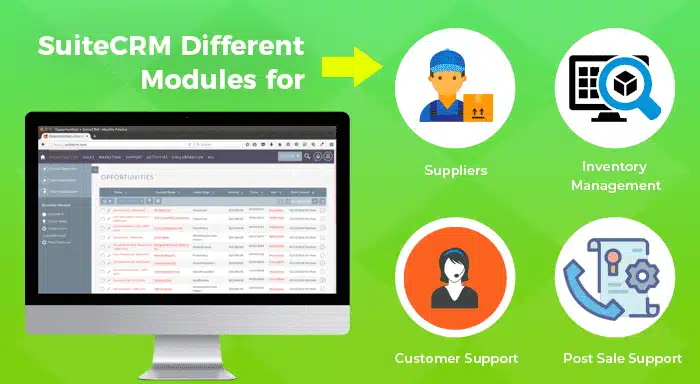 Module for Suppliers
As we discussed earlier, constant communication with the supplier is very important for any retail business. That is why a module for suppliers is required in your CRM, it allows you to be in touch with your suppliers constantly. It also gives you a deeper insight into your interaction with your suppliers and benefits from such information while dealing with the suppliers.
Modules for Inventory Management
Retail businesses have huge inventories and a lot of effort goes into its maintenance. There are many aspects of inventory maintenance that need maintenance to be managed accurately such as the number of items sold, the duration of the warranty and the date of manufacture and expiry of every item that needs to be accurate and precise.
Module for Customer Support
In the retail business, you need to have sufficient customer information to make more profitable decisions and deliver efficient customer support to your customers. With the help of this particular module, you can upsell, cross-sell, reward those customers that keep coming back and also give them discounts.
Module for Post Sale Support
Post sale support is quite crucial for a retail business to provide support to their customers inquiring regarding warranties and installations so on and so forth. So, therefore, it is important to keep track of your product warranties and the claims made by the customers. Installation schedules also have to be organized. Such after-sales support can be organized with the assistance of the post-sale support module.
SuiteCRM Integration with Third-Party Apps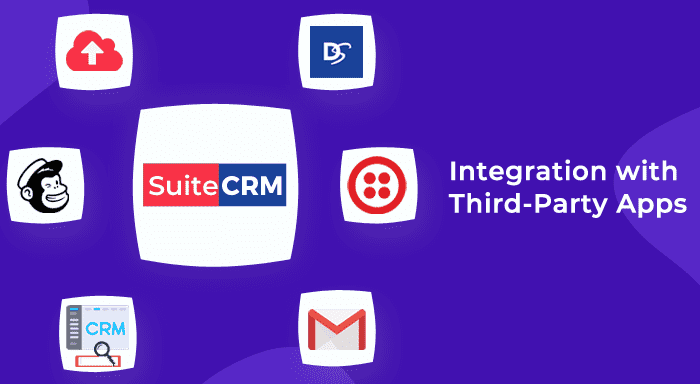 Apart from the customization process in order to make the CRM more suitable for your business integration with third-party tools also plays a major role in achieving your goals. Such integrations with third-party tools also enhance the ability of your CRM.
Integration with payment gateways is one of these integrations that help with the payment process. Other such integrations include plugins like telephony which allows users to communicate effectively. Integration of Google apps like contacts, calendar, and Gmail with your SuiteCRM also helps in saving time and effort. So that you can concentrate on your process and increase productivity.
Compliments your Business processes and Operations
Most of the features that we discussed earlier are common among businesses from different industry verticals. However, each business has unique requirements. Due to which some of these integrations might not be of any use and some might be quite useful.
So that is why we recommend that you custom built your SuiteCRM to fit your business requirements perfectly. This means that the customization of the entire theme, layout, modules, and fields so that it reflects your business requirements accurately and precisely. And so that it inculcates the vision of your organization into the users.
In Conclusion
In a retail industry, customer satisfaction are a top priority. And the goal that they strive to achieve since they have to deal with their customers constantly. In order to achieve this goal, businesses need a CRM that highlights their business operations and give them a birds-eye view of their complete business processes. That is where the SuiteCRM comes in handy. SuiteCRM is the best Free SuiteCRM for Small business.