When we start counting the best and effective communication channels these days then we guess there were enormous channels for your communication purpose. Nevertheless, businesses today depend on the "email communication" platform only and no doubt to say that the email is a perfect communication channel to maintain the relationship with clients. So, we present an extension for your business regarding the email activity and the plugin is BCC Archiving.
Real-life scenario: Suppose you are working in your office and making a conversation with the clients in your CRM. You go outside your office and at the same time your client messages something important. You don't have your system to reply, so you choose a mobile phone to reply to your client. But that will not be updated in your CRM and your employees who use the CRM feels like you have not replied to that message. This is why we introduce the extension for your business called SuiteCRM BCC Archive.
No matter whatever you have whether you are operating a mobile phone or using a tablet at home, you can start your conversation and it will be updated in your CRM automatically when you have this plugin called Email Archiving. The business needs to keep the entire conversation at one place so that no such confusion creates. Thanks to the addon called BCC Archive for handling this situation and keeping everything safe. It scans the BCC and then assigns it to the CRM. It wants that the conversation should be there in your CRM system. And yes the conversation remains in a safe zone.
Why is this plugin so important these days?
Chances are very high of "inappropriate communication" which no one likes because you already know that if you choose other platforms to reply to your clients then it will not be updated to your CRM software and your other team can reply to their message. So, it creates a situation like two different messages from different persons and clients feels like "which one is right". Adapt the extension in your business called Email Archiving if you don't want to lose your clients. After all, we all know how hard work you have shown to maintain the relationship with them.
Important functionalities of BCC archiving that you should know
This is the crux of the blog that we are going to uncover. The plugin SuiteCRM BCC Archive has some outstanding features for your business. Want to know more such functionalities? Let's dig in
The first functionality is about conversation safety as if you have set your mind to adapt this addon in your organization so you don't feel fret about data security. Here the conversations in the BCC Archive always remain safe.
The second and one of the top features of Email Archiving is real-time information process. When you update anything or share your reply to your clients, the extension inserts the conversation between both parties in real-time. This is important!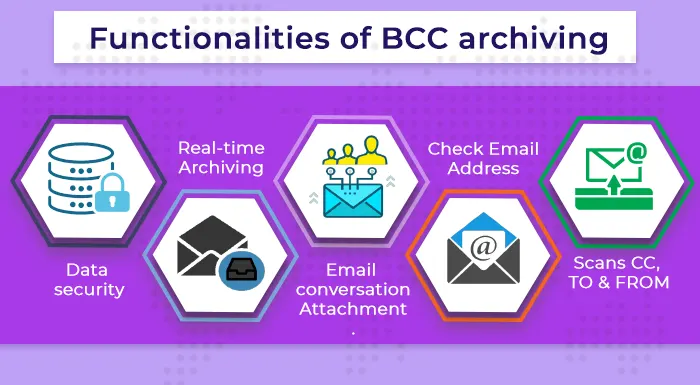 Moving on to the next feature of BCC Archiving plugin where it attaches email conversation from Leads.
The plugin called SuiteCRM BCC Archive scans CC, TO, FROM, Body and Subject and also fetches CRM customer email addresses swiftly.

While using Email Archive extension from us, creating multiple inbound Settings can be done. User can add more then one email address easily in BCC.

You will get the feature of "Notification Alert" in this add-on. Using the Email Archive of SuiteCRM, you will receive a notification when an email of your client attached to the History.

It's not like you should work on one module only. You are free to strive the modules such as Contacts and Leads. Archive BCC email address in any module from now.

Our add-on called BCC Archive aids you in scanning the email inbox automatically. It will do this after every one minute.

Wrap it up
Customer relationship Management system is one of the fast-growing software these days that should be adapted by every venture. We also want that you must get connected with some stellar plugins like Email Archiving which is about keeping the conversation in your CRM automatically without any hurdle. We don't know whether your priority is to reply to the client via mobile phone or tablet but the conversation is always updated in real-time when you operate such extensions like SuiteCRM BCC Archive. Outright Store is offering this remarkable plugin for your business enhancement. Understand in-depth and pay attention to the features as well which we highlighted above.