Sales automation is the process in which many parts of sales processes are automated. There are many digital tools available for automating different parts of a sales process. Many processes starting from lead generation to sending automated messages can be automated by automation software. The ultimate goal of every business is to generate more leads and increase brand awareness.
Automation sales tools are like a financial investment because once you invest in it you save a lot of manual work, time, and resources. Thus it gives a boost to the company's revenue and ROIs.
Benefits of Sale Automation
Optimizes and channelizes the workflow of your employees- Employees have to be assertive and maintain good relationships with their customers. But employees may not be able to develop a calm and composed temperament if they are overburdened with every day's monotonous repetitive processes. Automating these tasks will save a lot of time for the employees and they can utilize this time on other productive activities required for the growth of the organization. Also, this will reduce the stress level of employees.
Streamlines workflow of the organization- Sales tool automates many processes and the processes are well organized, fast, efficient, and free from human errors. This makes the entire workflow of the organization streamlined.
Access data accurately without manpower- Automation tools automatically gather and analyze a database. It also centralizes the data hence it's easy for every member of the organization to access it and see all the updates.
Reduces maximum possible errors- Mistakes can become unforgiving on digital platforms. Hence all the processes should be free from human errors and other possible errors. Automation makes processes efficient and free from human errors. 
Understand and analyze customers' behaviors- Through automation tools, you can monitor customers' behavior and hence understand them better. This helps you in catering and nurturing them better.
Conversion of leads to customers- With personalized nurturing more and more leads end up turning to customers. You can send personalized messages in bulk by segmenting the audiences based on the criteria they set. 
Applications of Sales Automation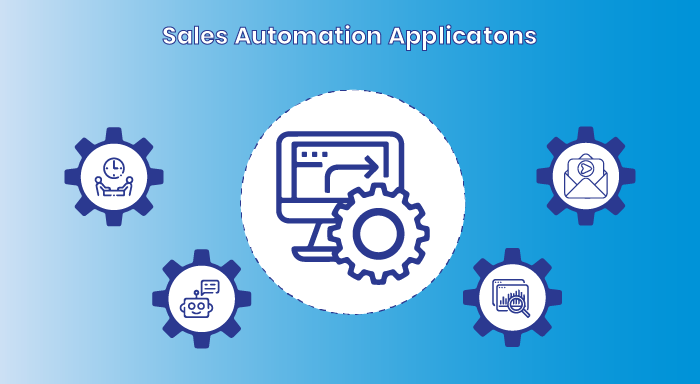 Businesses can automate the scheduling of meetings and escape from the procedure of sending emails for several days. Also by looking at sales representatives' schedules clients can check for their dates available and accordingly book meetings. Sets notifications and alerts for the tasks of teams and team members.
Sending personalized bulk messages and emails- Through automation, you can send personalized bulk emails and messages. You can follow up emails, send drip campaigns, etc. You can segment the audiences and accordingly customize and personalize messages for them and send them in bulk.  
Using automation tools businesses can track their target audience, scan the internet for new leads, and send them drip messages accordingly. There are automation tools that can also score leads by studying their database and their activities. These analyze lead behaviors and segment them accordingly. This helps businesses to focus on their leads accordingly and convert more and more leads into customers. 
Sales automation tools also perform the task of reporting and organizing, these create and send reports to the respective departments or individuals. Employees escape from the task of creating, distributing, and studying reports.
Predictive dialer software automates the process of sales calls, and dialing to the respective contacts is automated. Also, the calls can be recorded so that the sales team can keep track of important conversations.
AI Chatbots- This allows visitors to a website or an application to interact with a voice assistant and get answers to common questions. This helps customers to get answers to their queries anytime as representatives aren't available every time. Through this, you can also collect contact details, process payments, and track updates. The language of AI chatbots is customized according to the company's brand voice. You can also modify the conversations according to your preferences.
Automation tools can also forecast data which helps in predicting future growth. 
Automatically creates new profiles for leads and store contacts data in the database and the data is centrally accessible so that every department member can access it. 
The activities of the employees in the sales department can be tracked and analyzed.
Best Sales Automation Tools
1. SuiteCRM SMS Drip Campaign
Drip SMSs are SMSs that are customized and personalized according to the target audiences and are automatically sent at different intervals triggered by their actions.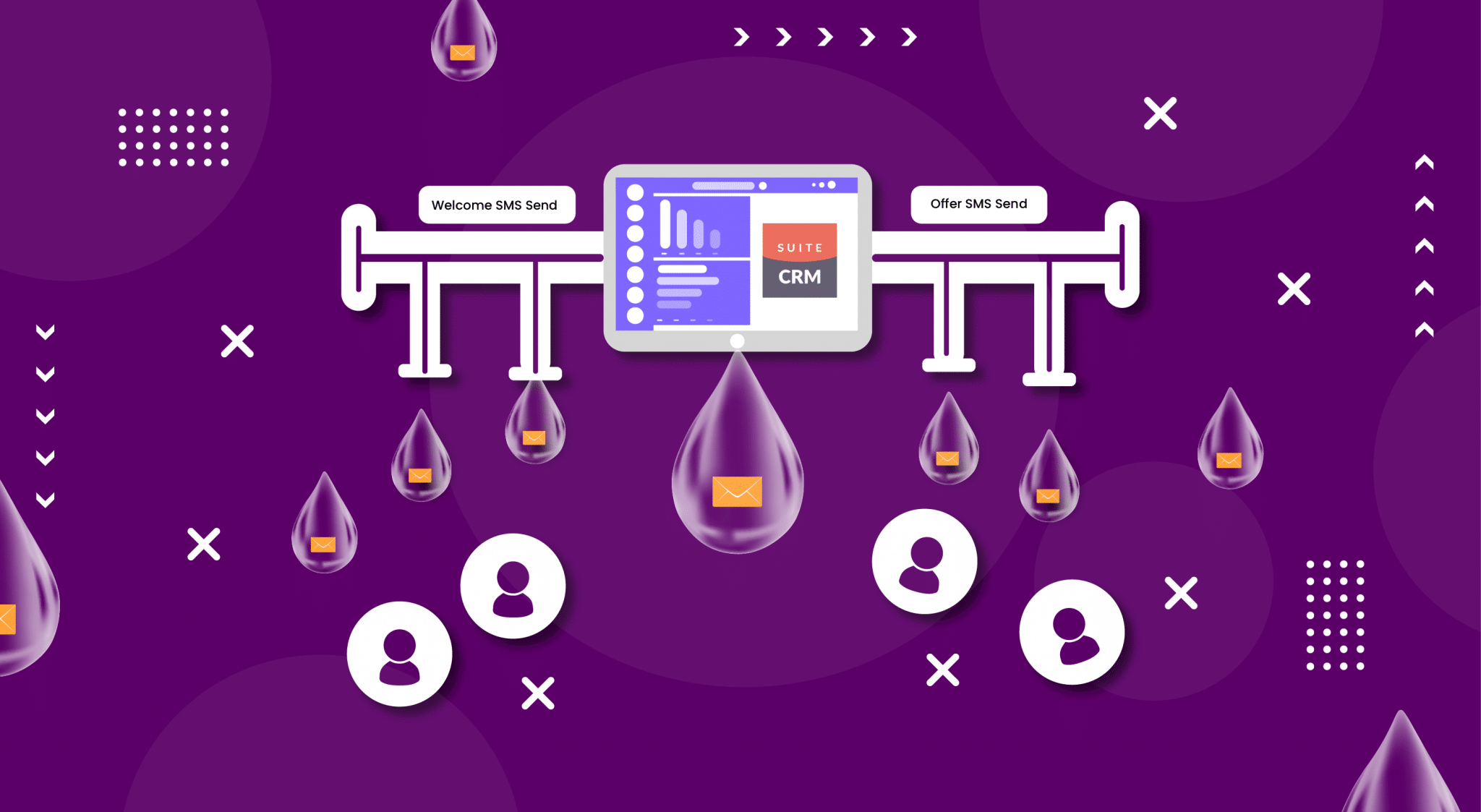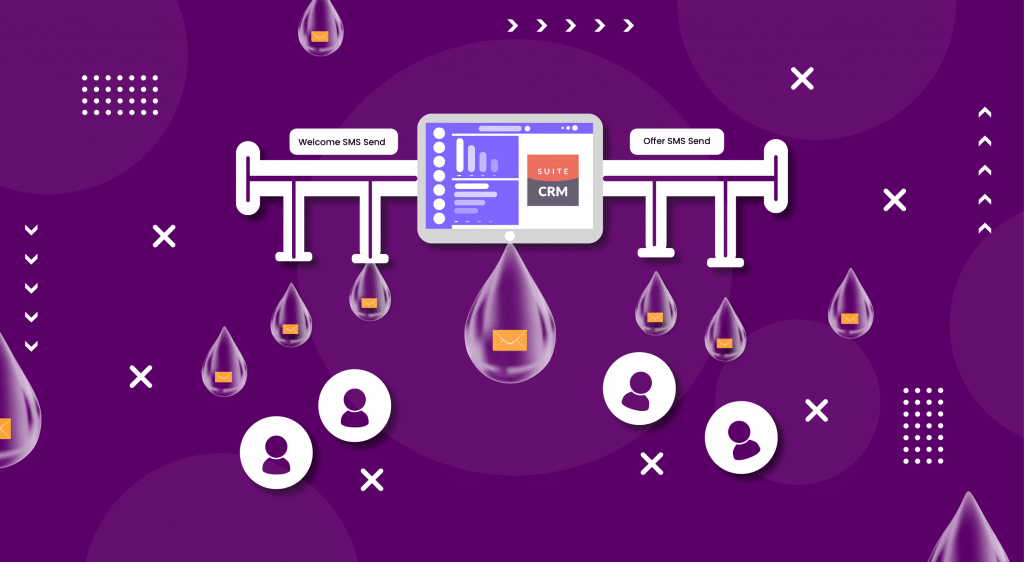 The SuiteCRM SMS Drip automates the entire process of sending drip SMSs to the appropriate audiences. It is powered by Twilio SMS API, one of the best in the market. It is compatible with all other SuiteCRM modules. 
Its features and functionalities are:
Based on the status and fields of customers and prospects they will automatically get added to the drip campaign list. 
You can select at which time your drip SMSs will be sent. It can be days, months, hours, weeks, or instantly.
You can choose the people to whom you want to send your drip SMSs.
Here, you can select the module (audience) and field (status) for which you want to create a drip.
You can also select SMS templates from the controller and create an automated series of text messages 
In the drip manager, you can check the status of your drips and other things like the queue if any phone numbers are missed or not, etc.
It has a centralized menu where you can navigate through all the options available.
There is an "Add to Drip" option where you can add the records individually to drips.
2. SuiteCRM Email Drip Campaign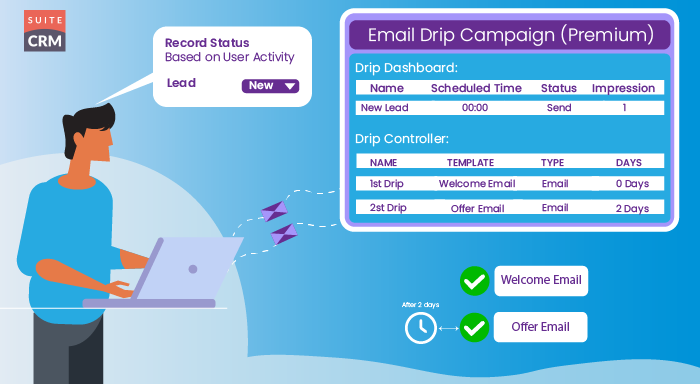 SuiteCRM Email Drip schedules a series of drip emails that will run according to the record's status. In many cases, email drips are more useful than SMS drips as they convey the message in a more elaborate manner and SMS have a word limit of just 160 words. Thus in many scenarios, it's better for businesses to switch to Email Drip Campaigns. This plugin is compatible with all other CRM modules, fields, and versions.
Features and functionalities-
Based on the records' status and fields the drip emails are automatically sent. 
Through this plugin, both the admin and users can select and send drip emails to persons. 
A drip manager dashboard is provided where you can choose the module, field, and email senders for which the drip is to be scheduled.
You can choose the email templates and also set the time in the drip controller. You can also create multiple controllers.
There is a dashboard where you can see the status of your drip i.e. queue, sent, not sent, etc. If you unsubscribe or resubscribe then also you will still get the status.
Here, you'll get a recipient activity dashboard where you can see all the insights into the activities of recipients. 
There is a centralized all-action menu available in the left navigation panel where you can access create new drips, recipient activity, drip dashboard, etc.
You can use the option of "Add a drip" through which you can add a record to the drip directly from the module.
Conclusion
Sales are the ultimate goal of every business and the most crucial and time-consuming process. Therefore people working in the sales department have a lot of tasks and activities. Sales automation tools automate many of these tasks and thus reduce the workload and stress of the people working in the sales department also save a lot of money and resources for the entire organization, thus boosting ROIs.