It stops your working process when you find out that there are two similar sections in one module when working under the Customer Relationship Management (CRM) software. There are plenty of modules and sections, so the situation can happen when you see two similar sections and get confused about what to do. No need to panic because we are presenting a great extension for this task called Global Hide manager for SuiteCRM. What is it?
Let's understand this with an example: You work daily in your CRM system for your business purpose and you want everything to be done shortly. It can stop you sometimes when you find two same sections in one module. What to do? Research the solution or move on to the next task? Well, it's time to get connected with a great addon called SuiteCRM Global Hide Manager which plays a key role in hiding the unwanted or you can say duplicate section from that module.
Many big industries like call center sector work so promptly that they don't want such a situation that creates confusion of which section is right one or which section is duplicate. These industries need to strive for a Global hide manager plugin for their business which never diverts your mind and hides the unwanted section. Sounds great! You will feel like a neat and clear work process in the CRM system and you will pay more attention and there is a chance to hike up the business productivity as well.
Why is this extension Global Hide manager for SuiteCRM so important?
You already know that duplicate sections can create confusion and also creates chaos in your CRM system which no one likes. You can't work properly because of two similar sections and you want to hide those unwanted sections that are no use to you. This is why you must endeavor this extension in your organization. This is beneficial for the industries like the IT sector or we would say Call center business because they always want the work to get completed swiftly. If these duplicate sections get hidden then they can perform well and boost up their work productivity.
Top functionalities of SuiteCRM Global Hide manager
We are going to jot down some points of SuiteCRM Global Hide manager features. Let's dive into the pool-
The admin has a chance to hide the buttons, sections and also fields of SuiteCRM which are no use to you.
When using this extension Global Hide manager for SuiteCRM, the admin can hide the functionality of a particular role.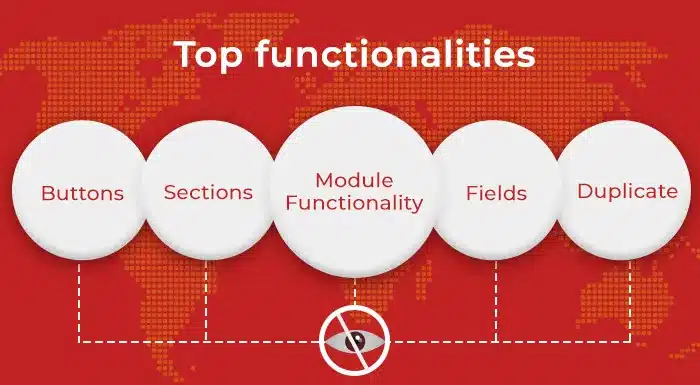 It is a plus point as if you hide the duplicate and unwanted sections then you find clear work in your CRM and this will raise business productivity.
If you want to unhide those sections later on then it is possible too.
Hiding unwanted sections will not divert your mind as you will focus on the right one first.
Over to you
Organizations who are operating the CRM software like the Banking sector or we would say the IT industry must be connected with this outstanding plugin called Global Hide manager for SuiteCRM if they don't want to meet up with the situation of duplicate sections. It's time to work with a neat and clean process. Therefore, all of you must operate this extension which is not just to hide your sections to stop the confusion but also can unhide the sections again like if you need it back at any cost. Your data will always remain safe and more such great functionalities the plugin SuiteCRM Global Hide manager has. We have uncovered above its features how it can help you more, so let's see how many CRM users operate this addon or operate other vintage extensions for their business enhancement.