E-commerce live chat is the pop-up window available on e-commerce websites or online stores where website visitors and agents can chat. Any kind of questions or queries the website visitors have they can ask and get the answers then and there either from the chat agents or automated AI response. This keeps the audience more engaged with your webpage. People ask more questions about the products and services they are looking for.
This will arouse more interest of people in your brand and they will search about it more and also go to your knowledge base to know more. It improves the customer experience and increases their trust in your brand. All these factors lead to more sales. Also, your customer service department will know the most common queries and questions of people. This helps your brand in improving the quality of their products and services. This increases lead generation and their conversion to customers process.
Benefits of Live Chat in Online Stores
Time-saving for both customers and business
Time is the most crucial part of every person's life. And when businesses value customers time then customers are more satisfied. In fact, it is the most important part of customer service. Just being nice, big offers and discounts won't do. Live chat is the most effective way to save and utilize customers' time in the best way possible.
Answers customer questions at the same time
When customers don't get the answer at the right time then their queries become doubts and can obstruct in continuing their customer journey further. It can decrease the confidence of the customer or lead to making the purchase. Live chat doesn't kill the zeal and enthusiasm of the customers and encourages them to continue their customer journey with full confidence.
Maintains customer communications on brand
Live chats increase as well as enhance the customer's communication and engagement with your brand. It eliminates the requirement of formalities and procedures in contacting the brand in case of phone calls, emails, or a separate customer service page. The conversation between the customer and the brand is seamless without any mindset adjustment of the customer.
Provides valuable insights into the customers' behaviors
With live chats, it's easier for the brand to get insights into the customers' behavior. As with live chats, customers are more comfortable talking to the brand and also after their problem is solved they can immediately give feedback then and there. This makes it easier for the live chat agents to follow up in comparison to follow-up phone calls or emails. Live chat also provides access to analytics which is not possible in phone calls or emails. With live chat, you can also track customers' behaviors.
Humanizes e-commerce store
With live chat, you can have instant support with an agent which makes it easier in comparison to traditional contacts like phones and emails where it takes time.
Must have features in the best e-commerce live chat
The following factors need to be taken into consideration before choosing the best e-commerce live chat for your business.
You have to first check whether your e-commerce liver chat has the following features real-time chat, customization options, automated messages, visitor tracking, analytics and reporting, and integration with other software applications and tools. Your e-commerce should have at least all the basic features that can make your live chat service excellent.
Then you have to check for ease of use. Your software should be simple to install and configure without much complicated steps and should have a user-friendly user interface.
Then comes the customer support. You have to choose software that offers reliable customer support. It should have features like quick response times, multiple channels of support, and a helpful and knowledgeable support team.
The most important factor is the cost. Look at your budget first and check for the service provider that provides you with the best features within your budget as you have to make the best of what you have. Also, choose a software in which more features can be added so that when your business grows you don't have to switch your service provider.
Integration with other software applications and tools is also very important. Your e-commerce live chat service should be able to integrate with other applications and tools for better workflow and data management.
Lastly check for the customer's reviews, ratings, and experience with that service provider so that you know whether they are trustworthy or not.
Best E-commerce Live Chat Services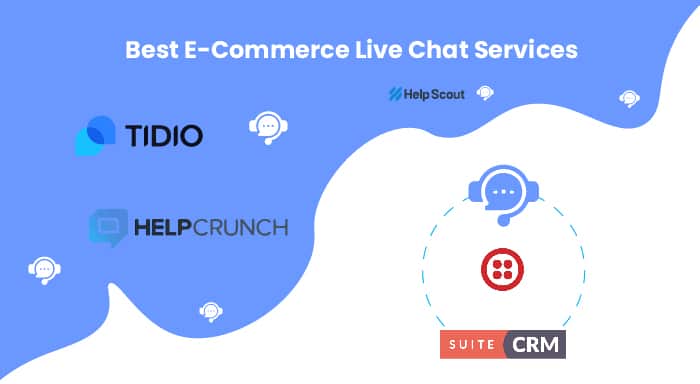 Twilio SMS with SuiteCRM – Live Chat
This is one of the best CRM for e-commerce businesses available in the market. You can talk to your customers directly from the CRM where you'll get access to crucial information while you're chatting with customers. A CRM also keeps the data centralized. You'll get other features like multiple agents, pre-built templates, capabilities of Twilio SMS, and limitless customization.
lp Scout
This is one of the best e-commerce live chats available in the market. Using this user customers can talk to the agents and even browse help center articles. It also recommends articles based on the page the customer is viewing. Still, if they cannot find what they are looking for they can contact a support agent right then. It provides multichannel support options. Other features offered by it are email, a knowledge base, and in-app messaging. It provides trigger-based messaging. Its price is $20 per month.
HelpCrunch
It is a customizable e-commerce live chat that can integrate with many software applications and tools including Facebook Messenger. HelpCrunch has 20 customization options. It has many CSS stylings allowing you to match the pop of your branding, creating a cohesive customer service experience It can integrate with many software applications and tools including Shopify and WordPress. You just need to upload this plugin on your website and you are good to go. Its price is $12 per month.
Tidio
This is the best e-commerce platform for small and emerging businesses as it offers a forever-free plan. With this small businesses can easily accommodate live chat on their website or applications. It can be installed via plugin or javascript. It has many functionalities like event tracking and conversation ratings. Tidio has many in-built templates. You can also automate many replies which are required in times when the live chat agent is not available.
Olark
This is the best live chat software if you don't want additional customer support, it is a standalone live chat service. It has few but prominent features like custom pre-chat forms, which gather information before the chat begins. And triggered messages that automatically send suggestions and special offers. It also has offline messaging for customers so that they can leave a message and receive an email follow-up response. It lacks an extensive email ticketing system, knowledge base management, and other CRM capabilities. But it's the best option for a standalone live chat service. Its price is $29 per month.
Conclusion
Just like other businesses e-commerce businesses also need live chat so that the website visitors can get the answers to their questions and queries immediately. This enhances the conversation between a business and its customers. If you are looking for the appropriate live chat for your e-commerce store then this article is for you. It will help in understanding why your e-commerce business needs live chat support, what features a good live chat application should have, and some of the best live chat applications available in the market.