A highly customized Live chat software can prove to be the answer to all your business needs. The faster you reply to your customer the better you increase the rate of customer satisfaction. To improve your communication experience, we have shared the top 5 intuitive live chat tools with their current pricing plans.
Define Live chat system
A service where customers who visit your website shares their queries and sales/support staff reply to all their problems. This all happens in real-time where the customers feel like you value them and will resolve all their pain problems.
So many second-to-none software for Live chat is available which helps in:
Capturing vital leads
Doing detailed conversations with leads
Knowing a marketing qualified lead for a company or not.
For example: When you have so many customers in line to solve their pain problems, you will not go to the email channel or call them one by one.
It takes a heap of time from every individual in your customer service team. Eventually, you will find this monotonous work. The real-time fast conversation is indispensable. The best idea would be to choose a slick Live chat app.
You can talk to numerous customers at once to manage faster and keep strengthening your relationship. This not only raises customer satisfaction rate but also increases the productivity of your team. Replying to a bunch of customers at the same time lets you focus more on brain-engaging tasks.
Even the research says adapting such tools for real-time conversation uplift a 5% customer retention rate. Further, more than 41% of customers are expecting a live chat on a website.
A CRM business once asked to provide a Live chat tool
We have a great story to tell about the Twilio SMS product that eased the backbreaking work of sharing templates while doing live chat.
A few months ago, we got a query from the marketing team on social media. They said, "We are getting impeccable experience while doing real-time conversation on one of our live chat app. But the thing is we share SMS templates through email.
Our small business wants a comprehensive solution that allows us to do live chat and let our team share SMS templates from a similar platform. Please suggest something!"
On the same day, we replied, "You come to a good place because we have one interesting product that fulfills your needs. Put your one-time investment on Twilio SMS (will explain to you in detail below) product.
You can start your real-time chat from CRM through this product. It helps in sharing pre-built SMS templates through a chat box. A single-click process here with no challenging method. A product like this aids business in personalizing the templates with variable fields."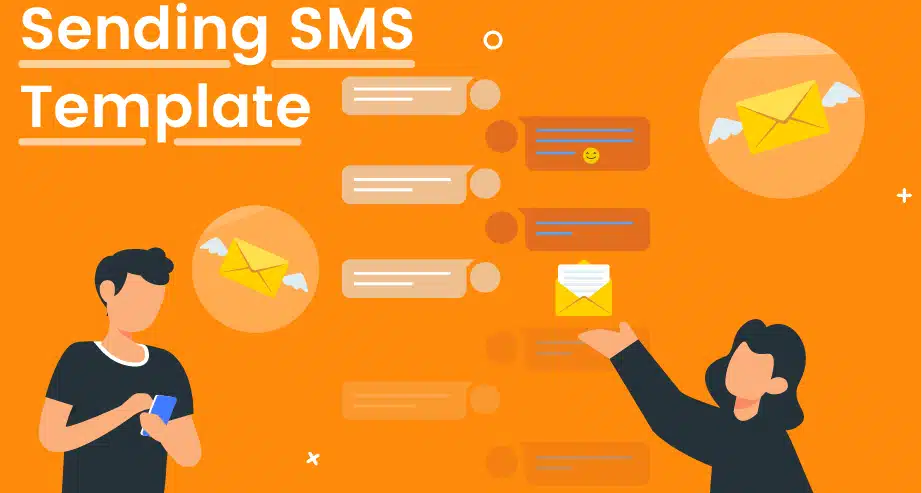 The lead trusted us and purchased that product for their CRM business. He is tickled for taking the experience of next-level functionalities as he gained more new leads that are purchasing their SuiteCRM plugins.
The profit margin of the online chat app is more than 25%
62% of customers are keen to use the live chat facility on a mobile device
Easy collection of effective data through this communication
While using the best live chat software, the data will be stored. When you make a phone call, there is no place to store any data.
A real-time online SMS conversation is fabulous for making decisions when you have valuable data. Suppose you have the data of Free SuiteCRM plugins on your chat software. Your developer team reviews everything and decides what changes they need to bring.
This helps the marketers to promote those products once again and raise a chance once again to sell them faster. As you solved all the problems in products. Now customers can purchase it to tailor their needs.
Before you buy:
The software should integrate seamlessly with other apps
Support in Mobile
When integration is done you never feel the productivity is killing. Tools are easily integrated with third-party apps to manage every task promptly. Select any messaging tool but make sure they are syncing with amazing applications for your business. We recommend choosing the online message app that syncs with-
CRM software (Customer Relationship Management)
Google Analytics
Best Social media apps
Call center software
Helpdesk ticketing systems
If a communication software is mobile responsive then half of your problem is solved. Customers want the chat tool to give seamless mobile support. Not only benefits customers but is also crucial for businesses because they can reply from anywhere and anytime.
By communicating on time and from anywhere, you will not miss any important lead. The team can say they are available and can provide 24/7 support service to leads.
Can chat software decrease cart abandonment rate?
Who has faced the situation when a customer leaves the cart before buying anything from your website?
We are sure everybody met this challenge and nevertheless, they are facing this. If a customer sees anything better than your product they don't think about anything else and just land on your competitor's website.
To avoid or reduce the chance of card abandonment, we have an optimal solution and that is the Live chat application. But how is it accurate for this?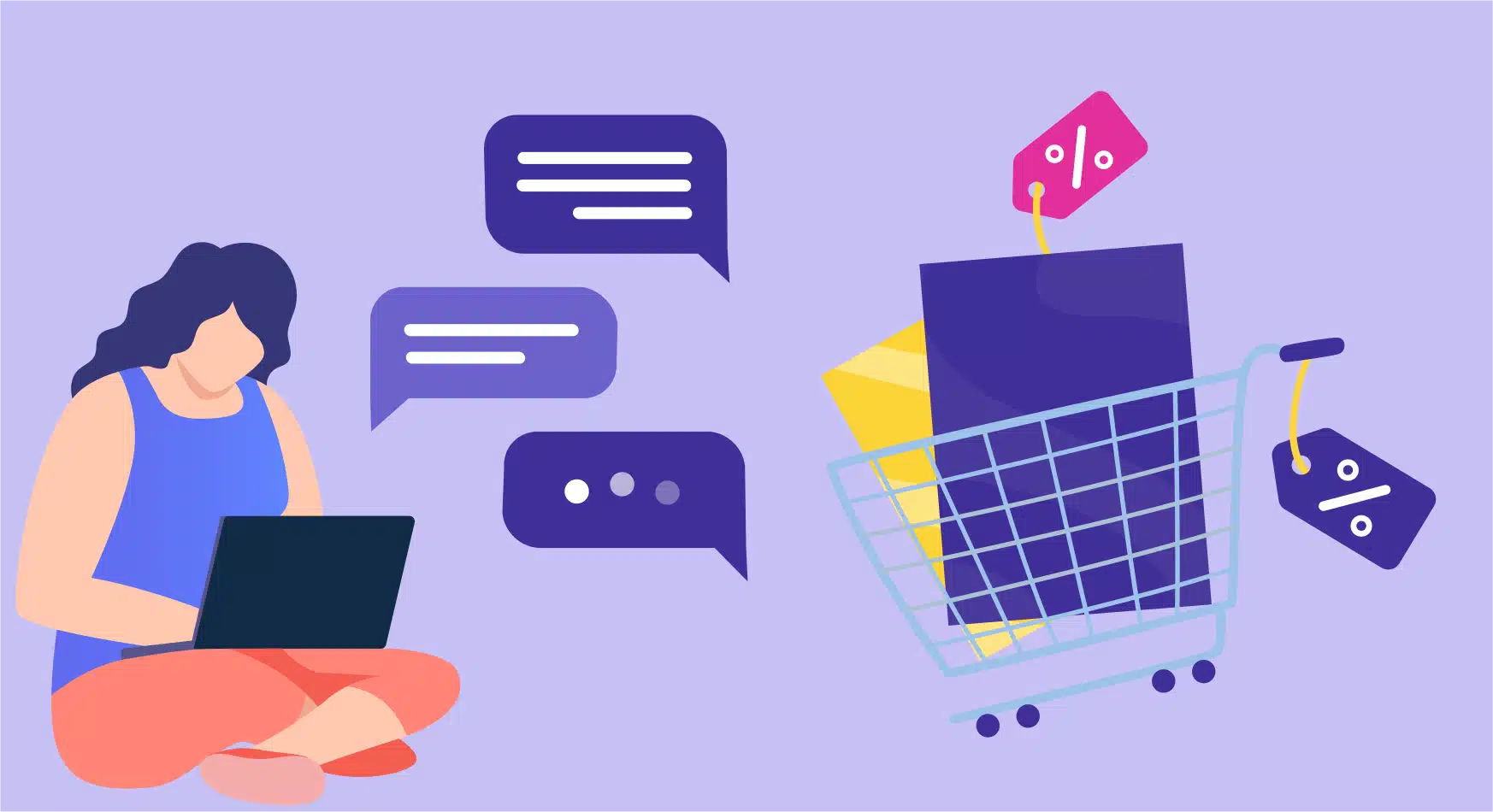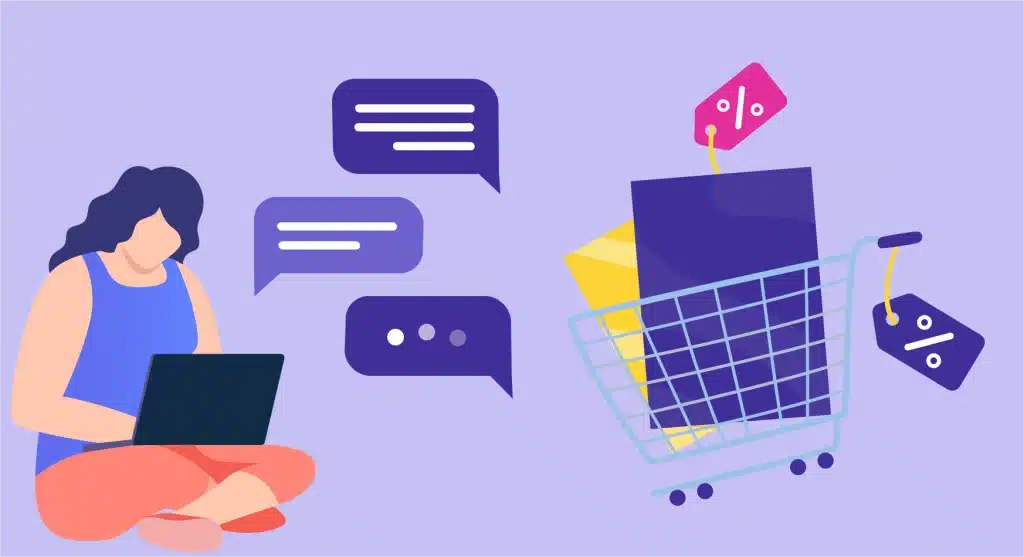 The team on the Live chat solution can reply swiftly before the customer does the checkout process.
Starting a conversation and replying on time helps to create rapport with leads and turn them into customers.
Best of all, you can target their interest in products and stages in the Sales funnel.
5 better tools of Live chat service for every brand
We are done with all business benefits and examples of this communication channel. Now we will look at the tools that are worth using.
Twilio SMS for SuiteCRM
As we mentioned above, our first recommendation and the most stellar software currently is Twilio SMS. You can start your personalized conversation directly from CRM through this extension which allows you to connect with numerous clients at once.
This results in fast service, increased productivity, focus more on other critical work, etc. Besides this SMS template sharing, you can send emojis, can get instant SMS reports, get notifications of missed SMS, and more.
The plugin provides the salient feature of Opt-out to stop conversation with anybody. Businesses can also track entire opt-out numbers in one place.
In addition to this, the product will keep all the conversations of every client on chat. It is even capable of adjusting the time zone of the user.
Pricing: $499.00 (One-time investment only)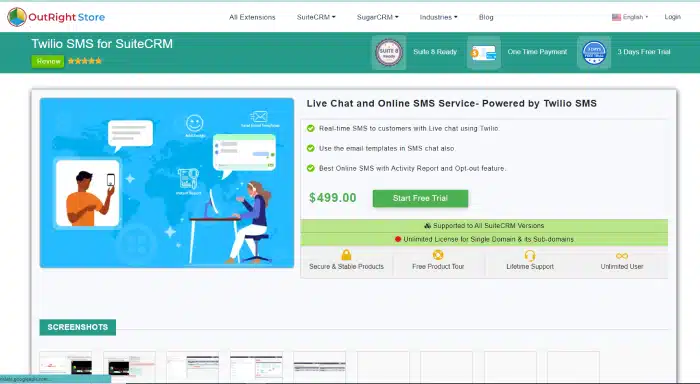 LiveAgent
Start getting connected with plenty of customers on all channels through LiveAgent. A magnificent tool for automatic chat routing, 24/7 service, preview live chat messages, and so on.
One of the greatest features is letting you know the overall impact of your live chat customer service. How will it work? It can sync with Google Analytics and that is advantageous for the user to track and create a report after that.
When it is about syncing with platforms, go with:
WordPress
Shopify
HubSpot
Pricing: Starts with $29/agent/month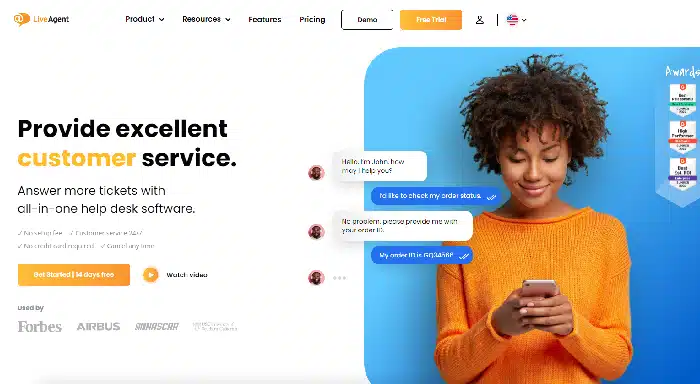 Freshchat
Introduced by Freshworks, it aids users in sharing delightful experiences through conversation and is better for automated one-by-one messages. The tool is being used by the sales team mostly and they have given a better review of it.
Use it to operate the proven functionalities like tracking customer behavior, omnichannel benefit, filtering messages as per the response time, and so on. The product is capable of delivering pre-built templates to customers.
No doubt, customers can message you anywhere, but you can reply to customers from a single screen. Freshchat also guarantees to sync with the end number of apps.
Pricing: Starts with $15/agent/month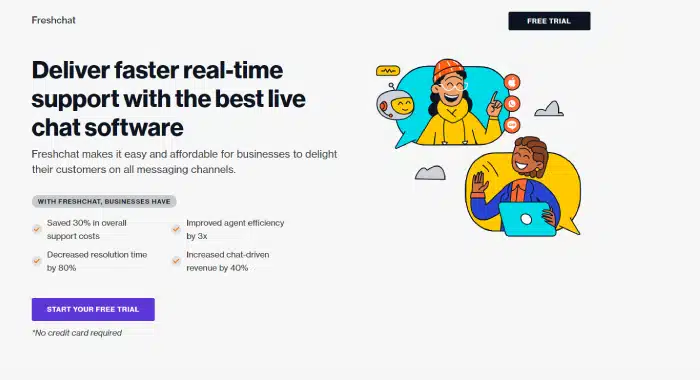 LiveChat
A tool specially built for the Sales department called LiveChat has multiple features to get qualified leads for a business. The biggest reason behind adopting this communication tool is getting the function of chat transcript and archives. Also, it is the ultimate choice for the report creation process.
LiveChat enables users to know what visitors are doing on your website. This gives a signal to companies about what the customers are actually looking for and how to fulfill their needs.
Most of you don't know the fact that LiveChat always asks for email and order ID from customers before starting a conversation. Sync it with the best marketing platform called Mailchimp software and with the Twilio cloud-communication tool.
Pricing: Starts with $16/agent/month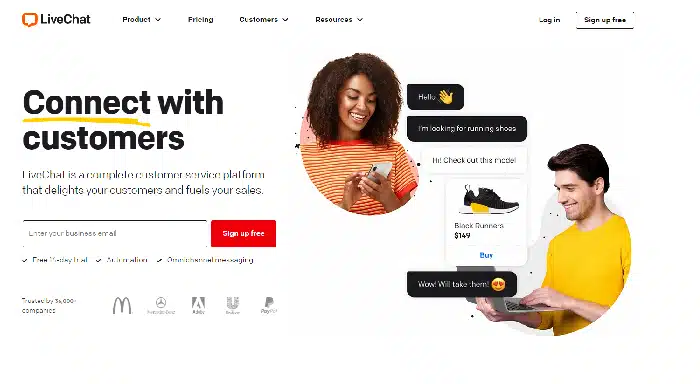 Drift
Another prominent tool that can intercept customers where they are and what's best for them. Introducing Drift live chat application that promises to provide a mind-blowing experience and can scale your business in customer support operation.
To know the target accounts on the website, sync this great tool with applications such as Salesforce and HubSpot. Through this, accounts and contacts will be tracked automatically.
The hidden fact about this chat software is it uses the power of leadbot to qualify leads and assist in booking important meetings. Like other software, it is also a wonderful choice for converting prospects faster to your regular customer.
Pricing: Visit the website to know every plan detail.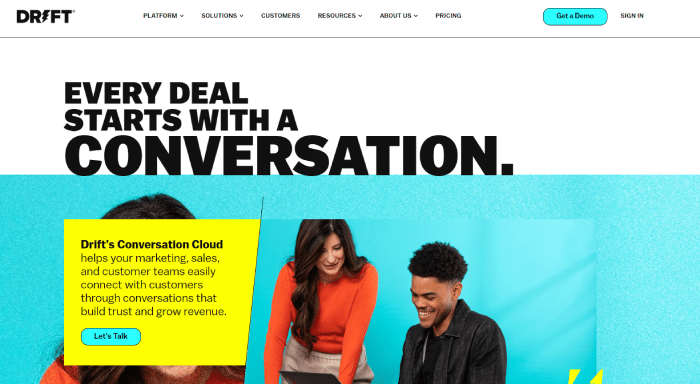 Final thoughts: The motive of live chat software is crystal clear now: grow better and increase sales/revenue. Conversation in real-time is a top-grade advantage that you should not miss at all. We believe online chat application is a better channel to communicate as compared to other channels. So, your next priority goal for the investment should be in the above five tools that we talked about. Adapt any and observe the customer satisfaction rate. Good luck!