Are you working in a Sales company for years, or have just started to dip your toes in? No matter what industry you adapted to, the Never-Dying goal would be Revenue. Sales agents have all great powers and know every smart trick to sell. What's the one strategy that is not only efficacious but also aids businesses to see Conversion and Revenue soar? That is "Cross-Selling" which never lets you stop selling at one point. You keep on encouraging those customers to make repeat purchases.
But what is it and what's the role of CRM (Customer Relationship Management) here?

If Sales agents have tons of Marketing techniques then why Cross-sell should never be eliminated from their selling pattern? The list goes on, so read this article word for word below.
What is Cross-sell?
The term Cross-selling means encouraging your valuable Customers to shop supplementary products/services with the Primary product/service. The obvious benefit is: Revenue. This prominent marketing strategy is an example of increasing Customer loyalty and making an everlasting relationship with them.
"Cross-Sell increase Profit by 30%"

An Example here would help you to know this Technique completely: You decided to buy a brand-new coat from a Suit store. You purchase it. The Shop recommends you to try shoes with that. So, you buy those shoes too. This is what Cross selling is by offering you related products with your primary product to increase Revenue. Such awesome techniques are very prevalent in Retail industry. Now Professional agencies also apply to fill their bucket with high profit.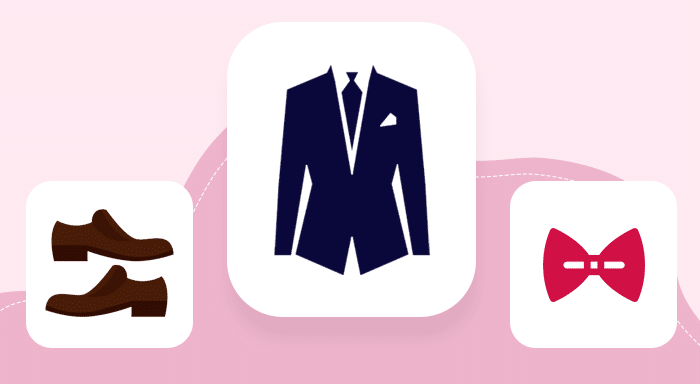 One more Example we have and it is regarding the Banking Industry. A newbie opens a checking account for the first time. A Bank offers Credit card facilities and explains all the ultimate benefits of it. Maybe the person can go for it. In short- it is cross-sell. It enables you to achieve the Sales Target faster and easier.

"Cross-Sell increase Sale by 20%"

It Hones your goal of Customer Satisfaction
Have you build-up all essential cross-selling strategies? If not, you are just leaving money on the table. Getting such techniques and if it executes properly then it's a Winning chance for your organization and for your customer.

Recommend the greatest product you have according to your customer's needs at an appropriate time. Present on the communication channel where they visit the most. They will definitely close the deal swiftly. This indicates that you care about your customer the most. Here you hit the mark of Customer Satisfaction correctly.

After all, Customers are the lifeblood of your organization. Here your Cross-sell strategies build Customer Loyalty too. A great start for every amateur business!

Can this technique help you in uplifting Customer Lifetime Value?
First, let's just know about CLV (Customer Lifetime Value)- this term means the total worth to a business of a customer when they were in a relationship for sale and purchase. A necessary metric for every company to know because it makes a great picture with the message of business long-term and financial viability.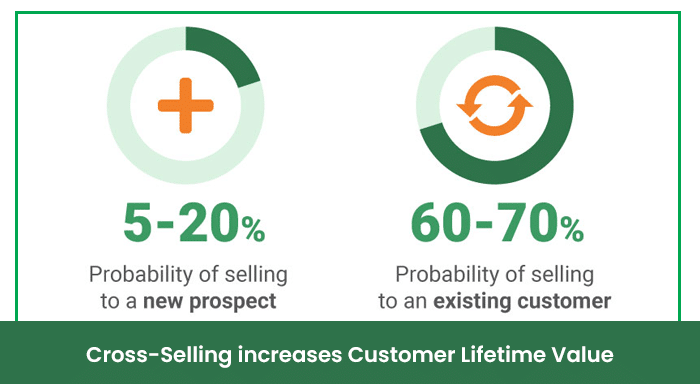 The Greatest Marketing Technique called Cross selling promised to never let increasing the Customer churn rate. And will aid businesses to hike up customer retention. This all will be possible when offering your customer everything at the correct time. They will shop more and more from your company. This results in helping you in increasing Customer Lifetime Value (CLV).

Faster and Make better Customer Relationship
If making a long-lasting Relationship with your customers starts bouncing around your head then we can help you. The most common and crucial question of every Sales agent is how they can make better relationships. If other primitive techniques are not brimming with good results then dive into the pool of "Cross-selling".

Harness the power and believe in cross-selling techniques. As mentioned above, you provide everything to your profitable customers on time. You fulfill all their needs before your competitors enter.
Chances are very-very high to make long-term relationships with all such customers. Such a great advantage is not only to make the organization employees happy but also to the customer. Because they are getting what they need the most.

Top-notch Cross-sell Strategies and Techniques to know
Every cross-sell technique is indispensable for businesses to know. We are going to drill down a complete list.

Think of Customer Point of view
Do you care about what customers are looking for instead of just thinking of making a huge profit? If not then you are killing your business with your own hands. This is the first and foremost technique that you need to be aware of.
We believe cross-sell can provide a great profit but whatever the additional product you offer, make sure it is reliable to them. Never think about gaining some money over here. Think about your cross-sell from the customer point of view. It is better to share just one A+ product for making relationships with the customer better.
Try Social Selling technique to increase Sale
Today we are gaining an end number of prospects just because of social media platforms. Without this, a business can face a bit more difficulty and it will be quite daunting to hike up the sale.
If reaching the right audience is what you are looking for then make use of some stellar social media influencers tools. Whoever shares your primary products, share your supplementary products as well. A great influencer of social media can flash your additional products on every channel.

Better to Reward your Customer
Suppose I get a customer for my SugarCRM Services (just an example) and he/she understands everything and is ready to deal with us. The person started using the services. The job is still pending from your side? It's good if you get a customer but the job gets completed when you reward your customer.
This is what the third Cross-sell strategy is all about: Rewarding your Valuable Customer. It will be a wonderful decision because you open the gate of "Spend Money more". You can reward them for trusting your institution. Strive for sharing the rewards like: Thank You letter, Discount on next purchase, and the list goes on.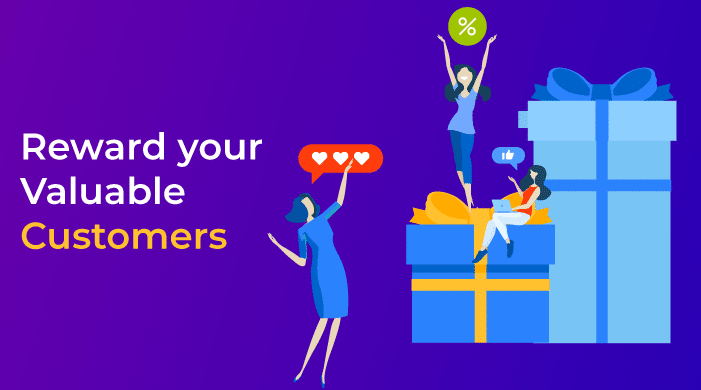 Top-most Cross-sell technique: Inbound Marketing Campaign
We tried and tested this advanced technique called the Inbound Marketing campaign and it gave good results to our CRM Business. You can use it to promote the supplementary products and services that you want your customer to view.
For example: your business is all about selling computers or laptops. You can entail ads for printers, joysticks, etc. A better method to encourage the cross-sales as you can include the ads of such supplementary products on your Blogs or in other business service pages.

CRM software is noteworthy for Cross-sell. How?
Knowing the Best CRM software and still not working on it, you're doing your business a disservice. This software is the reason why businesses scale today. Its all-encompassing tools are exceptional in every task. For your Cross-selling techniques, you must have a user-friendly CRM because-

Garner Customer buying behavior and Pattern
Are you clueless about not getting that much result from other outdated software about customer behavior? It is necessary for your business operation and without any spec of doubt, the CRM is awesome.
It shares a 360-degree contact view to get a more expansive overview of everything about the customer. Your Cross-sell strategy will never go in vain.
The Sales agent can leverage such information and make their best strategy of cross selling. Identify better what customers are looking for and give them to see revenue and sales soar.
Analyze what the Customer is doing
Another marvelous way to achieve success from your cross-selling method is by knowing what customers are doing. Thanks to the CRM here to assist you. How?
It will provide ultimate information like which web page customer spends most time, what content they are reading, etc. Even the CRM is more powerful to help you what Business offers the customer downloaded.
If there is no assistance to grab web analytics then make sure CRM is added to your investment goal list. Pro tip: Easy way for sales agents to push the customer for extra sales.

Look and Filter Feedback more easily
Feedback is a nice way to know what customers feel about the products and services you are providing. Feedback can be full of positive or negative. Try to deal according to that.
Well, a professional CRM system identity is to look and filter all such feedback that you gained. It will be interesting to see how you analyze such data and turn that into an awesome opportunity.
Investing your money on versatile SugarCRM software provides a centralized communication platform. It is important because you can analyze and filter the feedback of your customers.

The Bottom Line
Behind every business's overnight success, there is a splendid strategy to scale every activity. Cross-sell is a door to your business. Start using it in your sales task to reach your target and make your brand more popular worldwide. Sales agents always welcome crucial techniques. Why not go for cross-selling? We believe if you follow the strategies mentioned above then it will turn your business "Most successful". Good Luck!