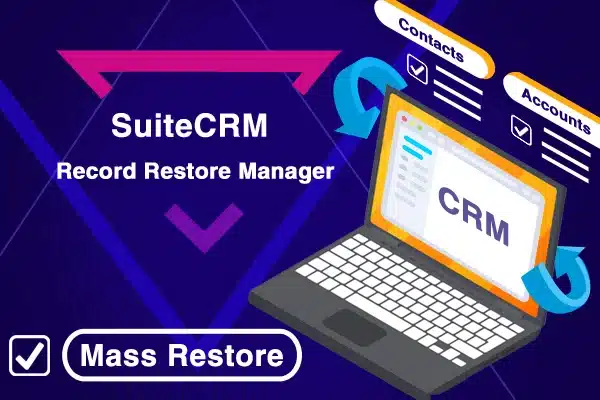 Restore Deleted Records in CRM
Restore all deleted records in your CRM from any module.
Easy one click restoration process.
Bulk restoration option available.
Supported to All SuiteCRM Versions
Unlimited License for Single Domain & its Sub-domains

Lifetime Support

Unlimited User
Screenshots
---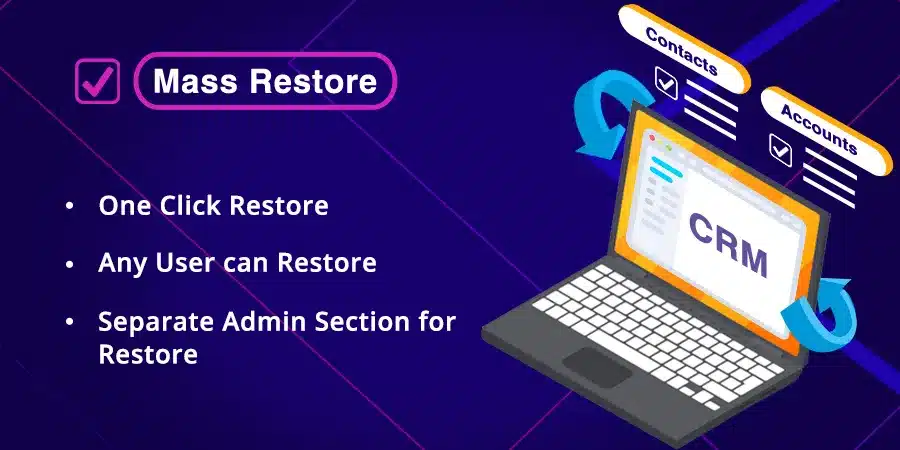 SuiteCRM Recycle Bin Premium
Removing records accidentally and getting restored is possible. Restore those records by using the extension called SuiteCRM Recycle Bin Premium. No need to worry about the data that you deleted by chance as it can easily restore by using this extension in your CRM. Admin can easily restore the records from this plugin. A great extension to save your records and can reinforce your business effectively as no such harm to your data when Record Restore Manager is here for your assistance.
For example: Suppose you are working in a company and as an employee you manage the records of CRM but suddenly you deleted some records by chance and want those records back. Our plugin Record Restore Manager can help you to restore the entire records that you want back.
Key features of Recycle Bin Premium:
To restore the records, any authorized user can do that process.
In just one tap, your deleted records can be easily restored in your CRM.
Admin can do multiple restores at one time by going for the Mass Restore option.
Record Restore Manager can help you to know about the records that when it was deleted from contacts or from any module.
A time-saving extension as it will restore the records in one click.

Records will be restored back to the original state i.e. attached opportunities, contacts, documents will also get restored.

You can even restore the records that were in SuiteCRM before plugin installation.
Concluding note: Now an easy way to find your deleted data in CRM by using Record Restore Manager plugin which can bring back your deleted data. Furthermore, admin can select multiple deleted records easily and that is a plus point to go for this extension. Records always stay safe and the entire process of restoring records via Premium Recycle Bin will perform safely. Read out the exceptional features of this plugin before going to use it for your CRM.
Not available!
Frequently Asked Questions
Saves deleted records with SuiteCRM Recycle Bin
There is zero percent chance of record loss in your CRM when you use a plugin like Record restore manager addon in your business. Admin has the ability to restore the deleted records and save it again.
Can I recover data which was deleted like a year ago with this?
You can recover the entire data which you deleted accidentally and want those data back. Must have the extension like Record restore manager plugin in your work where it is possible.
How can this plugin help the user?
This plugin is very helpful for you all where you no need to stay stressed when your record gets deleted by chance. You can record your daa shortly with the assistance of our extension called Record restore manager.
What happens when files are deleted from the recycle bin?
If you have the extension like Record restore manager then you can get back those data again. There can be a chance when your data gets deleted, so don't worry when you have this extension.
What are the features of SuiteCRM Recycle Bin Plugins?
When you have this plugin for your work then let us tell you that only the admin can do the process of restoring data. It is time-saving as in just one click you can restore the entire data. It can also tell you when the data was deleted.
How much should I Pay for this?
It's time to tell you the actual cost of this Plugin Record Restore Manager if you need. You need to pay $75 only.
How can I recover permanently deleted files from SuiteCRM?
If you need those data from SuiteCRM that you deleted permanently then Outright Store can guide the best process of what you have to do. We can share your guidance step by step.
Videos
---
Reviews
---
All Add-Ons are life time purchases, there are no recurring/hidden charges