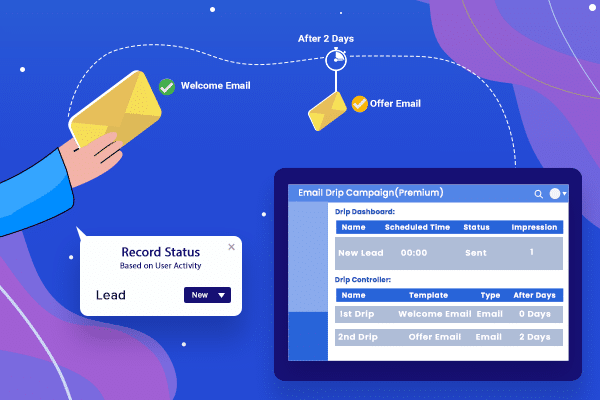 Automated Email Drip Campaigns based on Status or Any Field
Schedule email drips at predefined time & Record's Status
Choose Sender from Multiple SuiteCRM Users
Drip Dashboard to check the status of all drips.
Supported to All SuiteCRM Versions
Unlimited License for Single Domain & its Sub-domains

Lifetime Updates

Unlimited User
Screenshots
---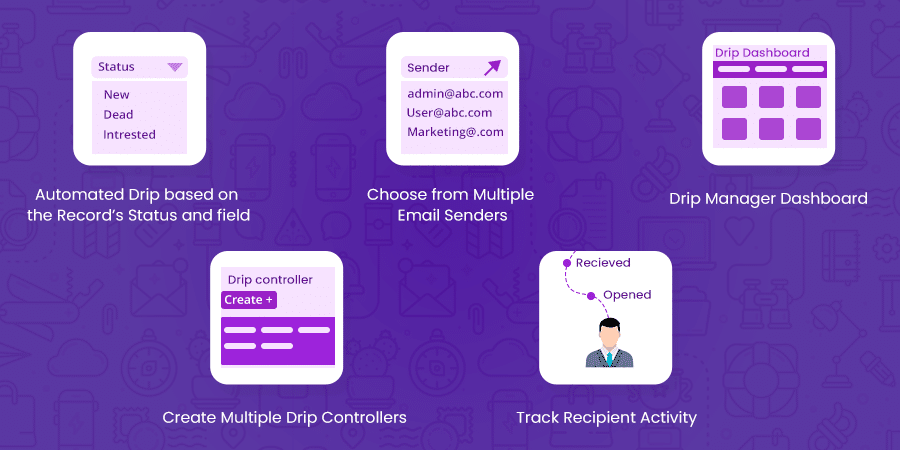 SuiteCRM Email Drip Campaign will facilitate you to engage constantly with customers which in turn helps you in nurturing relationships. Using the extension, you can schedule a series of drip emails that will run at predefined times and as per the record's status. Furthermore, you'll be able to send the right message at the right time to the customers. The potential of the Email Drip Campaign is immense as below we've shown you from the perspective of one of our end-users. You can nurture the leads in a more targeted and personalized way.
Advantages of Drip Emails over Regular Campaign
Suppose new leads come to your system, at the initial stage, they will not be qualified for sales. In order to develop them, you have to gradually feed them valuable information at precise moments which is only possible with pre-scheduled Email Drips. Our SuiteCRM Email Drip Plugin will allow doing the same. The business will be able to nurture the lead as it progresses through various stages by sending them appropriate emails.
Features of SuiteCRM Email Drip Campaign Premium
Automated Drip based on the Record's Status and field: If the status of the record changes then our plugin will start and send a drip based on the time you've set (E.g. Instantly, after 2 hours, after 1 day, week, etc). You can match any field including custom fields for scheduling a drip campaign.
Choose from Multiple Email Senders: Using our extension not only admins but other users can also send the drip emails to the persons. This will give you the privilege to choose the desired email sender.
Drip Manager Dashboard: Here, you can choose for which module and field, you want to schedule drip. In addition, you can choose the email sender like (admin or other regular users).
Create Multiple Drip Controllers (Each for one status): Drip controller will let you set the time span and choose the email template. And you can create multiple controllers.
Embedded Dashboard for the status of Drip Emails: Once you assign a record to a drip, its status will start showing in the dashboard. It comprises status values like in queue, sent, not sent, etc. Moreover, if the user unsubscribes/re-subscribes from the email, you'll get that status too.
Recipient Activity Dashboard of the Drip Emails: This Dashboard will show you insights related to the actions of recipients like Total Impressions, IP address, etc.
Centralized Menu Dashboard for ease-of-access: For providing a better customer experience, we have centralized the all-action menus in the left navigation panel. From here, you can access menus like create new drip, drip dashboard, recipient activity, etc.
Add a record to drip directly from the module: We have added a "Add to Drip" which can be used for adding a person directly to the drip.
Compatible with Custom Modules, Fields, and SuiteCRM versions: Just like our other SuiteCRM extension, this one also works with all custom modules, fields, and SuiteCRM versions.
Frequently Asked Questions
How are Drip Emails better than Regular Mass Email Campaigns?
Unlike regular email campaigns, Drip is more targeted and personalized. Regular email campaigns do not consider the stages at which the person is present, on the other hand, Drip Campaigns nurture the lead and send appropriate emails at the right time.
Can I schedule automated drip emails when the status of lead changes?
Yes, as soon as the status of a lead (or any record) changes, it will automatically be assigned to the drip queue.
Is this plugin allowed to choose from multiple Email addresses?
Apart from the admin user, other SuiteCRM users with different email addresses can also use this extension for scheduling drip emails.
Do I need to pay upfront or is there any free trial available for this extension?
The SuiteCRM Email Drip Campaign is applicable for the 3-Day Risk-Free Trial. So for the first three days, you don't need to pay any amount and you can check out the functionalities easily.
Video
---
Reviews
---
All Add-Ons are life time purchases, there are no recurring/hidden charges