GDPR (General Data Protection Regulation) is a data privacy policy introduced by the EU (European Union). The main objective behind the implementation of this policy is to protect the personal data of the EU's citizens.
This step was taken in order to unify the data privacy policy of every member state of the European Union. Before the General Data Protection Regulation, each state had its own data privacy program, which oversees the collection, analysis, and usage of user's personal data.
Why GDPR is Important?
Now the issue faced by a lot of email marketers and organizations is to be in compliance with GDPR without compromising the quality and effectiveness of email marketing. This data privacy policy applies to all the companies and organizations that use the EU's citizen data disregarding the fact that they are based in the European Union or not.
Huge firms like British Airways of UK had to pay a fine of £183,000,000 in violation of GDPR policy. This happened when the national airline was cyber-attacked which resulted in the loss of more than 500,000 customer's information. As it clearly visible, a breach of this policy is no option.
Therefore, we have come up with a blog that can help you understand the GDPR and thus come up with an effective marketing strategy.
How Does the GDPR Affect the Emails?
One of the main ways through which is affecting email marketing is the recipient's consent. Apart from there are few other things that also have been changed are opt-in permission of new customers and a straightforward way through which recipients can ask for the removal of their personal data. Below we have discussed some key points that you should consider while creating an email marketing strategy.
Examine your Current Customer Information Database
First of all, you need to be completely aware of the geographic location of each and every customer. This will assist you in sorting out the customers who are located in the European Union. Another important thing is an audit trail of consent, a well-managed audit trail signifies a good internal business system. In that way, you'll have access to the well-managed record of the customer's consent.
Learn about your contacts and their Journey
There are a bunch of things you need to look at in order to understand every aspect of your customer journey. Firstly, find out if you use the double opt-in for an email subscription or not. Furthermore, do you know from where, when, and how the contact information ended up in your database? It is important to keep the footprint along with the timeline of the customer journey. Also, maintain a comprehensive record of information related to permission and source of customer records in your database.
Evaluate the Privacy Policy
Some key points are an integral part of the privacy policy to make it comply with GDPR. Let's start with the most important one, it is important to ask for the user's consent or permission at the point of collecting data. Also, craft a privacy policy that is easy to understand and straightforward. You should be extremely clear about how you collect, store, transfer, and process the information. At last, make sure that the privacy policy is easily accessible to the users and email recipients.
Create Future Strategies by considering GDPR
When creating strategies for future email marketing campaigns you need to consider all of the General Data Protection Regulation rules. Otherwise, you might need to evaluate from the start and fix or pay the hefty penalty for violating GDPR.
How GDPR and Email Archiving are connected?
Email archiving is the best way when it comes to making your business GDPR proof. A simple solution like archiving the email conversation which may include information like personal data can help you in moving one step closer to achieving GDPR Compliance. It is a great option for centralizing the catalogs of email conversations.
There are a bunch of archiving platforms currently available in the market that provide end-to-end encryption and role-based permission to the archived emails.
Features and functions like that can lead your business towards the tamper-proof and eventually GDPR compliance record and database. Let us show you an amazing example of an extension called "BCC Archive" for SuiteCRM and SugarCRM that is completely GDPR compatible.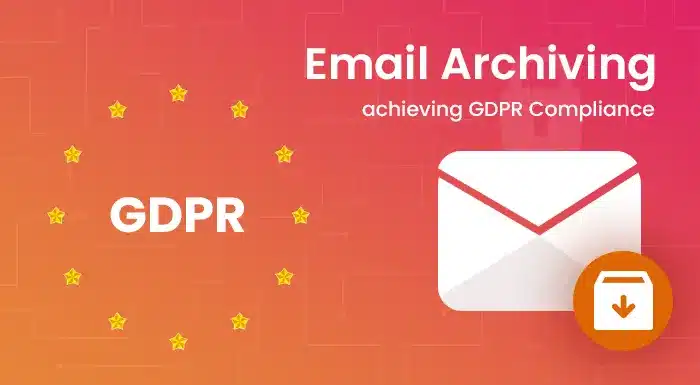 The BCC Archive extension is used for automatically saving the email conversations in CRM (Customer Relationship Management) software like SuiteCRM and SugarCRM. This archived information is end-to-end encrypted and follows all the GDPR guidelines as well. Besides that, this plugin follows other major regulatory and privacy policies as well.
How to Send Personalized and Targeted Emails by following GDPR?
As per GDPR, there could be two types of organizations: The first is Data Controller and the second is Data Processor.
Data Controller: Assume a data controller as a company whose responsibility is to govern the purpose and means of user's personal data. Later they utilize the user's data for their business applications.
Data Processor: You can think of data processors as an analyst whose job is to analyze the user's data. Most of the time they are third-party organizations or professionals.
If a Data Controller is in conjunction with a Data Processor then the controller will be responsible for the action of data delivered by the processor. However, Data Controllers can appeal for separate data audits to verify that their businesses are GDPR compliant.
The Bottom Line
Since the release of GDPR back in 2018, now the authorities have been more progressive. Now the regulatory agencies impose larger fines on those who try to violate the articles of the General Data Protection Regulation act. Therefore, it has become utterly crucial for all organizations to follow the GDPR act that deals with the EU's citizen's data.