Twilio Flex is the best communication platform for medium and large scale organization where your communication goes at a higher level or you can say it upgrade your communication systems easily. The platform is well-known as omnichannel and highly customizable. This Cloud-based contact center is worth to invest where maintaining relationships with customers is too easy.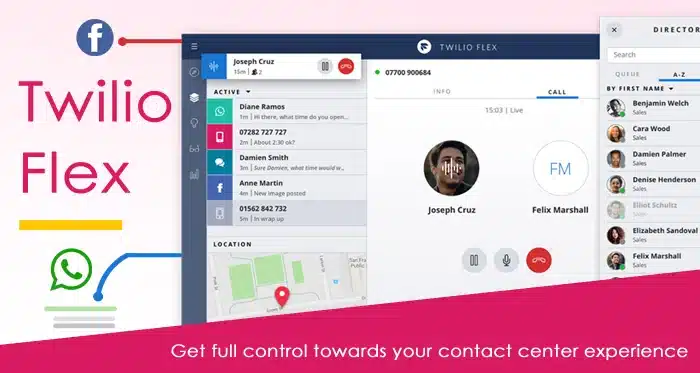 Many of you have dovetailed your business with customers so that your relationship with them stays strong. You need to go for Twilio Flex now because it is ready to manage the communication between two parties. Now the question is on which channels you can get engaged with your customers here? So, you can choose from- SMS, Chat, Facebook, Voice, VoIP, WhatsApp and with many more.
We are interested to share some piece of content regarding the features and price of Flex so keep your eyeballs below now and read out the content till last.
Advanced features of Twilio Flex
After the introduction, we have compiled some features of Flex and even aware you about updated Price. Let's make a fresh start
User Interface can be customized
So, we move on to understand the features of Twilio Flex after reading out brief introduction about it. First, we want to share the best feature regarding the User Interface of Flex and here we would say that it's too simple to navigate user interface.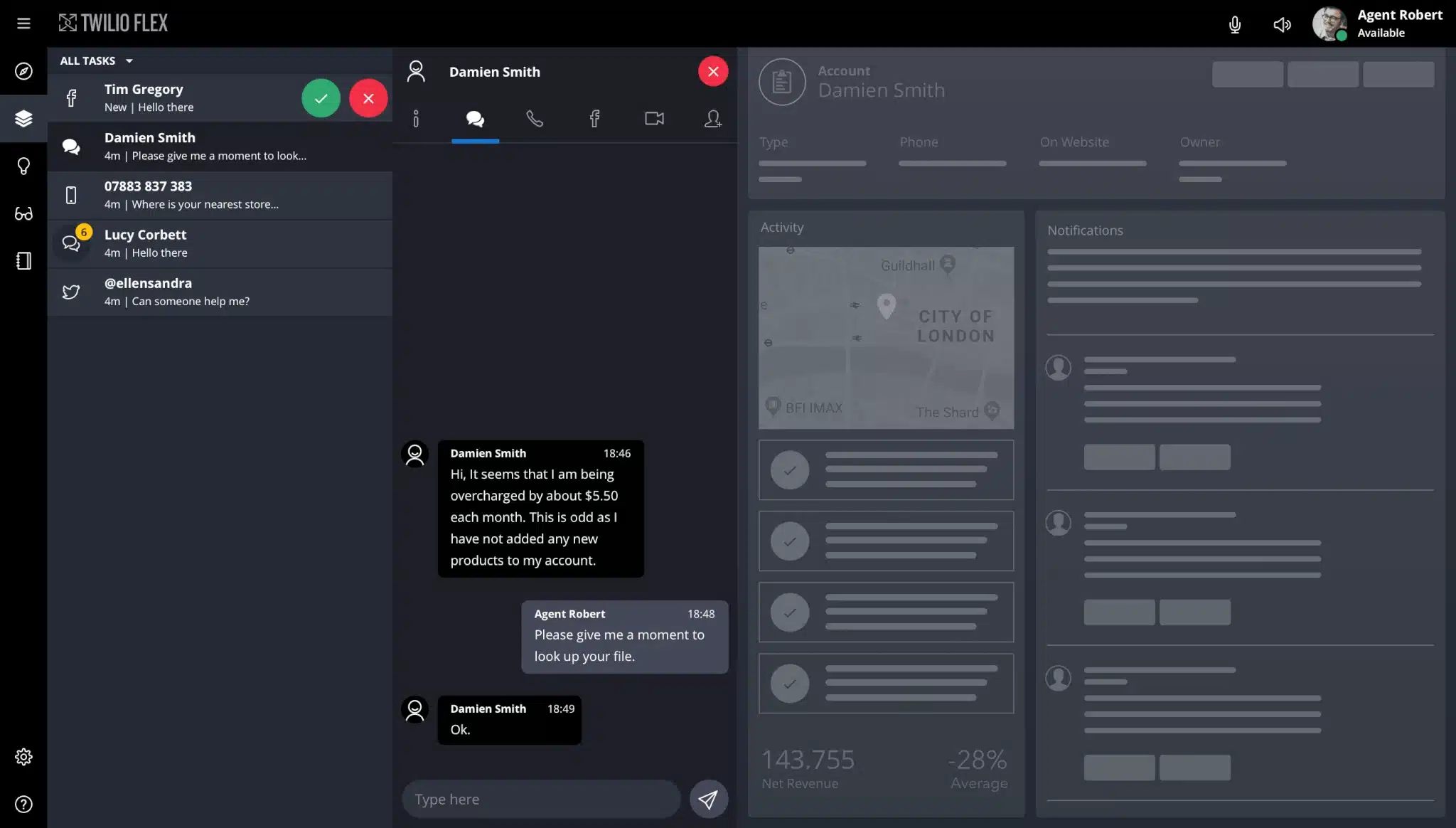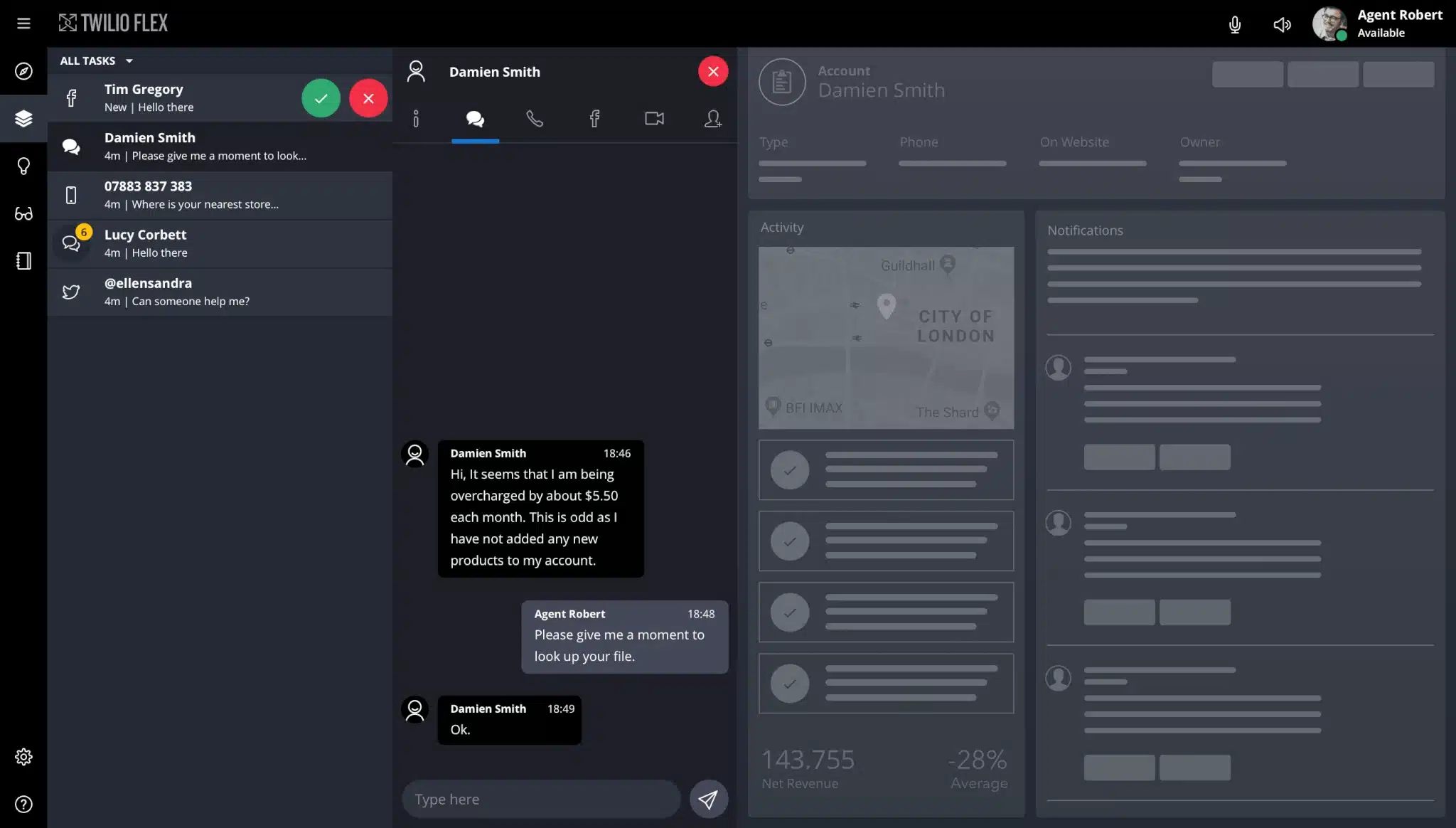 Furthermore, you know about the basics of programmability here so every element of Flex regarding UI can easily be customized. Do you want to add some components? Go for it and also add some buttons for your customers too. Make sure to use the customizations for the purpose of the link to the channel.
Connect Flex with different applications
Here we are raising the integration process because integration with Twilio Flex can happen. Let us tell you first that you must go for Twilio API. Reason behind going for this is you can connect Twilio Flex easily with other applications. We would like to share some of the apps that you can integrate with Flex and those were-
Salesforce
CRM applications
Workforce management applications
Zendesk
Analytics applications
A feature of Autopilot in Twilio Flex
This is something new for you and can be interesting as we want to share a feature called Autopilot which is a conversational Artificial Intelligence(AI) of Flex platform. Now the questions are how this Autopilot feature can assist you?
Let's clear your doubts as you can use this feature for building bots, Interactive Voice Responses, and last but not the least making apps for Google Assistants and Alexa. It focuses on frequently asked questions.
Complete guidance of Interactive data
You want to know the entire interactive data so this is possible only if you opted for the Flex platform where you have full control over data matter. Moreover, whatever happens in the contact center you can view it by admin desktop. No such chance to miss anything.
If someone retorts badly so you can entire negative feedback rapidly.
Twilio Flex offer a payment procedure
How many of you want such a communication platform which offers the simplest way of the payment process for customers. If you are still searching then we want to highlight here Twilio Flex which offers "Twilio Pay" for every customer.
All you need is just one line code for the payment process and it will activate and yes, the information about your payment data will remain safe here.
Twilio Flex Pricing
Hope you understood about Flex and its functions that it offers to you all. Now let's understand the gist of this blog as we are going to share Twilio Flex Pricing for you.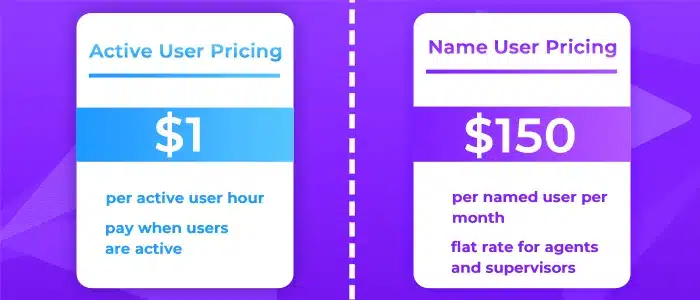 Active user pricing: Here the cost is $1 per active user hour & you just have to pay for the time users are active
Name user pricing: The next plan and the cost here is $150 per named user per month & here it charges you a flat rate for agents and supervisors.
Bear in mind: There is no such free trial as Flex doesn't offer. But you can get a free demo service here if you want to. Also, the platforms it supports are- Could, Web and SaaS.
What will I get when creating the Flex Project?
Twilio will provide you $14.50 in Free Trial credit and also, you will get the US Phone number for Testing purposes. It is necessary for the user to test the incoming calls and messages for their Business handling.
There are two pricing plans and if you select any plan of Flex platform then you can't change the Pricing plan later on. And if there is a need to change, create a new project.
When choosing Named User pricing, entire seats are calculated based on the number of TaskRouter workers. Like if a newbie user is provisioned within the month then the Additional seat will be billed at provision time.
The second plan Active User pricing is billed pay-as-you-go. Here the active hours are calculated on the basis of cumulative time each TaskRouter worker spends in Task Router activity.

A Final Account
Many big ventures are in deep search for making the communication to go in a higher level with ease so no such platform can match the level of Twilio Flex which shows every exceptional concept. There were many channels that it offers to get engaged with customers. Hope you have read out the channels in the introduction. But business doesn't find that only introduction is enough so we have shared some points above regarding features and Pricing of Flex. Features can create more interest so go for it by reading out the pricing plan too.
If you want to go deep regarding Flex Pricing then you must visit for Twilio Flex Pricing main page and grab information from there.