Leveraging the best CRM software always helps in giving phenomenal solutions to scale worldwide. For this, you must strive for the handiest tool called SuiteCRM that is embedded with magnetic functionalities. An open-source CRM that can drive more sales and help in retaining customers. And once again it proved the Number one software by introducing the latest version "SuiteCRM 8".

How are you going to install it on Ubuntu 16/18/20 version?

In our previous blog, we unlocked the guidance of the installation and downloading process of SuiteCRM 8 on Windows. So, if you are curious to know the step-by-step guide of installation of this latest version on Ubuntu then make sure not to skip the blog in the middle.

Note: Before you go to the Installation guide, it is necessary to upgrade your PHP with the latest version.
For this: visit our Blog to know the steps:– https://store.outrightcrm.com/blog/how-to-upgrade-php-to-php7-4-and-use-multiple-php-rendition-on-ubuntu-20-04/

For the Installation on Ubuntu:
The Default web path is: /var/www/html/. You need to download the Zip of SuiteCRM latest version from the website and upload it to this Root folder.
The second step is to give the command: cd /var/www/html on Command Prompt and copy Zip to this folder.
Next, Unzip it with the Command: unzip SuiteCRM*.zip.
Now rename the SuiteCRM folder to your choice, we are taking it as 'crm'. : mv SuiteCRM-Folder crm.
Now a user need to give Full Permission to the CRM Folder
cd /var/www/html/crm
chmod -R 755 /var/www/html/crm (To Read and Execute the Permission)
chmod -R 777 /var/www/html/crm/cache/ (To Read, Write and Execute the Permission)
chmod -R 777 /var/www/html/crm/custom (To Read, Write and Execute the Permission)
The next step is giving Ownership to the CRM folder to Apache users.
chown -R www-data:www-data /var/www/html/crm/
Open the URL http://localhost/SuiteCRM_8/ on Address bar.
Click on the "Public" Folder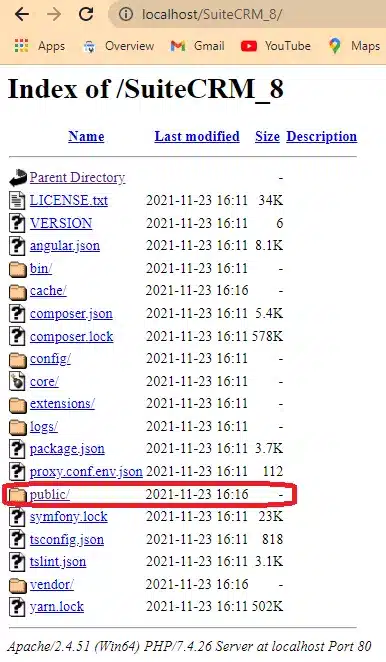 Your next step is to select the License Option and click on Accept.

Enter your SuiteCRM Credentials here and other details.

The final step is to tap on Proceed.