SMS marketing for E-commerce businesses is sending promotional, transactional, and relational text messages for marketing of e-commerce businesses and online stores. It can be used at any stage of the sales cycle from acquiring more new customers to retaining the customers you've already won. In this article, we are going to talk about the SMS marketing tips for E-commerce and get the best results.
The message is generally of two forms.
Short message service (SMS)- These are simple text messages that include characters, numbers, emojis, or even links.
Multimedia messaging service (MMS)- These include everything that SMS has along with media elements like video, images, slideshows, audio, GIFs, etc.
The types of messages are:
Promotional- They include any kind of announcements about the brand or products. It can also include personalized messages.
Transactional- They include receipts, confirmations & shipping, and delivery updates.
Relational– They are content-led texts like quizzes, memes, brand storytelling, etc.
SMS Marketing Tips for E-commerce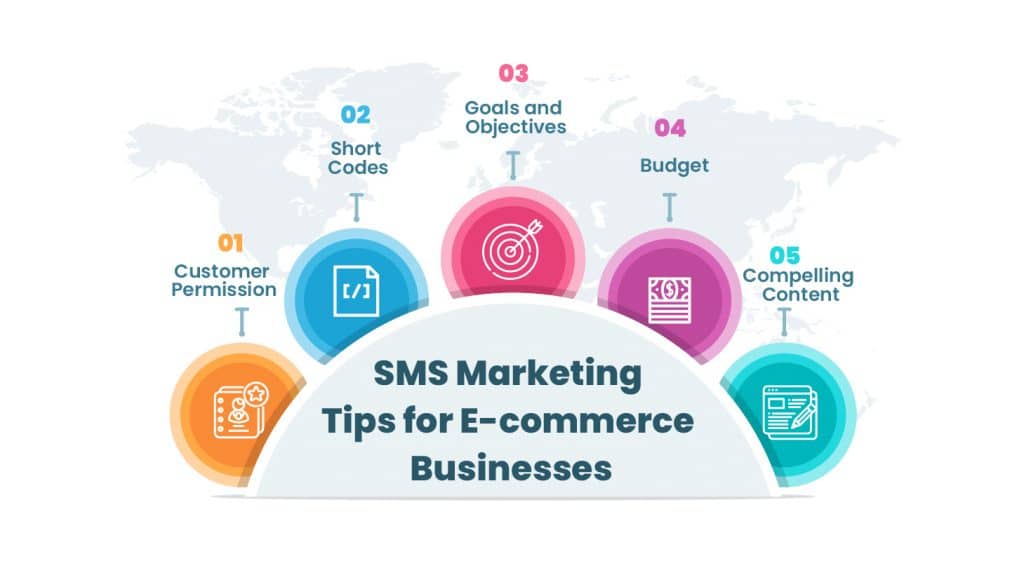 Here are some SMS marketing tips for e-commerce that you can start implementing immediately to get the best possible outcomes from your campaign. Applying these strategies will make sure, you get the ideal ROI.
Customer Permission or Consent
You have to secure customer permission. With it, you can send SMS messages to people. It is an essential requirement before running SMS marketing campaigns. However, this strategy has very low conversion rates.
Short codes are 5-6 digit numbers that are carrier-approved. These are used for commercial purposes. They are optimized for SMS marketing only.
Define your goals and objectives
A solid goal leads to a solid execution. Hence you have to very clearly and elaborately define your goals and objectives. SMS marketing campaigns can have different goals like the promotion of your latest products, an announcement for an upcoming store opening, the launching of something special for your most loyal customers, etc. After deciding your goals and objectives you have to segment your audiences accordingly. Segmentation is based on factors like geography, demographics, previous purchase behavior, etc.
Plan according to your budget
Every step depends upon your budget only. And don't worry SMS marketing automation tools are available for each and every budget. Also, free plans are provided by the SMS service providers with limited features or limited contacts. So look for SMS automation tools according to your budget. There are many available in the market choose the best value you get according to the price you are paying. Then build a subscribers list. Then you have to send a message to them to opt in and subscribe to you for receiving further messages. You can also provide an opt-in option when a customer buys something and checks out. It increases your subscriber rate by 45%. Also, you can enable onsite pop-ups on your website. You can also use social media platforms to gain subscribers.
You can use keywords or QR codes for cross-channel campaigns and generate subscribers.
Create compelling content for your messages
Businesses have to create outstanding content so that the audiences are compelled to engage with your brand. To make your message more appealing you can add images in it. And MMS has better conversion rates than SMSs. you also have to personalize your messages by adding subscribers' names to their messages. This can be done by SMS automation applications. Also never forget to give them offers and discounts. This will increase their chances of connecting with you a lot more. Also, use the FOMO (Fear of Missing Out) strategy. In this strategy, businesses add a certain timeline for offers and discounts. And in circumstances of urgency and scarcity people, people take action more. This strategy has proved successful for many businesses. Also, include CTA (call to action) in your messages. Some of the CTA phrases are "buy now," "shop now," "grab the deal," "get the discount," etc.
Best SMS Marketing Software for e-Commerce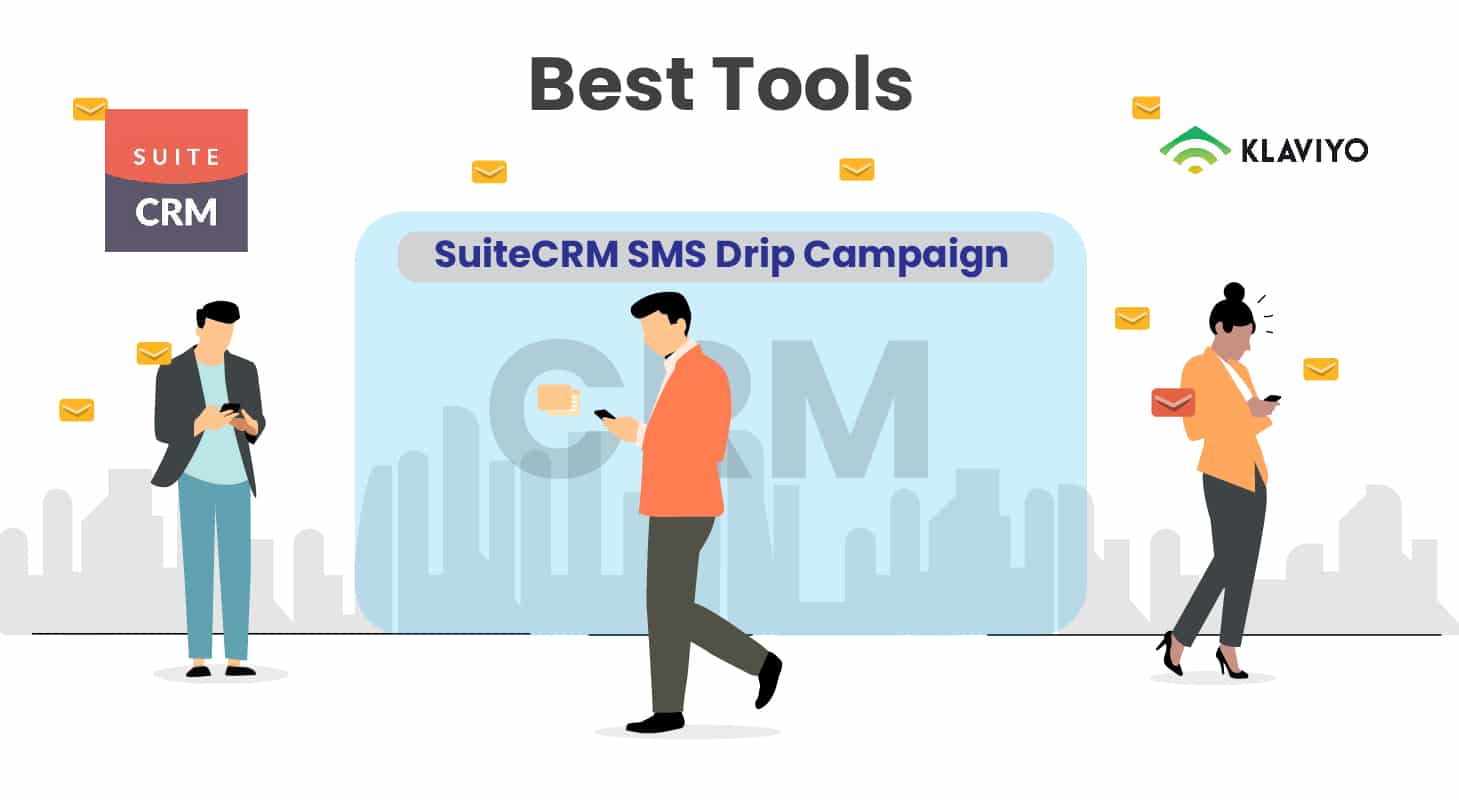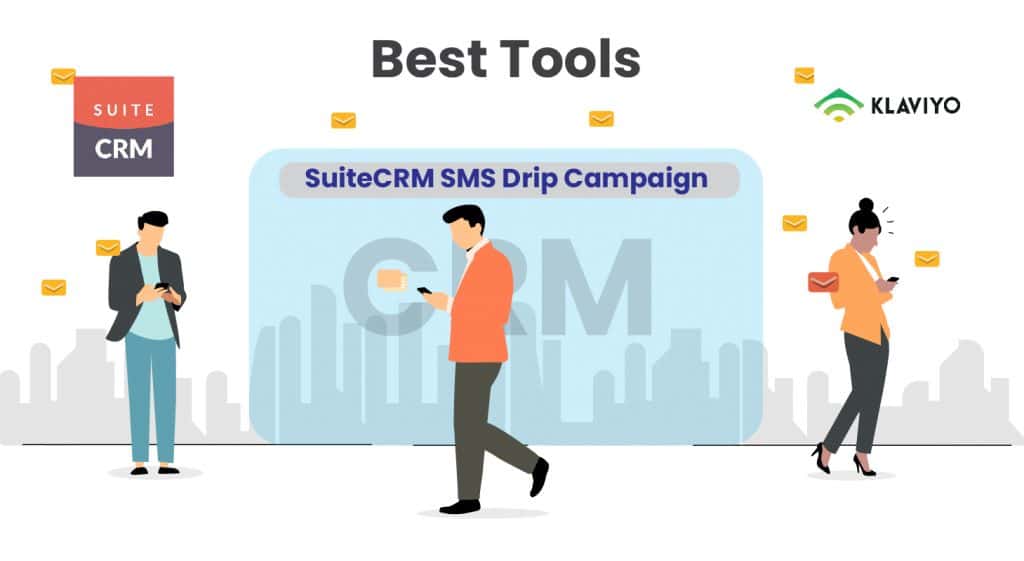 These are some of the best SMS marketing software that can help you achieve your desired marketing goals.
SuiteCRM SMS Drip Campaign
An SMS drip campaign is a marketing campaign in which you send text messages to customers at a certain schedule or are triggered by their actions automatically. With this extension, you can automatically send SMS based on triggers, statuses, and fields. This product uses reliable Twilio SMS API to send SMS. Its price is $599.
Features
You can add a record to the drip campaign list based on its status and field value automatically.
You can set a time to send the SMS after the record is added to the drip. You can send it instantly, after minutes hours, days, weeks, or months as you like.
You can choose from multiple senders while creating a drip campaign and send accordingly.
It has a Drip Manager Dashboard where you can select in which module and field you want to create a drip.
It has a Multiple Drip Controller where you can choose the SMS template and the time span at which you want to schedule the drip. You can create multiple controllers here through which you can create a series of automated text messages.
It has a dashboard for SMS Drip Status where you can check the status of records that are currently in the drip queue. You can even see other statuses like in the queue, phone numbers missing, etc.
There is a centralized menu for accessibility which allows you to easily navigate through all the options available in the plugin.
There is an Add to Drip button in the detail view from which you can add records to drip individually.
Klaviyo
Klaviyo is a unified email and SMS marketing solution for solopreneurs and businesses of all sizes. It is an all-in-one solution for SMS and email marketing, push notifications, sign-up forms, data infrastructure, and unified customer profiles. 
It has a variety of sending options like toll-free numbers, shortcodes, vanity codes, branded sender IDs, etc.
It has advanced SMS marketing automation features like Automatic consent management, multi-step sign-up forms, and SMS consent at check-out, Customer profiles that even show exactly when and how each subscriber provided consent, SMS compliance tools like quiet hours, Terms of service (TOS) builder and smart sending, etc. 
It is best for e-commerce businesses as it provides pre-built use cases for brands using Shopify, BigCommerce, WooCommerce, Wix, or custom e-commerce platforms via APIs, and it has 300+ integrations with leading e-commerce tech platforms.
It has all the SMS marketing automation features like bulk SMS option, audience segmentation, purchase history, discount code usage, predicted customer lifetime value, SMS and drip campaigns, guidance on when to use email vs. SMS, two-way SMS conversations, and two-click SMS text personalization.
It has many optimization features like A/B testing, customizable attribution windows, ROI tracking, etc.
You have complete control over your account and data, unlimited data storage, and contact lists.
It also provides SMS training, education, and support. It has a wide array of free live training and on-demand learning and also an SMS assistant that helps you write engaging texts backed by data science.
Conclusion
SMS marketing is the most preferred channel for marketing for all businesses including ecommerce businesses. SMS is a very cost-effective and convenient form of marketing that doesn't require an internet connection. Also, it has the highest opening and response rates. Hence it is a very ideal option for businesses especially e-commerce businesses as there are many updates that e-commerce companies have to their customers from time to time. Hence SMS is the best medium for that. That's all for SMS marketing tips for e-commerce businesses.