Instead of sharing bundles of Email marketing software, let's point out the industry's favorite one. It is none other than "Mailchimp Software". A better platform to streamline your email marketing work. The software called Mailchimp is packed with preeminent functions such as email automation, email newsletter, landing pages, and much more. The goal of Fetching new customers is not so challenging now. Thanks to this prominent software for sharing incomparable experiences. This software once again got the attention of many users after introducing the "Mailchimp Customer Journey" function. Let's understand this-

Customer Journey Builder?
We already talked about the Mailchimp software in our previous blog including Mailchimp Pricing and its various functions. This email marketing software introduces one more superlative feature for the customer journey process.
Suppose you built up your client's list and it's time to create a workflow for that. Workflow is just to follow the proper process with your client. Here this feature called "Customer Journey Workflow Builder" enables you to create a unique and marketing workflow. A better way to understand both your business and your client. We have more such functions of it and that we will discuss with you in our next section.

Some Top-grade features of Customer Journey Builder
Do you know how many features are there for your assistance? A quick rundown of the superfine features of Mailchimp's Customer Journey Builder feature.

Here we go-
Automation is now playing a key role in every business sector like Real-estate or Marketing organization. You can strive for this feature in Mailchimp Customer Journey. Why? It saves tons of time.
You can prepare a beautiful or personalized email and it will be sent to your clients automatically. This is what you need to minus your efforts. The email will be sent at the right time according to you. We would like to thank Mailchimp email marketing software for this amazing function.
Mailchimp Customer Journey feature is outstanding and will surely enable every business to grow professionally. The next function it introduces in the Customer Journey Builder is about creating an experience.
Chance to maintain your relationship by putting the information like who is your client and how they interact with your organization. It's wonderful to keep the records and know that person in every activity. We are adding this one of the top-most features of Mailchimp workflow. And you?
If you want to know how your client is engaging with your automation workflow then it is also possible. How? Introducing a new function of Mailchimp workflow. If a user visits the workflow that you made then it's quite a simple task for you to see and measure the engagement. This is what you need, right? Tracking the entire activity in the workflow can be beneficial for an organization.
You want the right users to enter into your journey map. This is good because you don't need anyone at that time. Suppose if you select 3-4 users then you can show full control over there. This means that you are putting the right and relevant customers on your journey. No extra ones that are not for your business. The path of "Starting Points" will help you in this.
How to Create Customer Journey on Customer Journey Homepage?
We promised to guide you regarding "Creating customer journey". Just continue reading the below steps-

Your first step is to click on the "Automations" icon.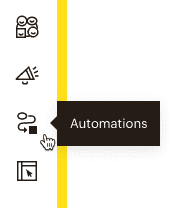 The second step is to tap on "Customer Journey".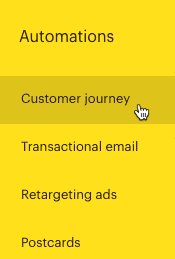 After this, click on Create drop down and you will see two options there. Select Customer Journey again.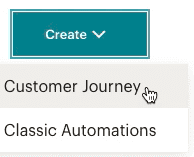 The next step is to write down the Name of your Journey. Click the drop-down menu for choosing the audience.

The final step is to click on the "Start Building" option.

What's more Email Marketing solution?
For all those who are running their SuiteCRM and Mailchimp software separately. We have the most realistic solution that can change your work and turn it into a professional one. What is it?
Outright Store syncs both Mailchimp email marketing software and SuiteCRM. We have a plugin for you called SuiteCRM Mailchimp integration that can enable you to do the best activity in a shorter time. Let's explore more:
Not even us, you also know about CRM (Customer Relationship Management) which is a cornerstone of every organization's success. But no one likes the email campaign activity process there. It is too challenging or perhaps you can say a difficult one. We sync both SuiteCRM and Mailchimp to take your email campaign business to the next level. If you are unfamiliar with the features of SuiteCRM Mailchimp Integration addon then we will help you. Keep your eyeballs below-
Sync Real-time information and Bi-directional
Save tons of time. Update SuiteCRM and Mailchimp together
Get the feature of Opt-out for stop getting campaign
Check the Email disposition in SuiteCRM
Compatible with all SuiteCRM versions.
Also, if you want to know about "how to create an Email campaign in SuiteCRM" then visit our blog where we shared detailed information about it:
Wrap it up
Fetch your new customers by designing the newsletter and share it on the social media network. Make this your social media marketing plan. And this can be only possible when you have the Mailchimp software in your business. Absolutely amazing software to learn and improve your email campaign work and turn it into remarkable. With lots of splendid functions, this software added Mailchimp's customer journey function. The only goal is to make an automated marketing workflow for your clients. Well, we guided you above about it with the step-by-step-guidance creating process. Let's see how many give green signals to this Mailchimp workflow function for their business management.