Do you know what the plus point of every business is today? Let us tell you that when the small or big businesses communicate in real-time with their prospects then it gives a signal to businesses that they are managing the business properly. Well, not only business but also a normal person who wants to communicate in a real-time with their near and dear. They even want the communication to be secure, so without wasting any time, allow us to put a spotlight on one of the applications that is the best choice for this task called WebRTC.
What is WebRTC?
WebRTC app called Web Real-time communication platform that enables every developer to build up an effective voice and video communication platform for the entire users on web pages that will easily work for you across browser and device. Here the application already took the burden from the developers as here the coding is too simple and moreover, the end experience is user-friendly. How many plugins are needed? If you have this question then let us clear you here that you need zero plugins as there is no such requirement for that. This is what is WebRTC today.
What is the best part of the WebRTC app you need to know?
When you finally decide to use this platform for your communication purpose then it is important for you to know that the app is free of cost and is open-source. This is good news that the app is open source because it provides the user easy APIs where getting connected on calls or video is not so daunting task for anybody. Support? The platform already got the support from the browsers like Apple, Microsoft, technology giant- Google, Mozilla and the last but not least Opera.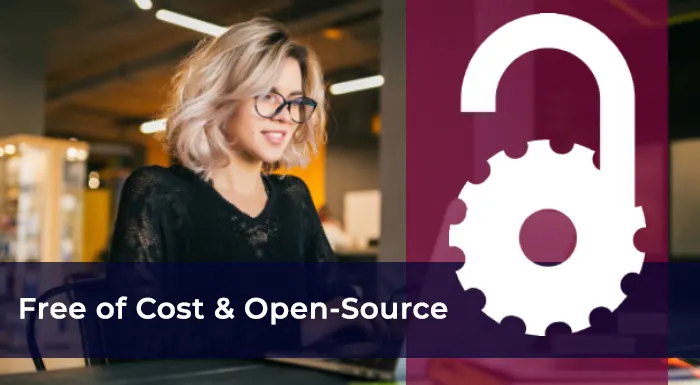 For instance: Due to COVID-19 going on everywhere, most of the doctors are helping patients online via video call. So, if a doctor strives this application first in their work then it will be a good decision. They can make a secure conversation with their patients. The platform is very easy to use and also secure as we already told you above.
How does WebRTC work when you start using?
This is the crux of this blog because before adapting any platform or app, first, you need to learn how it will work. Whatever you start building here, you all used C or C++ but here the platform called WebRTC application brings change as it replaces it with JavaScript API. Users can use the JavaScript inside the browser and it is available at the top of the platform. This helps you a lot in your communication matter as here it will sync anywhere when required.
Developers need to pay attention here that this WebRTC application is available in all modern browsers (we mentioned the name above) and you can easily adapt the feature of integration and sync with any other application without taking the assistance of the browsers. The big role of this application is to access devices where you can perfectly access your microphone to your device and also the camera that is already in your system. If you want to capture the display of your users then it can happen and after that, share that screen or record remotely.
What are the benefits of WebRTC?
This is such an outstanding application called WebRTC as we understand above that what is WebRTC and what is the working process of this platform. Now let's dive into the pool to find out the benefits of WebRTC.
Always play a key role in the security matter
Everyone wants whatever they communicate with their customers, their conversation always remains secure and safe. Is it going well while using competitors of WebRTC app? Let us inform you that this platform is well-secured because it uses Secure Real-time Transport Protocol just to encrypt and authenticate and use to secure the data that is very important for you. Zero percent chances are there where your conversation will leak.
Browser is not the only option of this app
Many users have made a false statement about this platform that it is basically for the web browsers and web pages. Are you one of those who still believe in this? We are here to give you the right information and that is: the WebRTC app is not just for the browsers and web pages. The application can be very useful and an accurate choice for mobile applications as well.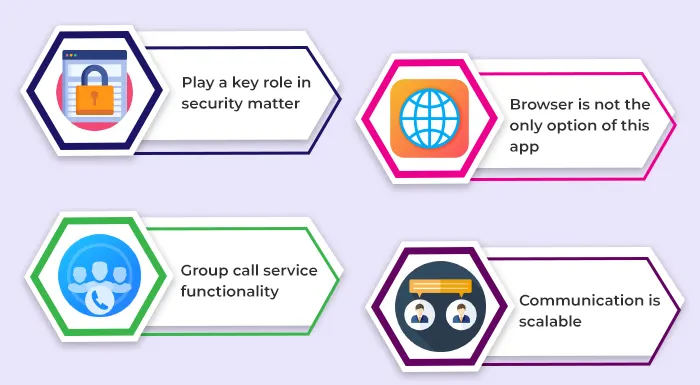 Group call service functionality is available too
We presented this blog about WebRTC with also one more motive and that is to clear your doubts. Most of the users have this mind-set that the application is only for the video and voice calling. This is completely false because the application has much more functionality to enhance your experience. You can here build messaging and do a group video call. This is the best service which most of the businesses surely like and the best part is you can entail recording functionality here.
The application for your communication is scalable
Understanding the benefits of WebRTC let us clear one more point in front of you all and that is the platform is scalable. One of the popular messaging applications today is WhatsApp which uses this platform with the purpose to deliver seamless communication with customers. You can see that such big and dominant applications are using this platform for the communication purpose, so now we guess it is clear to you that this communication platform is scalable.
How can Twilio clients be suitable for the WebRTC?
If you finally decide to build this application with a complete solution then you must endeavor for a Twilio client in your task. How is it helpful for the developers? The Twilio client for WebRTC application can help you in many ways from the call centers to hosted PBX, from browser abstraction to signaling protocol the platform is perfect for your work activity.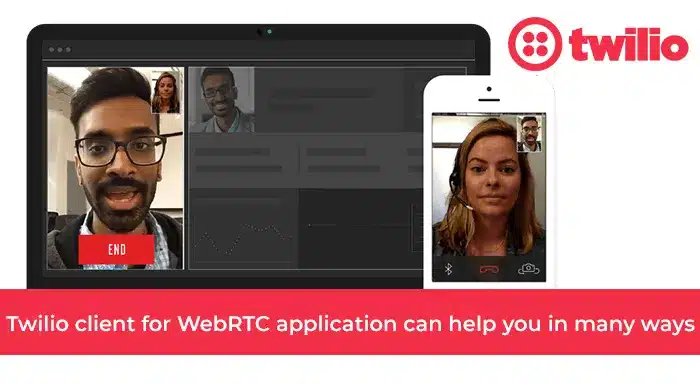 If you are interested to know that how much time it will take to connect the application with anything via Twilio then your problem is solved. Twilio is too easy for this task and saves your countless hours of work and can connect without any difficulty. Furthermore, the APIs here of Twilio clients make it really interesting for you to connect, control, conference, and record the calls of this application.
Concluding note:
Today we highlight one of the superior platforms for your call and video communication that is quite easy to use and is totally worth it. To engage with the customers in real-time is always the first priority of most of the business. Problem solve, thanks to the WebRTC application which has out of the box solution that we never saw yet in business life. Many have shared the working process but totally incomplete. We have put a spotlight on the working process of this application and what role it will play when you start using it. Additionally, it is very important to know the benefits of any application that you are looking to adapt in business. So, read out the whole blog thoroughly and pay more attention to how Twilio client is a helping hand of this application in communication matters.