It is a requirement of everyone to bring changes in the Customer Relationship Management (CRM) system like changes in the layout to make it more interactive. Well, many of you have already decided to hire the designer for that, but we are here to save your money and want to share a great extension for that which is basically for this purpose to change your CRM layout. Let us introduce to you a plugin called SuiteCRM Theme. Let's understand in-depth about its role and great functionality-
For example: Many of the businesses have a good knowledge and understanding of the CRM software but they are not so expert to change the design and CRM layout. So what they do is hire the professional designer to work on that to ease their efforts. But why to hire anyone when you have this plugin called CRM Theme in your business where you can do this process by yourself and of course, this saves you a huge amount of money.
Why to adapt the SuiteCRM Theme extension first?
The question here arises is why to entail only SuiteCRM Theme Brand Builder in the business? Let us inform you that you will check out plenty of fonts and themes and you can select whichever you like to use in your CRM layout. It's like you are the one who selects and does all the process easily without any hurdle. The process of selecting the color and theme will be done like you wanted, what else you need. 
It is beneficial for industries that are looking to bring changes in their CRM system and is going to reinforce their business productivity. Industries like Sales or marketing, Human resource management or you can say the Call center sector can adapt this CRM Theme addon. Everyone wants to bring changes in their CRM to make it more engaging, so why not use this plugin SuiteCRM Theme Brand Builder today?
Some exceptional functions of Theme Style Builder for your work
Well, you should meet up with some of the great functions of SuiteCRM Theme extension. It will guide you more about how this plugin is interesting. Let's go-ahead
You will get numerous fonts, colours, and themes and can select whichever you think is best for you.
The next feature of Theme Style Builder is here you are not restricted to a particular theme or colour. You are free to adapt any theme which according to you is perfect for the CRM layout.
When you bring changes in your CRM layout then the CRM Theme plugin will make sure that your data will remain intact. No harm to any of your business data that is important for you.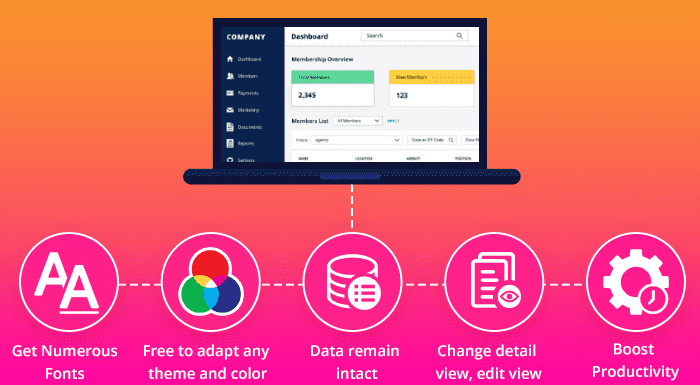 Users have a chance to select the colour and bring changes in detail view, edit view, and even in list view by using the addon SuiteCRM Theme Brand Builder.
The extension enables you to improve the functionality even the chances are high of boosting your business productivity as well.

Another Astonishing feature of Theme brand builder is a user can modify Buttons, Links, etc in their SuiteCRM software. This updated feature might be helpful for the businesses.

A user will see different Fonts for the Header and Body. Earlier, you used same font but now we upgrade this superfine extension for you.
Concluding remarks
It's time to bring some big change in your CRM and now the extensions like Theme Style Builder will help you for this like if you have the requirement of bringing changes in your CRM layout. Just forget to hire a professional designer and now you need to save your money by adapting this top-notch plugin in your organization. Turn your CRM from old into a new one by using the great addon which has many big functionalities like presenting plenty of fonts or color, keeping data properly, and much more. Let's see now whether you operate this outstanding plugin SuiteCRM Theme or you have another vintage extension which is costly for you.