SugarCRM vs Salesforce


"Do what is best for business" this mind-set person always reaches towards success and we can say that it is hard to stop them. They are showing their best to boost their business and to earn the fruit of investment. For their business, Customer Relationship Management(CRM) is leading in every way and we think words can't be enough to describe how good CRM is for every person. Now the question is what kind of system of CRM is the right choice for operating business toward the long-term aspect? Have you heard the word Salesforce? We know you all are aware of it because, in this digital market, it is hard to keep Salesforce back from the competition. But the competition is not impossible folks, because one system can stand face to face and that is SugarCRM. Not only you, even some others too always get confused about which one to choose or which to avoid. Well, we can't force you but can present some information about both these platforms so we have written the difference of SugarCRM vs Salesforce below. I hope you guys read out till last and understand which one to pick.
Both platforms offer "third-party application"
If the information is new for you then pay attention as we will first talk about SugarCRM which offers its user a third-party application site known as "Sugar Exchange". Here users of Sugar can simply download the application and of course, such apps show some kind of features which you have watched the first time. This third-party application has thirty certified listings and even it can be browsed by category and by edition.

Now time to explain SugarCRM competitor and that is Salesforce which offers it's user similar feature of third party app site but the name is the "AppExchange". Here you can check it out thousands of applications and the best part is, all are certified and passed security checks. While using this application site, you can watch out some apps are paid and some are free for use.

Pricing plays a key role in both platforms

Before going on any platform or any software, chances are very high when the client checks out the price and decides whether to use it or not. You can't deny the fact that pricing can boost your platform. So let's take the case of both SugarCRM and Salesforce.
SugarCRM Professional edition: $40 per month
SugarCRMEnterprise edition: $65 per month
Sugar ultimate edition: $150 per month

Above is the edition of SugarCRM and even we explained to you how much you have to pay. Now let's see whether Salesforce wins here or not.
For your marketing business, which platform can be your priority?

Okay so after knowing about the pricing aspect now is the time to get aware which has the topmost marketing tools. So, first we will take SugarCRM to understand it as this system has three editions which are ready to show some advanced features like for your Drip Campaign, for your email marketing, web forms, newsletters and last but not the least campaign dashboard. If you are in search of a perfect marketing tool, make sure to choose SugarCRM first.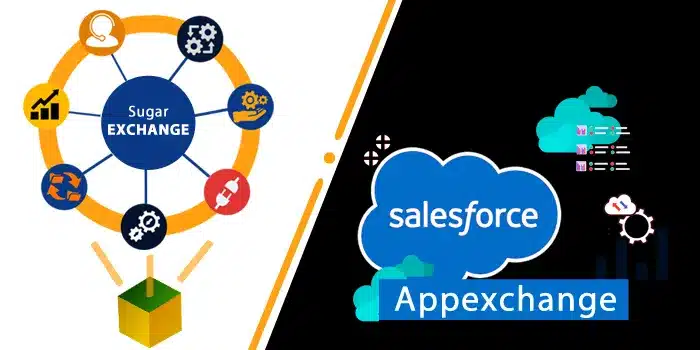 Now only SugarCRM explanation is not enough so keep your eyeballs here and read out about Salesforce now. Here the tools regarding marketing are only available on various apps in the Marketing Cloud. The surprising part is that you can enjoy every top feature like social listening, predictive intelligence, ROI reporting and many more but unfortunately, you need to pay extra for this.
How much space both provide? This can be challenging
This question was raised by many that how much space SugarCRM and Salesforce will offer. If you are still in search and open many tabs and find no such solution that read out this point as we have explained here properly. First, let's take SugarCRM as it's Professional edition offer you 15GB which is a plus point for you to use for data or documents both. Also, in Corporate edition, there is 30GB of space and 30GB in Enterprise edition too.

Did you understand properly about SugarCRM properly? Now let's focus on Salesforce and check out whether the platform wins here or not. We did research and we get to know that Salesforce offers 1GB data storage and with this, 11GB document storage in all it's editions. One more thing we need to tell you about Salesforce that they also prepare a strategy for allocated data and document storage which is basically for the number of users who have subscribed directly to account.

What are single-tenant fashion and multi-tenant architecture?
Did you know why we have written these names in the headline? The big reason because SugarCRM is known for multi-tenant architecture and Salesforce is known for single-tenant fashion. Let me clarify to you as in Salesforce, only one URL you can use. In the case of SugarCRM, everyone gets their own URL. This is the big advantage for SugarCRM users that everyone is updated at the same time and no daily update here like Salesforce. Update happens quarterly which is a must for every user. We are sure that you know who wins here.
Salesforce lightning Professional edition: $75 per month
Salesforce lightning Enterprise edition: $150 per month
Salesforce lightning Unlimited edition: $300 per month


The Final Verdict:
This blog is quite an interesting one as most of the clients were in deep search earlier for which one to pick first or which one is suitable for offering feasible solutions. Now we have solved their problem as if you have read out the points above and understand every word then we would like to tell you that SugarCRM is the best option. We are not saying you should not use Salesforce but if we talk about SugarCRM vs Salesforce then SugarCRM is the right way to operate the business for the future.