After watching such vast changes and new concepts in communication criteria, it's surprising to see big organizations are still conducting "email channel", one of the most compelling and number one communication channels.
Everyone's day starts with blasting emails to the subscriber to let them inform about the product or service they are looking to introduce in the town. But this digital world wants something unprecedented as they need a solution for saving their efforts. And we have a highly-demanding platform for you all regarding this called email drip campaign. 
Statistics of email marketing and drip campaign 2020
Before we go further and explore the drip campaign, let's just get aware of the real-statistics. The open rate of a drip campaign is 80%, the click-through rate of this platform is 3 times higher if compared with the single send email, companies that strive for this platform get 33% more sales in their business and the email drip campaign enables the organization to minus the cost at least 33%.
60% of emails are open on mobile phones, 81% of businesses reveal that the email helps in customer acquisition and 99% of the consumers use the email every single day. If we talk about consumers then 58% of them check their emails before doing anything online,14% of subscribers said that the email they receive is mostly relevant to them, 26% is the open rate when you share personalized subject line and professionals said that in 2022, around 347 emails will be sent worldwide every single day. Sounds great!

Above you understood about the email drip campaign statistics that will easily boost up your marketing business without any difficulty. Nevertheless, if you still have a question about what it actually is then allow us to share the introduction of email drip campaign. The drip campaign platform is a technique to send the email messages to the prospects automatically over a period of time with the motive of getting engaged with them and they purchase what you are sharing in the market. The platform sends email messages based on predetermined time intervals and also when getting the status of the recipients in the sales funnel. 
How many types of drip campaigns do you need to follow up?
You can research and find out the definition and some other concepts. It is also important for the user to get aware of the types of this platform. How many types of email drip campaigns do you know very well? If you have no idea then read out the points that we uncover below-
Let's talk about the first one which is educational drips where it enables the potential buyer to highlight the information about the products and assist them to purchase it if they need. It not only educates your buyer but also helps businesses to get engaged with them swiftly.
Let's just unhide the second greatest one for your marketing called Top-Of-Mind drop which gives a signal to your customers and even the prospects that the brand that you highlighted is active and alive as well. Your leads will get connected with the product no matter whether they purchase it or not.
If you are curious to know about the further types of this email marketing platform then allow us to present the information about Promotional drips. If you are looking or already shared big and surprising offers for your products then Promotional drips enable the leads to get the offer easily.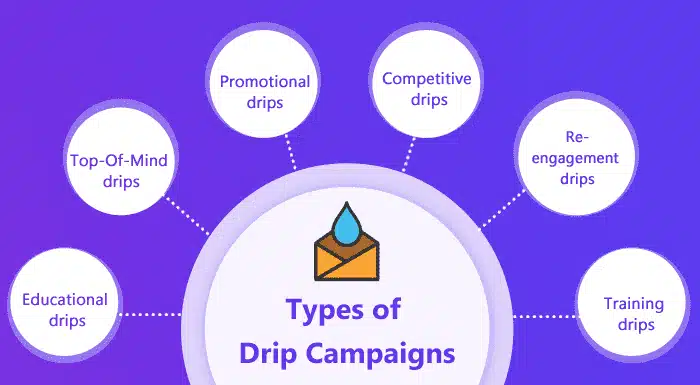 Next and one of the game-changing ones for your business called Competitive drips. Everyone in business is hungry to get more and more leads every day every hour. Why don't you turn your competitor's leads to your own? Here the competitive drips enable you to send information to competitors customers so that they deal with you first.
What is Re-engagement drips? We guess after reading this name, many information strikes your mind. Let's just understand what it is as if your requirement is to get back those leads who once purchased from you and never return back then this email marketing type is really helpful for winning back the leads that are most important for your organization.
You can say that it is similar to the educational drip but here the training drip is accurate for the readers to share information, get trained about your products and become more familiar. A training program will apply to you when you go for this one.
Special benefits of the Drip campaign tool for every business
We decide to provide you a comprehensive overview of the benefits of this email marketing platform. We are going to enlist some points, so read out the content given below-
Delivering the actual information at the right time
What does the customer or prospects need from the businesses? They just want whatever they are reading that you shared must be accurate about the brand or service. You can do this when it's about email marketing work and the tool like drip campaign helps the organization to share the right information to the right lead at the correct time.
The tool always focuses on some crucial aspects before delivering anything to the customer like user interactions with your product, stage of their sales cycle, and much more. This helps you to get more traffic on the website and signal to get engaged with them for your business purpose.
You have to show less efforts in your business work
When we shared the introduction of email drip campaign above we said that this tool is best known for the automation purpose. So, when you work under this tool you can use the automation concept to nurture your leads.
This is really time-saving and saves you from the tedious activity because you don't need to sit in front of your system to do this process all the time. Can you imagine like you get the buyer's attention while spending less time? Thanks to this marketing tool which is the face of email marketing in today's time. You can also use the extension like the SuiteCRM Email Drip campaign for personalizing customer interaction and will give you more bundles of functions.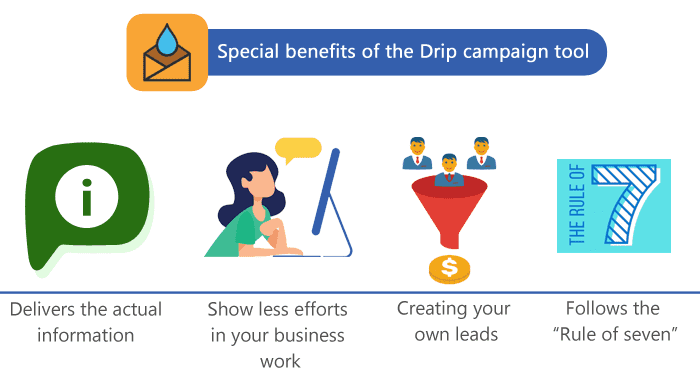 Creating your own leads is not so daunting task now
Ask from small scale businesses who wait for long for the buyer to visit their website and purchase something. Wait; not only small sectors, even some big organizations wait for the buyers to do some purchasing activity and get what they want. This is challenging and to accomplish this goal is not so easy.
But how about creating your buyer for your business? Thanks to this wonderful marketing tool called drip campaign which has the specialty to nurture your earlier stage leads. Isn't it a worth it platform for your business? It will do this until they are ready to purchase products from your business as nurture leads make 47% of large purchases.
This platform even follows the "Rule of seven"
Ask this question from the professional marketers about the rule of seven and they will elaborate you in brief on what it is. Well, we can share about it in short and simple sentence that every prospecting buyer should read and hear the marketing message for at least seven times before they are going to buy.
If you are looking to achieve this goal while using the drip marketing campaign then it is quite simple. This platform will help you to share the marketing messages with the customers numerous times and this can be a good chance to get more sales.
List of email drip campaign tools that are worth it
For your drip marketing purpose, you must endeavor for the accurate and most compelling tool for your organization that not only has some exceptional features but also better to hone your goals. You need email drip campaign tools that can easily sync with the system like Customer Relationship Management and also ready to ease your efforts. Allow us to put a spotlight on some of the names-
HubSpot
Active Campaign
Agile CRM
Marketo
OptinMonster
Mad Mimi 
ConvertKit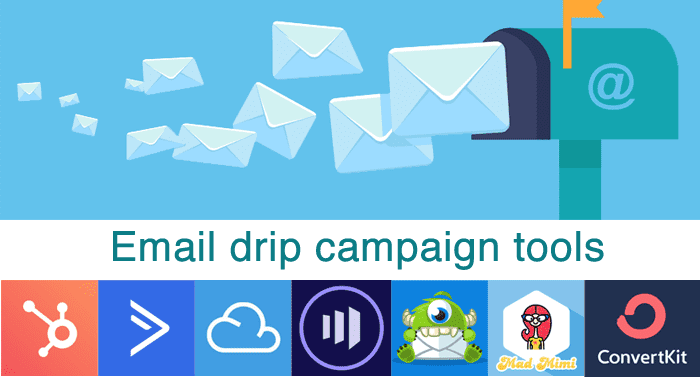 You must use these tools and before going to put hands, just get aware of their pricing plans and then choose which one is the right one for your marketing work enhancement.
Parting words
Getting such amazing information about the email marketing platform called Drip campaign, it is tough for everyone to go for other software when this platform is available to enrich our marketing experience. We are considering this platform as the "face of Email business" because the way it helps the businesses like we understood above in statistics and how it can hone our goals, other platforms of marketing can't do that in such an outstanding way. Drip marketing is of several types, so we decided to share about that and wrote above with their functionalities. Moreover, being the user of Drip marketing, you should have complete knowledge about the email drip campaign tools, so we uncovered that as well. Let's find out how your marketing activity reaches on the top without any difficulty while using this advanced marketing platform called an email drip campaign.