What is Email Drip Campaigns? Why are they so useful? Are they having a higher success rate than Regular Email Marketing?


In Simple Word Answer is :-


Drip Email Marketing Campaigns are about delivering the right email to the right customer at the right time. If most of the answers are "yes" of following then you are the right audience of this blog.


Not getting customer attraction with regular campaigns?
Unhappy with campaign success rate? Like 10-20%
Need to have well managed Campaigning for a few special customers?
Want to make a deeper connection with your beloved customers?
Want to make a higher success rate for turning more sales?


So what exactly are drip campaigns? How they dissimilar with regular campaigns?


Let me take my example, I run a Software Store, where people come to buy a few readymade extensions.


In my case, I would like to set Drip Campaigns in these situations.


Let's offer some discount coupons for those who sign-up, looked up at items but no further activities. It needs a personalized email with clear attention to offer.

A separate, well-personalized email for those who did not finish their checkout for any reason.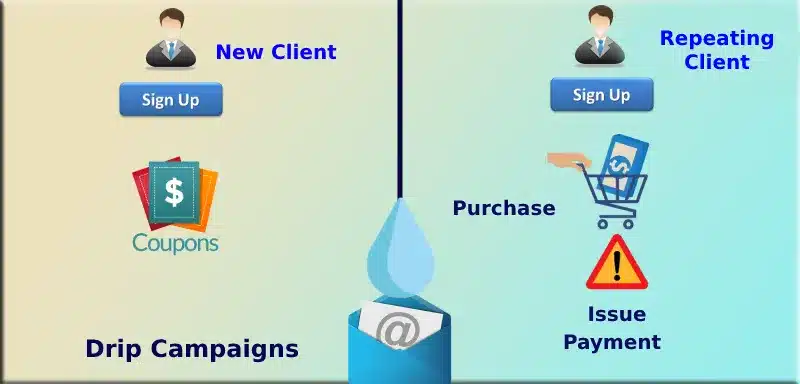 So did you hear me yet?


Thanks to note to customers who successfully purchased and their purchases are under the Trial period.

A great thanks to customers who successfully using products, asking their kind feedback's for a product, support, and services

Again a great thanks to a customer who leaves feedback for you.


All of your customers needs regular, personalized attention depending upon your relationship with them. You love them but this should show up in your emails to make a beloved relationship. They need you to be intelligent while touching their inbox. They also come back to you but for a reason. Make sure your email is giving them the correct reason.


Key Features:


1. It is a personal email, not a regular email blast.


Unlike regular campaigns, it is not a blast email, it is more relevant, super personalized. Your customers are unique, they need personal attention. It's like serving foods at restaurants whether everyone has different needs for meals.


2. It's Super Intelligent.


Depends upon customer conditions, their status, their potentials to make more business, Software needs to put it up several rules and choose the exact message. For a customer.



3) It comes under "Automation" and Time.


It needs to be completely automated and at well managed time window at each customer timezone.



Like regular Marketing tool, it also uses email templates with variable parsing capability.


5) It may be a series of email, behavior received or not in the previous email.


Example: Some customer's subscription is ending or their billing method is failing to pull payments, It may be a different series of emails to customers to get him back on site and fill up their payment details.


Configuration steps:


Setup conditions.
Setup Days.
Setup Actions


Modules Used :


1- Drip Manager
It is a predefined setup of Drip controllers.
2- Drip Controllers
Controllers are actually action, which gets attached directly to your leads/ contacts /accounts etc.

3- It's Queued under "Drip Queue" module.
Once the condition is matching, it queues up that email into Drip queue.
Keeping in queue gives a future prospect of sending emails.


Click here to watch a Video Tutorial :-