Create Backup For MySQL Database


One of the most predominant open source for database management is MySQL, which can be utilized for the development of interactive websites.
In order to avoid any data loss in the future, you should create a backup for the critical data stored in MySQL. In case there is any loss of data you can easily restore your lost data.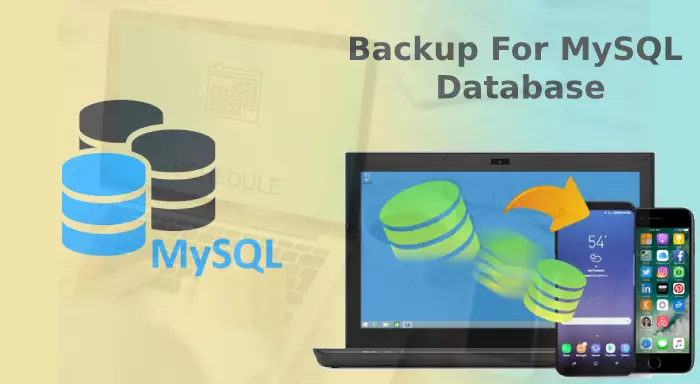 For creating a back up of your MySQL data you can use multiple ways. We will be carefully going through many different ways by which you can create back up for your MySQL data. We will also understand how the process of automation can make the process more convenient. Along with the MySQL comes MySQLdump functionality. We will gain a better understanding of how MySQLdump can be used to create data that can be stored in the Zip compressed file format, on another server or on a file and how it can be also sent to your email id.

The manual process of creating a backup.


Access MySQL from the web hosting like cPanel or your local server.
Select the database in the sidebar navigation panel.
Now click the Export link from the top navigation bar.
Select from the Custom option on the Export page.
Choose from the tables that you wish to backup.
Select from the gzipped option for Compression and keep the remaining as it is.
After you click the Go button your backup file will be downloaded automatically be downloaded.

Why should you avoid the manual MySQL data back up the process?


The process of creating data backup manually can be quite hectic and time-consuming. It takes a lot of time and effort which results in the loss of productivity. It also requires a dedicated individual to perform the task manually. By introducing automation in the process of creating the MySQL DB SuiteCRM Backup you can not only save time and effort, but you will also generate more revenue and increase your productivity.


Why is it important to introduce automation in the database backup process?


We all understand how important data is and how data loss can seriously affect the productivity of any running business. In order to make sure that the data can be easily recovered at the time of data loss. One has to take preventive measures in advance so that such events can be avoided and easily overcome. You can use any MySQL backup tool or use our product to performing a hot backup of your MySQL Database using SuiteCRM.


Database Backup and Restore Manager does exactly that for you. Data restoration has never been easier. With the help of the Data Restore Manager Tool, you can easily restore your lost data. Not only that you can do so with a single click. You don't even have to be a technical expert to perform the restoration.

Here are some key features of the Data Backup Restore Manager

Automatic database back up.
One-click data restoration.
Back up the retention process.
Folder and instance back up.
Time zone based data back up.
Restoration on the remote server location.