Importance of Data backup and recovery process!


So you are into a business!, which runs on crucial Backup and Restore data, data manipulated the whole day. It does not matter how big you are, data is important.
At some point, you worried about disasters, downtime or data loss? May be that costs a serious money to you?

Why Businesses Need to Regularly Backup databases!


So here is a bad story, you wake up in the morning, got to know your websites were hacked, you have a data loss, that's not your favorite day, you will run to ask IT support or it may be worse situation?


What if you had planned for it before?


1)You  have regular databases overnight / lunchtime  /before morning / after 
  office time, at least 4 database backup on a regular basis?

2)Do you already know how to restore them quickly without calling it day loss?

3)I don't need to search for blogs or  learn new things to restore, 
  I am already stressed!!
So might you already heard me,You have been several security issues or bad code, you got a data loss, the day when you come it to know, it may be serious money loss.


Life without backups


Many businesses do not know the importance of daily backups, they are not aware of it. Statistics says about it .https://www.dngnet.com/data-backup-statistics/
Here is Sad Uber's story: https://www.theguardian.com/technology/2018/nov/27/uber-fined-385000-for-data-breach-affecting-millions-of-passengers-hacked
A small security leak can heart you in millions! There are ransomware, malware, and even a bad employee.


Why Automation is required? How it benefits to my business?


Learning from above, we already know data backups are very important, it needs to be on a daily basis, timely managed. Now it needs to learn, this is a complete process including many steps.


They can simply zip and put somewhere at a safe location, location can be on the same machine or any remote location. The remote location can be bound using FTP/SFTP or SSH.

2- Database one-click restore

Restore Process must be simple, I don't need to become a techie, it must be one click. It also should give an option to restore any remote location. I don't need to download and upload it. Downloading and uploading can kill many hours. It should be one click and automated.

3- Backup retention process

Your disk may be getting full soon, why keep old backup zips, may be automatically deleted after a period of time like 3 days?


4- Timely maintenance window

Backups must be done according to your timezone, it should know the time when your users are not into business, it should not affect users productive time.


5- Folder / Instance Backup

You may have several files, documents that need to backup regularly, sitting into your folder. It also takes care of it.


6- Please Notify me!

Did you see CCTVs camera in shopping malls, sometimes you come to know they are just installed and not working yet? So I was not knowing it because I was not informed. Learning from this, when you know above 5 things, you must get a notification on all processes.

1.Notify me when a backup is going to start, when it completed and how      
  many tables were there in the database, what was it's complete size after backup. 
  Sizes must be growing as time passes as your data is growing. A good sign my 
  backups are going fine.

2.Notify me when a restore process started, tell me restored  database     
  name, host location, total tables and many other info. 3. Time to remove 
  old backups, Notify me first!!!
7- Test your backups instantly

Just go through the UI of Backup and Restore window, It gives you the option of download, restore, and restore on remote location.

8- Immediate Backup

Do you need a backup right now, Our tool gives you the option of Instant/Immediate backups. It's just one click.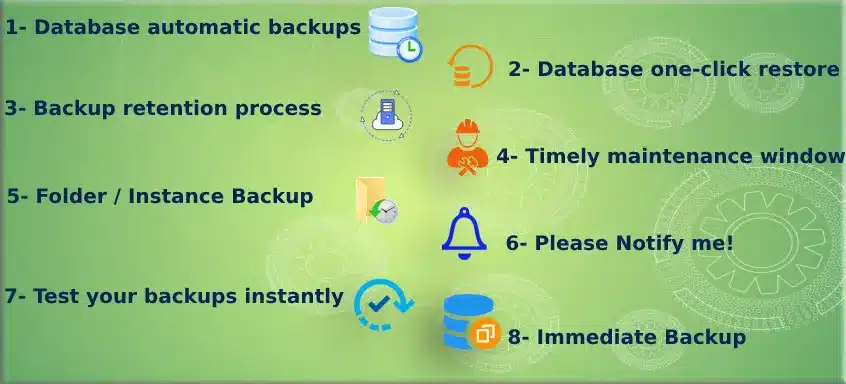 Why Restore Process is also Featured at Remote Location? Migrating your Database to a new server?


Maybe you need a clone of the current instance, a development site, don't need to spend hours. Location can be on the same machine or remote, Automation takes care of it.


Regular and Automated backups – Peace of Mind, Notifications make me happier!


Learning from above, keep you safe from that unlucky day, No matter if you have a malware attack, you have bad intentions employee or you are looking to clone your sites/Databases Backup. You are safe and no matters you are not a techie, you can do everything on your own, moreover, you will be notified for the whole process on your email.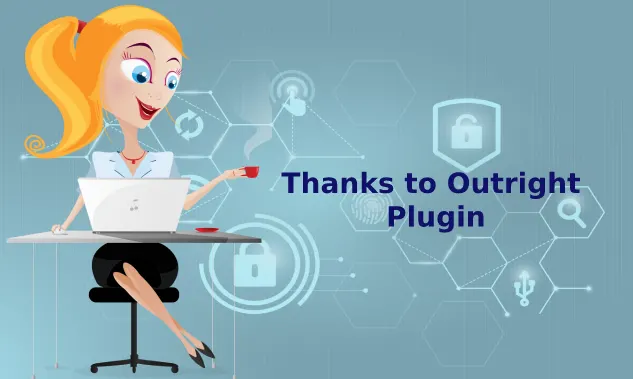 MAGIC OF ONE CLICK



All the above processes are automated, at most manual interaction is one click, so the magic of one-click goes on.

Create an immediate backup

Create an immediate restore

Create an immediate folder backup

Download backup

Restore a backup at the remote location
All one-click jobs, You don't need to learn Linux, you don't need to become a techie, moreover, you are notified for all of your clicks.
It's simple to learn, you don't need to go through several videos or documents.
Our Plugin: OBR ( Outright Backup and Restore) is a custom plugin developed by Outright Store, which makes this whole process automatic, a well-managed UI built on SuiteCRM makes everything automatic.
Beloving Automation: At Outright Store, we are a team of we are growing developer and QA. We work to make things better. We highly believe in Automation.
OBR will be working easly on both Linux and Windows operating systems. It works on any SugarCE fork like SuiteCRM, SpiceCRM, etc.
For more details, videos, and documentation for this add-on, please click here.