Conversational marketing is a form of marketing of talking to customers in many ways like live chats, voice assistants, chatbots, any form of conversational AI, etc. There are many platforms through which conversational marketing can take place. Some of them are websites, social media channels, paid advertising, physical stores, and connected home devices like smart speakers, etc. Businesses also personalize their conversations in conversational marketing by using conversational marketing software.
Significance
Communication is the core of every successful business. Hence conversational marketing helps businesses a lot to have a stronger customer base and ultimately be more successful. With the advancement in technology conversational marketing has become more efficient and fast. Conversational marketing can take place through websites, social media, emails, or even chatbots. The use of chatbots is increasing nowadays due to the convenience it offers. There aren't any requirements for chat agents all the time. In their absence, the customer or lead will be replied they won't go unattended. Chatbots also increase the chances of people enquiring about the product. Companies are in direct conversation with their customers then they know what customers exactly feel and they know how to improve their products and services.
Social media has become the primary base when it comes to marketing. Potential customers are online daily, and even though they may not be intentionally shopping, a chatbot increases the chance that they'll enquire about your products and services.
Benefits of Conversational Marketing
Conversational marketing personalizes the marketing approach hence giving personalized services to the people. This builds a strong relationship between the business and the customers.
Since there is a direct conversation between the business and the customers hence there is more customer engagement. More customer engagement leads to more sales.
It increases the lead generation and lead conversion process as businesses track the activities of customers at every stage of their sales cycle.
Through live chats and chatbots, businesses give quick recommendations to customers and leads regarding their products and services. Also, those recommendations are personalized based on the information and activities of the customers and leads.
In conversational marketing, businesses collect important visitor data in the engagement process. This can be done through online forms just by tracking the visitors on your website with the help of CRM.
Key Elements of Conversational Marketing
With conversational marketing, customers can interact with the business at their preferred time. Customers aren't bound to specific time slots in which they have to interact with the business. Conversational marketing encompasses many types of communication channels hence customers can choose accordingly and interact in their preferred time.
Scalability of Conversations
Since conversations take place at the preferred time of the customers the conversations are scalable. In the absence of humans, chatbots can do the job. This is very helpful, particularly for small businesses.
Conversations cannot be random it has to have a proper context then only it will be relevant for the customers and leads and make them engage.
Customer Preferred Conversations channels
There are many channels available for customers and customers can choose accordingly their most preferred channel according to their requirements and preferences.
Types of Conversational Marketing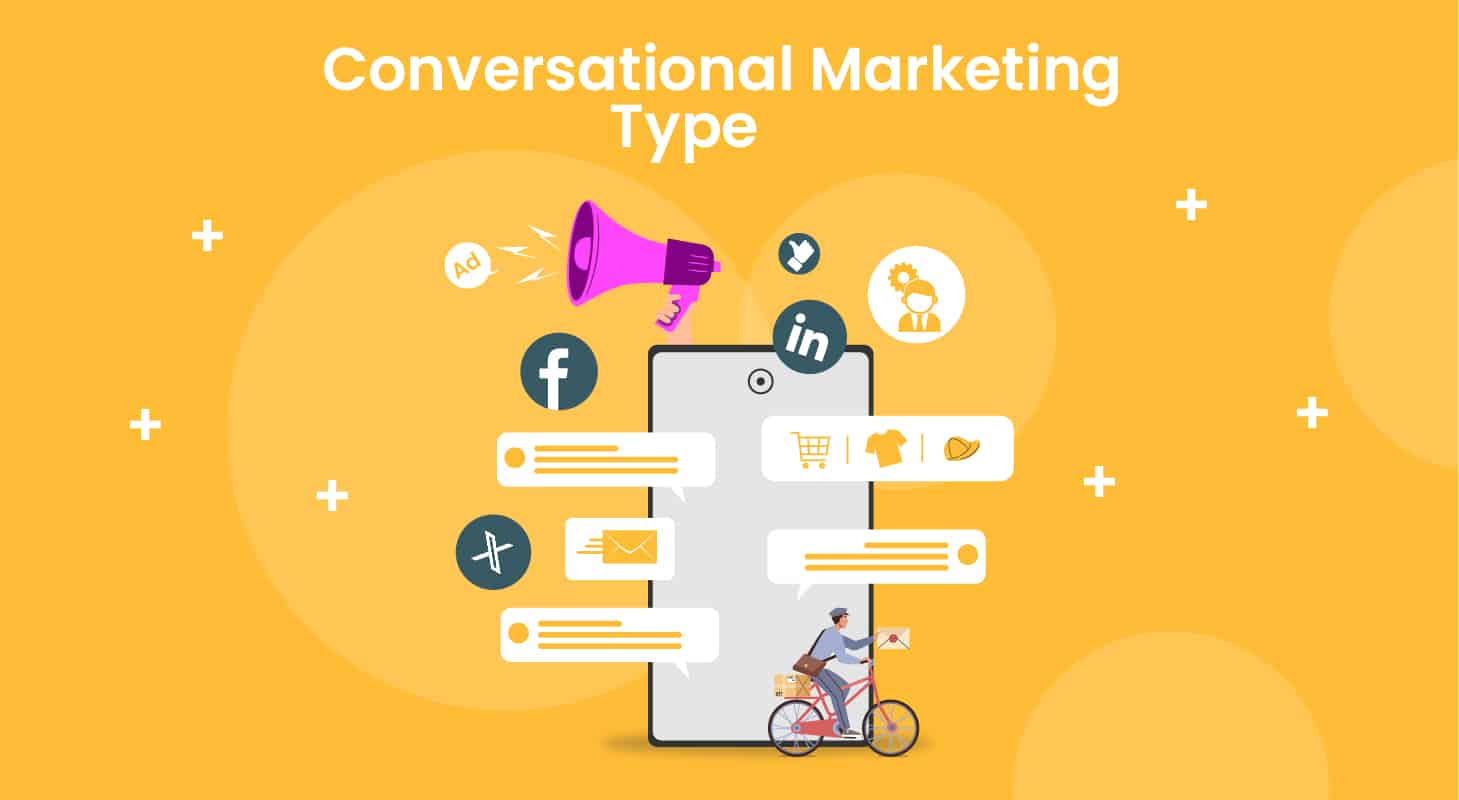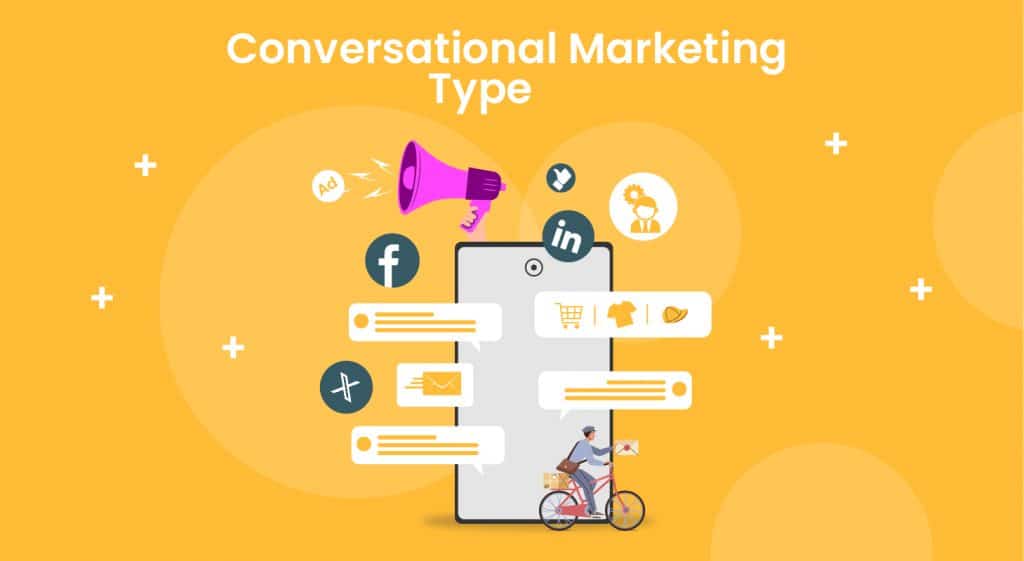 Advertisements
Conversational marketing in ads is the advertisements that can be made conversational through a conversational landing page. This enables businesses to get insights from consumers that are relevant to your brand and to personalize their service for the people. This increases people's engagement with your brand and drives higher conversion. Some examples are
Google, with its selected partners, offers conversational display advertising and it reaches billions of websites.
Facebook's Click-to-Messenger ads are similar to conversational display ads. The exception is that they show users traditional Facebook newsfeed ads and then drive users to Facebook's messenger app or interface. There, brands prompt consumers with questions or experiences related to the content of the ad, and then they're able to interact with the customers and learn more about their preferences. This increases lead generation.
E-commerce
Here conversational marketing can be of many types, but the primary ones are live chats or virtual product advisors on your website. It helps customers to interact with your brand, make decisions, and have proper information, businesses guide them through product recommendations and help them to shop. The information collected here about the customers also helps the businesses in their customer service.
Post-Sale Service
Even after the sales you have to follow your customers and ensure an excellent post-sale experience. That is something that makes your services better than your competitors. The most common types are follow-up emails asking how they like their product/service and if they have questions. You can also use customer success software for the same. Customer reviews and feedback help in enhancing the quality of your service.
Email Marketing
Companies use an email newsletter strategy to engage the audience and increase the lead-generation process. They send drip emails to the customers and also take reviews and surveys from customers. This way they can improve their services.
Personalization
Customer service is personalized by storing the customer data in a CRM database. Businesses can study and analyze customer data from there. They also have to track the customers' activities and interactions with your brand using the tracking features of CRM. then they have to use this information in their services to make it personalized and have better customer relationships.
Social Media Channels
Social media is the best platform to know a customer or lead and identify the most qualified leads. Therefore companies build guided conversation panels on their social media handles through which they can have a conversation with the customers and leads and increase their engagement on their social media page.
Real-Life Examples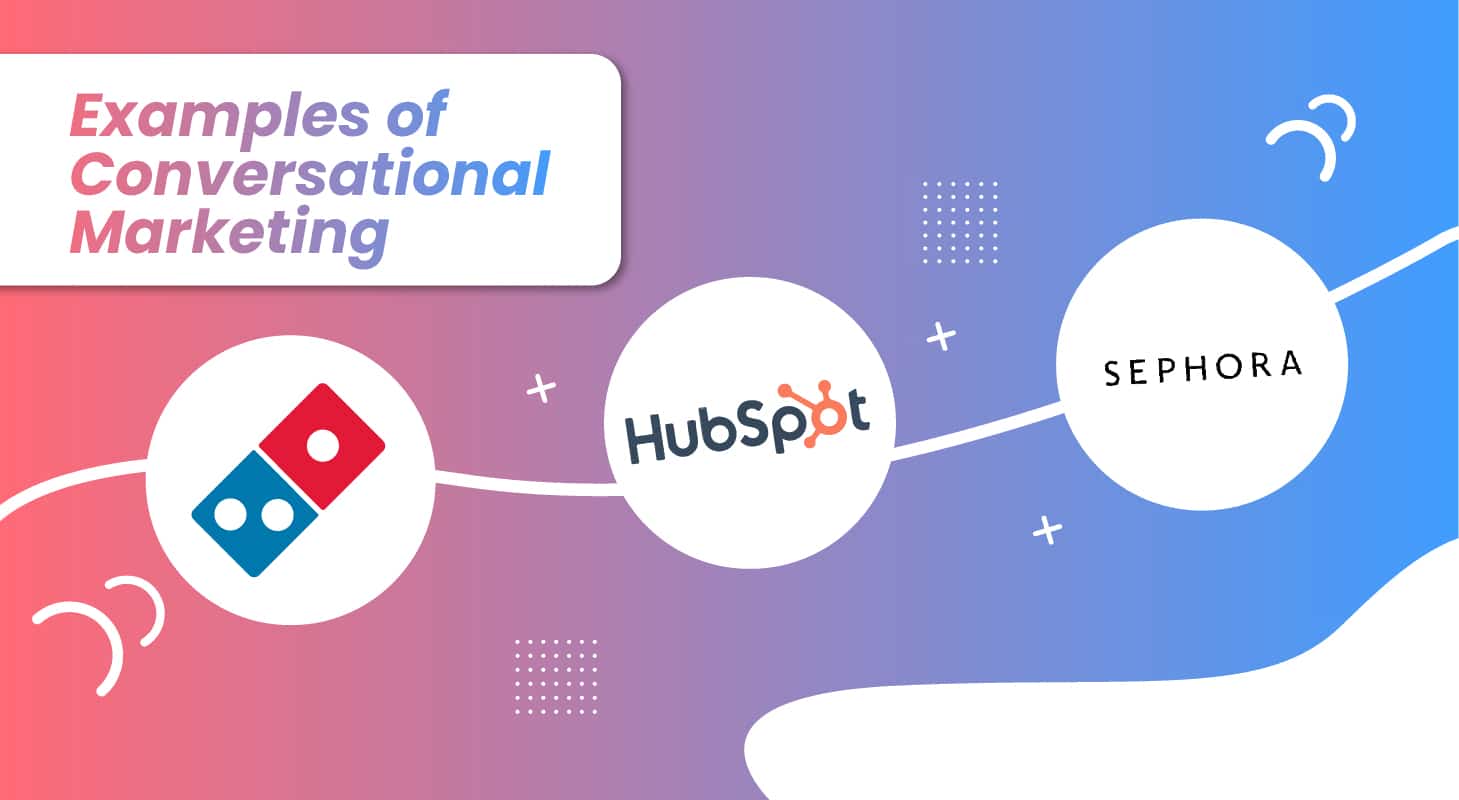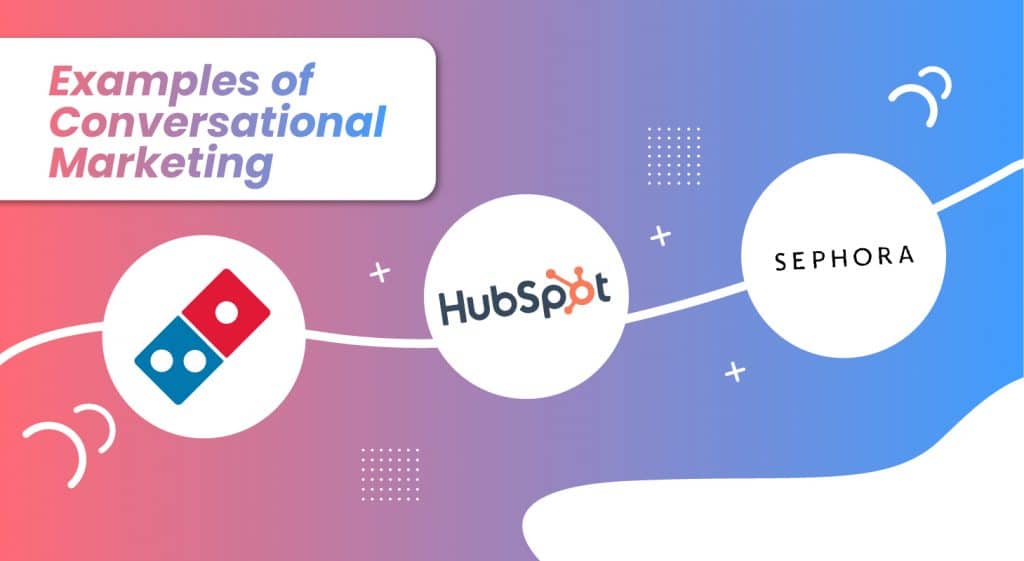 Domino's latest Domino's AnyWare initiative allows people to order pizza from anywhere. This is done through conversational channels like Slack, Facebook Messenger, Twitter, etc. by simply texting the pizza emoji. You have to first enable text ordering then set up an "Easy Order" on your Domino's profile and then order your pizza.
For having many subscribers HubSpot allowed people to register for four days through multiple channels, including Facebook Messenger. The users loved the conversational UI and were quick to encourage their others to sign up. Many registrations took place also many subscribers converted to customers.
To encourage more people to subscribe London & Company used a chatbot/ messenger format with one question at a time instead of its Mortgage Finder form which was lengthy and had multiple questions. This conversational and user-friendly format helped the company collect information from leads and increased the lead-generation process.
It used Kik messenger to learn more about its target market by asking people if they wanted to participate in a rapid quiz about their beauty habits. When the people accepted, they answered questions about their age, makeup preferences, and favorite products. From there, the app delivered relevant content such as product reviews based on the individual's answers. There is also a chatbot that makes it easier for customers to find and purchase products they like and no involvement of human employees is required.
Conversational Marketing Platforms
Conversational marketing software engages the customers and leads with your business through personalized conversations. The conversations can be about the product and service the customer is looking for.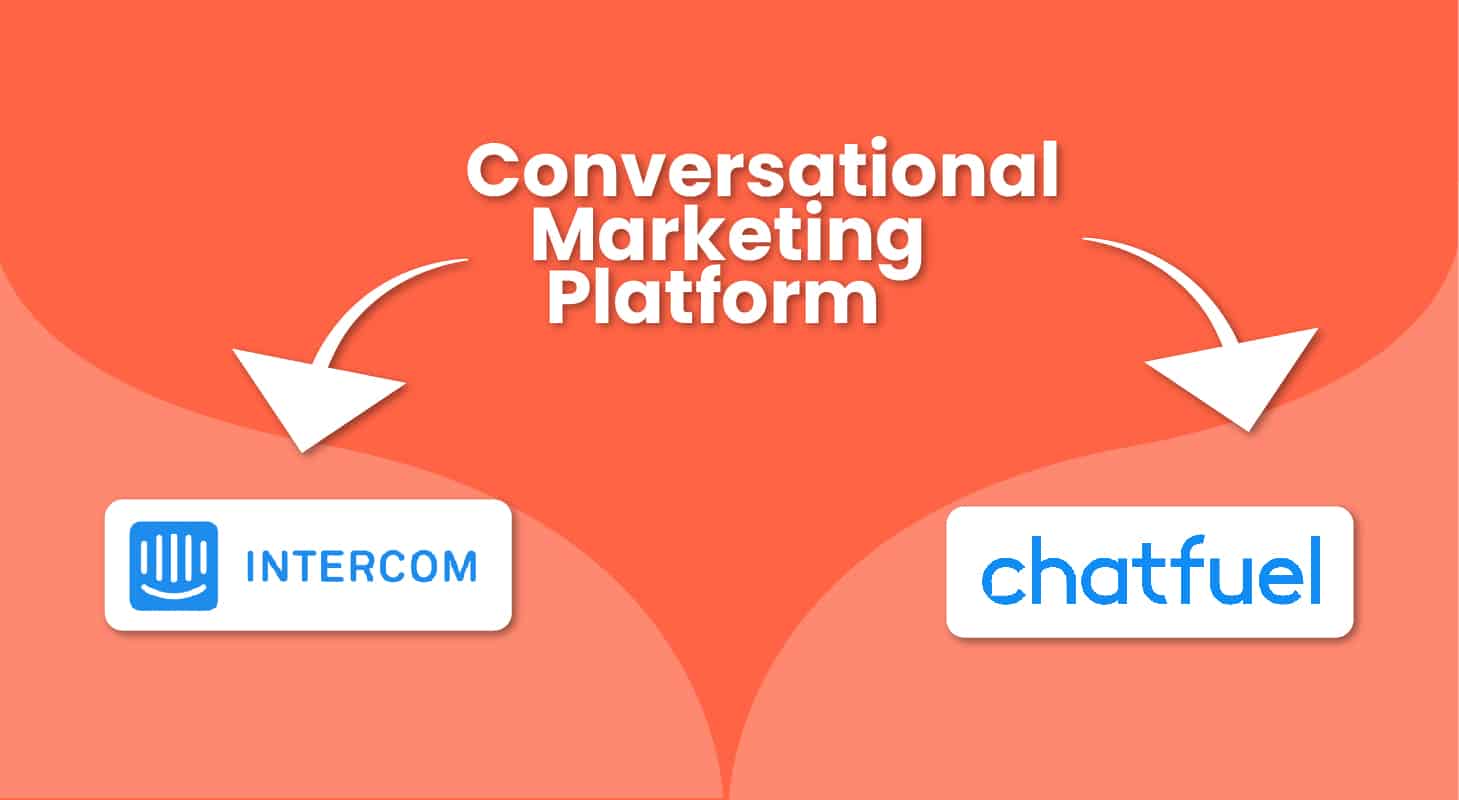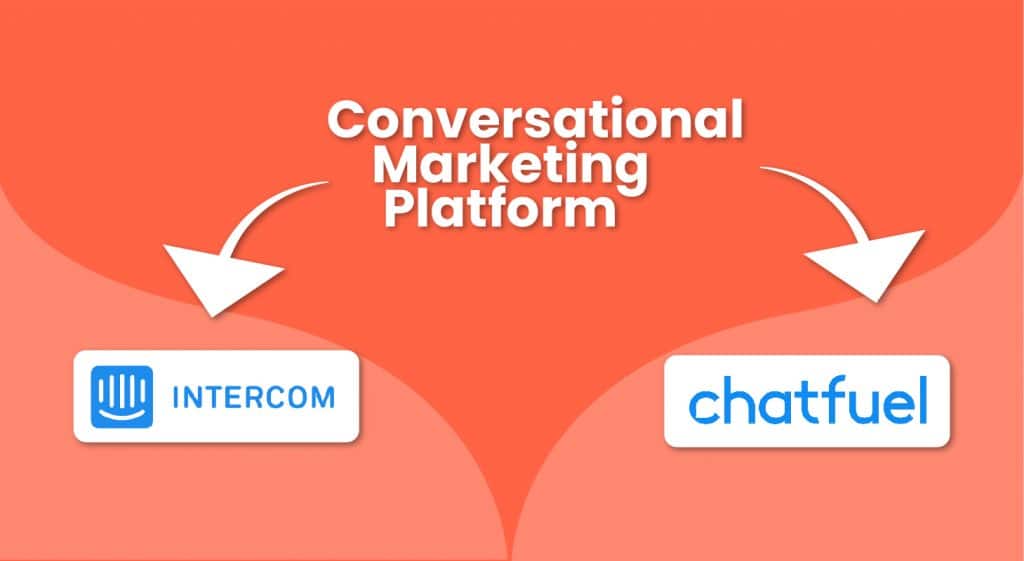 This is a conversational marketing platform that helps businesses engage with their customers and leads across multiple channels like chat, email, and social media. It has many features it has features including marketing automation, customer data management, a knowledge base, a help center, etc. It has customizable chatbots that help in lead generation and customer support. Intercom offers multichannel messaging as well as in-app messaging. It can integrate with other software applications and tools. It also has analytics features. Intercom has free and paid plans. Shopify, Atlassian, Expensify, Deliveroo, and Segment are some of the most prominent businesses that use Intercom.
This is a conversational marketing platform especially used to make chatbots and AI-powered chatbots for Facebook Messenger, Telegram, and other messaging platforms. You can do all this with no coding or programming skills. It uses Natural language processing (NLP) capabilities in making chatbots. It also has e-commerce and payment processing tools. Chatfuel has detailed analytics and reporting features for tracking the performance of the chatbot. It has freehand paid plans. Adidas, T-Mobile, TechCrunch, Techstars, and Pizza Hut are some examples of the companies using Chatfuel.
Future of Conversational Marketing
Businesses and people have always interacted with each other for ages. Earlier it was through traditional forms of communication like letters, phone calls, etc. Now it's social media, emails, live chats, etc. These forms are comparatively quicker and more efficient. The interaction of customers and businesses is becoming more seamless now and will be even more in the future. In the future, the communication channels will be of more ease and more efficient for both businesses and customers.
Conclusion
Conversational marketing encompasses all the forms of communication that happens between a business and its customers and clients. Communication is the most important factor in the functioning of a business. With the passage of time conversational marketing has evolved a lot and has become more efficient. Businesses must implement the best conversational marketing strategies to prosper in the market and increase their revenues.