We all heard the basic and most important adage "SEO is an exhilarating activity". Search Engine Optimization is one of the essential tasks to drive more traffic to your website. But here is a common fact SEO also leads you to perform Repetitive tasks. It feels like you started this as an ingenious work but it turns out to be tedious for you. Businesses today scale through "Automation" so if you are working in SEO since the epoch then why not take the opportunity of SEO Automation? Join us today on this guided tour of Automation in SEO.
Content
What is SEO Automation?
Manual vs Automated SEO, what's the difference?
How many tasks of SEO can be Automated for you?
6 Best Automated SEO Software that you should know
What is SEO Automation?
The term SEO Automation means systematizing the entire SEO Task that you do by using compelling tools or software. Using this advanced Automation in SEO keeps reducing your manual efforts because every task is simply automated for your assistance.

It keeps evolving your business like you put efforts into SEO manually on a daily basis. Overall, this saves your business time and money which is always a high priority.
Manual vs Automated SEO, what's the difference?
A question here arises: what is an unbreakable option for SEO Professionals or newbies? We will not create a bad image of any activity, so it is better to read out the below content and judge according to the role and your business needs.

When going for manual SEO you can bring changes or improve your off-page SEO by handpicking backlinks. It's easy for the user to select the site according to their needs. Your SEO Team can see the quality of those sites and whether it's good to promote SugarCRM services (just an example) or not. Your team gets full control over their SEO important strategies and everything will be followed with the right plan. But if having plenty of websites then manual SEO requires more time to show you the result that you expected.

When entailing the Automated SEO then the big advantage is it is cheaper and everything will be done automatically for you. This Automated SEO will take the work pressure of long-winded tasks to save you quality time and effort. This concept will uncover the updated information and share accurate information on Keyword ranking. No such assistance is needed from a big SEO team. Thus, saves your money. But if not operated in the right way then this software can share low-quality backlinks for your business.
How many tasks of SEO can be Automated for you?
Looking to start the Automation activity for SEO? There are numerous of work to do. SEO is not just about boosting the website ranking. SEO has more such ingredients and if that automates for you then it will much easier to see your productivity. Below we are going to shed some light on the list of it-

Reporting

Our first task is Reporting where every user manually creates it every day. With the introduction of Automation in your business, it can pull out the SEO Reporting data with the help of advanced tools. It will be easier to fetch the data every day, every week, or on the basis of the month. Additionally, it is much simpler for the user to customize it so that you can gauge the activity that is most important for you to know first.
Keyword Intent Analysis

If you are unfamiliar with this SEO task then here we will unlock the right information to clear you everything. Suppose you use the keywords regarding your SuiteCRM Plugins to get new audiences easily. But you don't know what the audience searches the most in Google and what they need quickly from businesses.
This is where automation plays an essential role in Keyword Intent Analysis. Your SEO Business employees can reckon the audience purpose of performing the specific search. Do you know what you achieved here? Information about what is the right keyword and which keyword to target for the right audience. An astonishing benefit of Automation for SEO once again!
Position Tracking

We guess many of you got the hints by reading out the name above. This task is also known as Rank Tracking. The role is to provide you the information about the website's ranking every day. Now if automation enters then it saves your manual efforts because you don't need to check out all the time. This saves your precious time here. It will highlight the ranking with a specific set of keywords. One of the best benefits of Automation for SEO today.

Editorial Calendar Management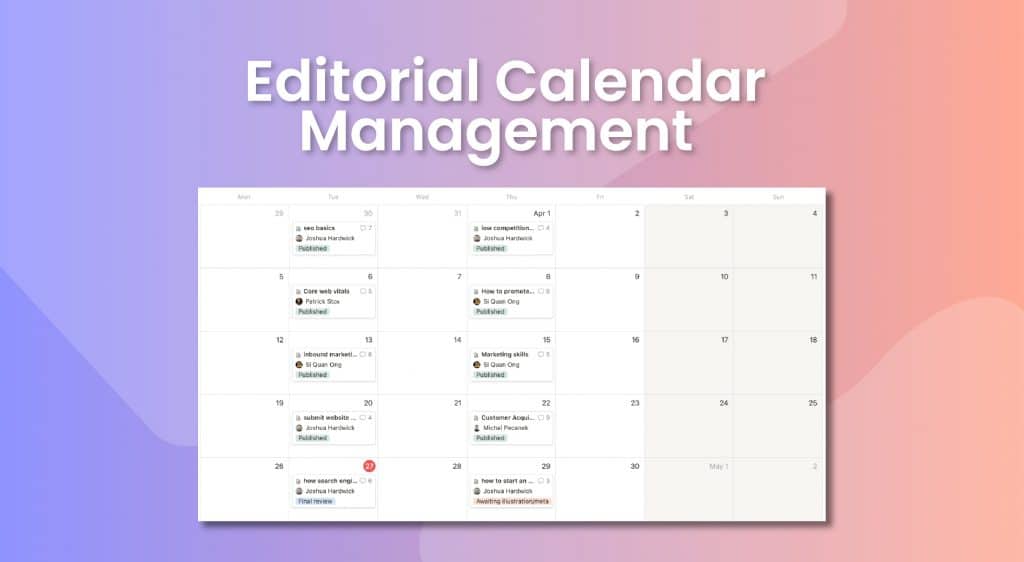 We have another superfine SEO activity where from mapping everything to sharing valuable content with writers, this task is important to adapt. You can create every piece of content here that you need daily and can share it with your team members.
It means creation and implementation can be done swiftly. But now if understand the complete benefits of automation, you can use it here as well to track and create your calendar. This is important because we all want everything in real-time and to get updated to everyone at an opportune time.
Monitoring for Broken Links

Just a little effort is needed: put your all-earned link into your system. Why? The concept of automation here will give you the ultimate benefit. It easily crawls the link and alerts the user whether the links are down or not. These regular crawls are the best idea to point out the performance and will clear you whether this automation is actually beneficial or if you need something else. A user, later on, can send an email for link restoration purposes if the link is down.

6 Best Automated SEO Software that you should know
This is the crux of this whole article. Harness the power of every automated SEO software that we are going to present in front of you. Make sure not to skip in the middle.
Ahrefs
SEMRUSH
Screaming Frog
SEOptimer
Moz
SE Ranking

Ahrefs is an SEO-automated tool that gives you the functionality of six toolsets including Site Explorer, Keyword Explorer, Site Audit, and Rank Tracker. Additionally, Content Explorer and Dashboard tools to know the progress of the entire performance.
Apart from it, the Ahrefs provide a checklist of the advanced functionalities, and let's move a little bit and get to them.
Analyze your competitors for a better understanding
Optimize and audit your website for better performance
Let you know the keyword that your competitors use for searching
Track the ranking progress of your website
Enhance web crawling rate and breadth
Provide live chat functionality
Offer a private community for better discussion
Available for different industries like Content Marketing, Enterprise, Agencies, Saas, and Ecommerce.
Locate content ideas and link opportunities

Operating the SEMrush SEO tool for your website you can drive more authentic and bulk traffic to your site. As it will offer you 20 SEO advanced functionality in a single SEO toolkit. And trusted by top brands such as SAMSUNG, TESLR, Forbes, IBM, and more.
SEMrush SEO tool can upsurge your SEO ranking and drive traffic and later on sales on your website by providing various automated features.
Monitor broken links, pages, and other basic HTML tag issues.
Find SEO-related international issues, schema optimization, crawlability.
Modify your keyword research rule and work on keyword difficulty, competition level, monthly volume, search intent, related phrases of the keyword, and more.
Keep you aware of your top rival through keywords, backlinks analytics, add campaigns, performing content, and other performance.
Boost up your content by letting you know about the trending content, subtopics, headlines, and keywords of your niche.
Simplify your reporting process by using the PDF, google analytics, text, and images format. Also, provide the drag & drop feature and other amazing services.

This one is a website crawler tool that allows you to enhance the onsite SEO of your website by looking over ordinary SEO issues. It gives you free access to crawling the 500 URLs.
In addition to this, Screaming Frog provides various features like:
Find out broken links and server errors
Inspect the website titles and meta description and later work on the less-than-optimal.
Operate CSS< path, Xpath, and regex for data extraction
Create XML sitemaps and image XML sitemaps for a better configuration of URLs.
Crawl dynamic websites like javascript
Schedule audits at selected intervals
Audit redirect functionality
Practical for various agencies like Search Engine Marketing, Search Engine Optimization, Technical SEO, Social Media Marketing, Conversion Rate Optimization, Google Analytics and Consultancy, Digital Copywriting, and more.
Find out URLs that have been blocked by robots.txt, meta robots, x-robots
Integrate with the Google console, Pagespped insight APIs, and Google Analytics for better insight.
Visualize website architecture by evaluating internal linking and URL structure
Using the advanced level URL mapping it does compare the crawl and staging and track the progress of SEO issues.
Check out the spelling and grammar of over 25 different languages
Let you know the size of the URL and images so that the users may not have to face any issues at the time of loading.
Consider every little thing like missing thing H1, H2, Title, meta description, description, and more

SEOptimer is a user-friendly SEO tool that has made its home page available in three languages for the best user experience which includes English, French, and Spanish. And provide the functionality of a comprehensive website audit and allow you to use customization option to make it more satisfactory for your workflow.
Offer a catalog that is completely listed with the advanced features of the Search Engine Optimization tool.
Provide White label report created in PDF format
Offer tool that allows you to find out the right keyword for site ranking
Deliver API functionality
Provide an embedded audit tool that can generate bulk leads and drive more sales.
Offer free SEO tool that may handle your SEO task with 60+ tools
Provide a tool for tracking the keyword and monitoring the progress of SEO
Offer bulk reporting feature
Perform SEO crawler feature means scanning each & every page of the site to monitor the issue
Deliver free SEO toolbox that creates the keyword, meta tags, XML sitemap, and also provides Robots.txt.generator and .htaccess.file generator.

The Moz SEO software application will allow you to know the top competitive SEO metrics of any website. For this, you just have to put the domain of that site in the search box of the Moz tool. Furthermore, will offer you multiple functions like Moz link API, Moz Pro for SEO essentials, and Moz Local to raise local SEO visibility.
And, Mox compare SEO product to determine the best Moz SEO solution to satisfy business needs, Moz STAT for SERP tracking and analytics, and more.
Here you'll see the list of its all features and get to know what functionality it can supply to your business.
Offer the feature of keyword explorer
Free competitive research means it'll allow you to search the content and other reports of your competitors
Provide the link exploring the feature
Offer Mozcast functionality that will let you know about the everyday forecast
Provide Mozbar that will give complete information about any site that you see on the right of your Chrome browser
Boost up your online presence by letting you know how your website is showing on search engines & giving you the way to improve it
Advise you about any website's intent and insight like its ranking keyword, competitors, top pages, purpose, and overall domain analysis for free.

This SEO tool allows you to optimize your website content for a high ranking and provide a complete toolkit with a huge list of features. Moreover, track your SEO progress and remake the working strategy according to the actionable insight of your website. SE Ranking is trusted by 25000+ companies including the top Zapier, Mynewsdesk, Yamaha, and tailor brands, and the list goes on.
Let's get to know about its salient features listed below
Track the Ranking of the Keyword
On-page SEO checker
Offer SEO report creator tool
Detect the competitor analysis tool
Check out the backlinks
Offer tools for local marketing
Provide keyword suggestion tool
Website audit functionality
Provide tools for backlinks tracking and SERP checking
Deliver lead generation tool
Provide content marketing and editor tools
Sizzling SEO Statistics to Know in 2023
Many amateurs are here who are clueless about Search Engine Optimization and its key roles. We will share everything about it and also with the Automation. Let's dive in first to know the current statistics of SEO.

We are going to start with the first and most important one for you: SEO strategies give you 1000%+ more traffic in comparison with organic social media.

Approx 14.6% is the close rate of the SEO Leads and another interesting fact is 0.78% of Google searchers click on the second page results.

The website traffic that comes from the Organic search is around 53.3% and you get traffic from Google Maps, Google Images, and Google Search is 92.96%.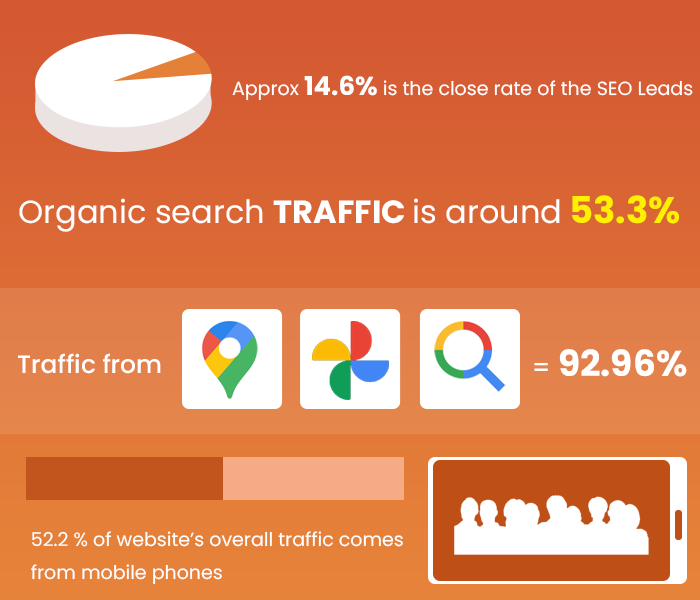 Want some more interesting Facts and Statistics?
Research says 25.2% is the actual percentage of pages that are ranking on the top with no meta description.
One of the finest Mobile SEO stats is 52.2% of website overall traffic comes from mobile phones. And 30% of mobile searches are generally related to location.
Summing Up: Every SEO Department today always goes through the Ahrefs and SEMrush, two of the vital SEO platforms and helping hands of the SEO activity. But this digitization world wants the Automation concept to stay in every diverse industry or in every department whether it's Sales Automation and Marketing Automation. This is why we introduced today the SEO Automation importance to streamlining your goals. Choose the SEO Automation tools above to strengthen your work every day.