We have a coin of "Search Engine Optimization" and obviously it has two faces. The first face is Ahrefs and the second face is SEMrush. Both are added in the priority list of the SEO team to choose for their best practices. But today we have a question for you- if someone asks which one to choose SEMrush or Ahrefs then what will you reply? The features of both will strike in your mind and many more concepts, but we are sure that you never get the final result of which one is best to adapt. So, we decided to provide a comprehensive overview of both these SEO tools as Ahrefs vs SEMrush.
You are ready now to start your SEO work with some new and smart tricks. But the concepts will always come in your mind like what kind of content to highlight for gaining organic search traffic, where to do link building from other sites to yours, and much more. Are you one of them who always gets confused while getting such questions? You are not alone to feel that as there are many who are paying attention here want a solution for it and the best feasible solution is to strive for tools like Ahrefs and SEMrush.
These tools are accurate for this task and also relevant for the keyword suggestion in content that you will write. But what if you have to choose one only in these both where you will put hands first and always go for that only? This is the main motive to write this blog as we are going to share the difference as Ahrefs vs SEMrush. Get ready for a new update about the information on these tools here.
The real difference between Ahrefs and SEMrush SEO tools
You have landed in the right place to know the real difference between both these dominant tools of SEO. The decision is still pending which one the user should endeavor for, so let's just read out the first point and that is the Keyword search. If you search the keywords then you have just one question in your mind and you look for the solution and the question is how many people are searching for that keyword?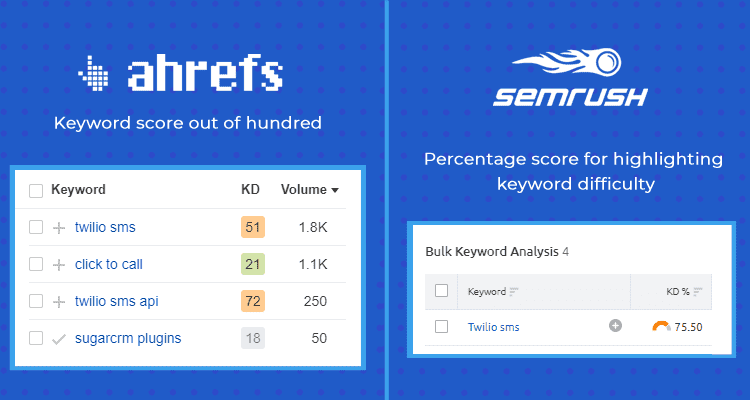 Also, the questions can be raised about how tough it is to rank that keyword, checking who is already ranking that keywords, etc. Here the role of Ahrefs tool is to use the score out of one hundred and the role of the SEMrush tool is to use the percentage score for highlighting keyword difficulty (high score means high difficulty). But SEMrush has more keyword optimization in comparison with the Ahrefs. So, without any doubt, the tool SEMrush wins.
This is really important as everyone wants SEO tools that should be user friendly for their work activity. If you are curious to know about which one is better in this aspect then we will suggest you to endeavor the SEMrush tool. When you go for this tool, it presents the information which is easy to read out for every SEO team and easier for the beginner to understand the statics.
Many of you are worried here because everyone has this mindset that it is hard to understand the SEO tools. After all, many are a novice in this activity. Don't feel fret when you have SEMrush because here you can learn by yourself more simply. Perhaps you need a tutorial for better understanding the Ahrefs but not in the case of its competitor. Again the competitor of Ahrefs tool is the winner.
SEO users know it very well that what it actually is. Still, we would like to put a spotlight here to keep you aware of the Site auditing that enables the users to get understanding about how the website performs on Technical SEO to On-page SEO. If you use both these essential SEO tools then it will share about your website like it can highlight duplicate content if it has, crawl errors, Missing headers, SSL Problems, Slow loading content, and much more.

Our blog is about Ahrefs vs SEMrush, so we will give you a suggestion to strive for the SEMrush. Why? Well, both the tools provide the best suggestions but nevertheless, this tool audit is easier for every one of you. You will get an easy-to-follow to-do-list automatically and we guess this is all you need. If you still want to go for the Ahrefs then here you have to create a to-do list by yourself. The winner is the SEMrush tool again in this auditing department.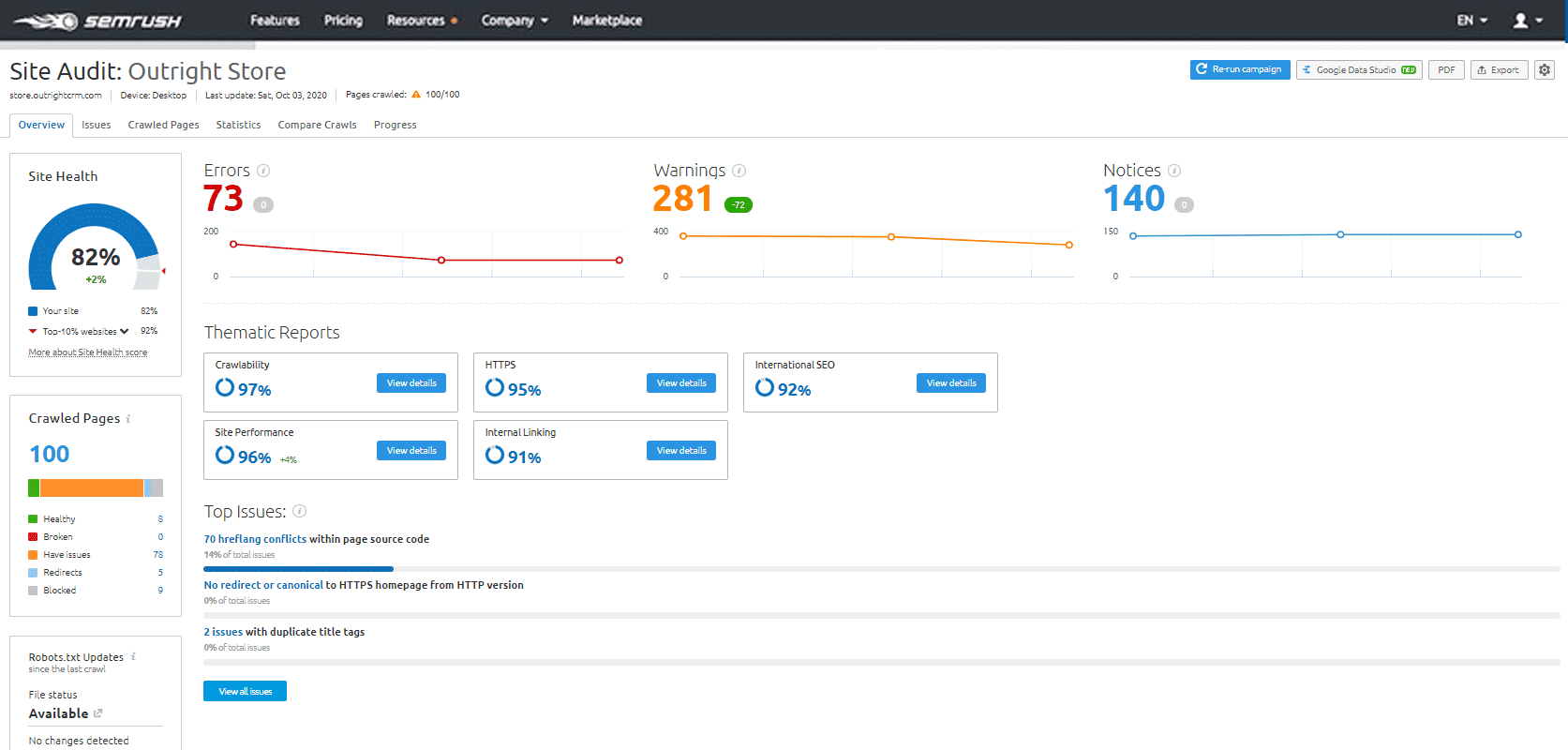 Let's move on and put the feet on the next one and the most important one for the difference between Ahrefs and SEMrush and it is about broken backlinks. It is the essential SEO activity where they have to find out broken links and also should pay attention to the content where no users are visiting you can say dead content.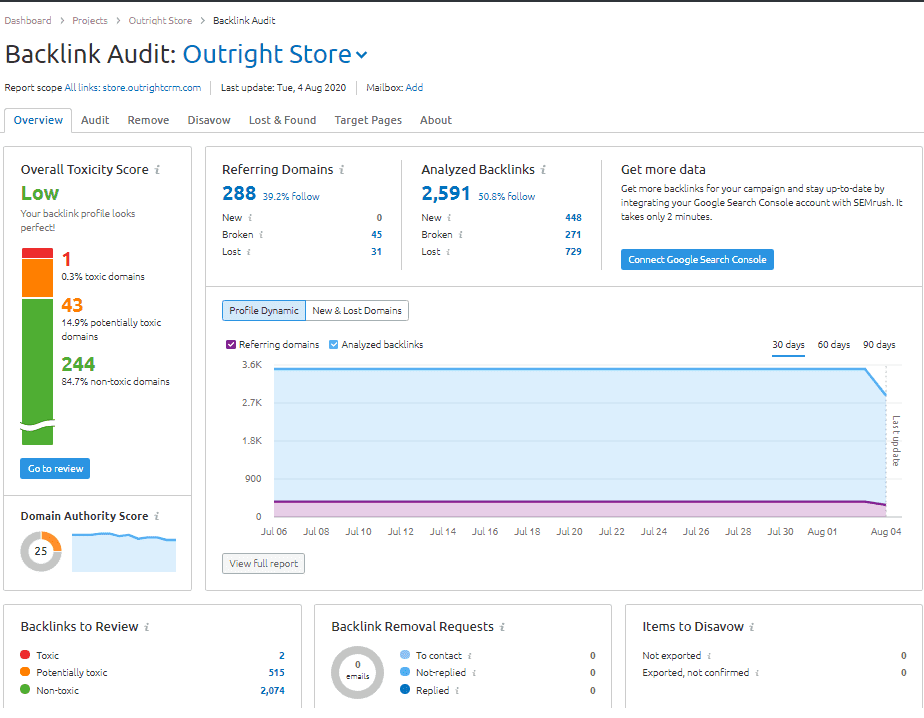 To identify the broken links, your role is to adapt the tools like the above that we mentioned for your assistance. Both have this feature to share the broken links with you. If we see both these tools as a rival and our role is to give you the best advice like which one is stellar one then we will say to go for Ahrefs first. Why?
It is easier to find broken links when you have this SEO tool in your work and what you have to do is just write down the domain name in Site Explorer and tap on the broken links. You will get insight of the broken link list and this is what you need. If your motive is to put hands on ease to use tools then in this case, SEMrush is not easy to use. Here we would say the winner is Ahrefs tool.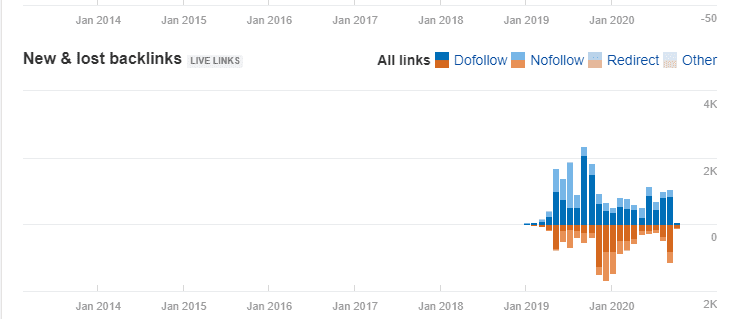 Regarding Interface and simple to use
If easy to use is your priority then who is stopping you to operate the dominant SEO tool called Ahrefs? This is the most remarkable one for every SEO team because if we talk about the interface then it is clear and clean as the dashboard of this tool presents the crucial information in a clear way like you wanted.
Zero percent chance of any confusion and all when you are under this SEO tool. SEMrush is not so easy to use and the interface is not clean if you compare it with the Ahrefs tool. Every kind of information is relevant when going for the Ahrefs as SEO information you need will not take too much time to share when using this essential tool.
But in comparison with its competitor, you have to do a couple of clicks to get the result. Maybe this tool takes your time. Our organization Outright Store personally uses this SEO tool and always gets a seamless experience. Whatever we need regarding the SEO work, always this tool strikes in our mind because it has some immense functions which other good tools don't have. Here we have a clear winner and that is Ahrefs.

You got a few hints which one is the winner or which is a stellar tool for your work of Search Engine Optimization. Still, the competition is left and the race is going on. Don't judge now as two more points are left to explain. Now we are going to unhide the next aspect and that is Domain Analysis. Don't worry we will explain to you what it is as if you use both Ahrefs and SEMrush then you can see the overview of domain analysis which indicates how the domain is performing according to the SEO perspective.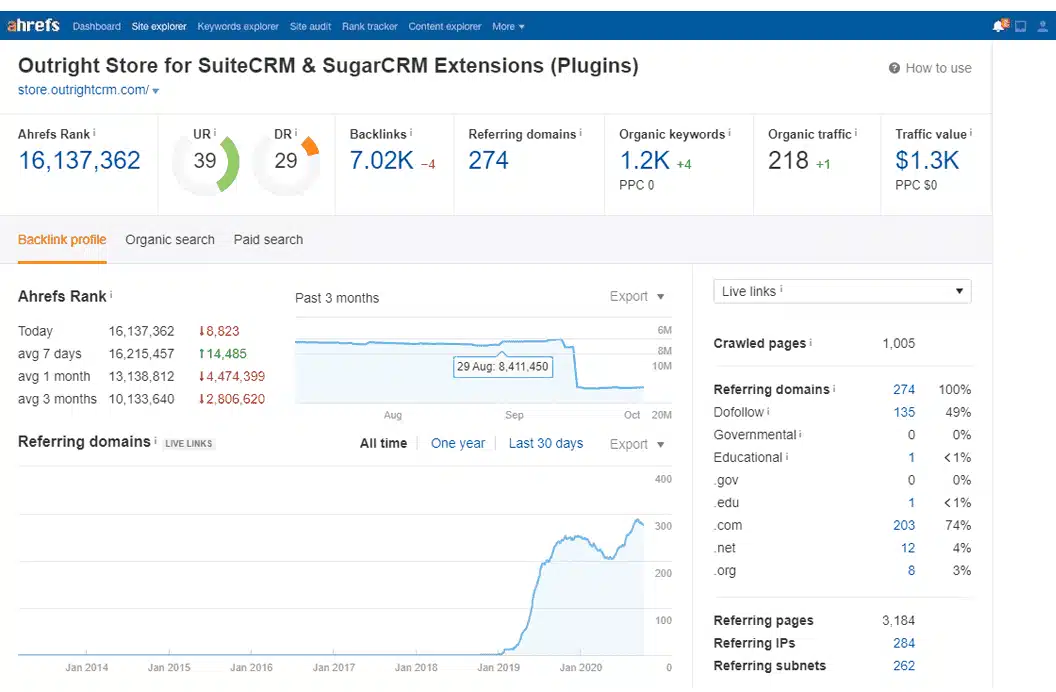 Everyone performs domain analysis whether on their own website or on competitor's websites. When operating both Ahrefs and SEMrush then you will get a clear picture of your work like you get to know the total number of visitors, the total number of keywords, competing domains, Anchor text, Authority score, and much more. But don't forget the race is going on, so which tool you should operate for this aspect? Any idea?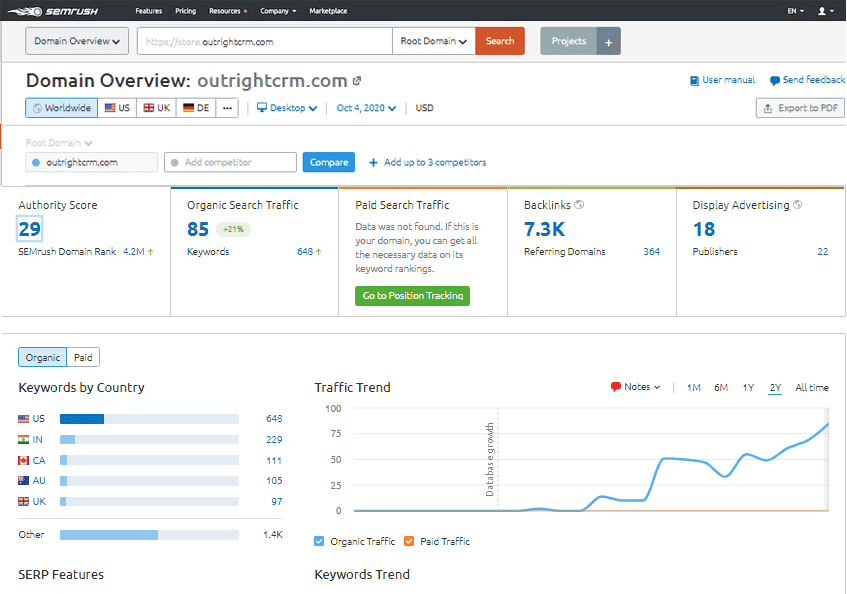 Let's uncover the information and we will suggest you select Ahrefs and the reason is it is easy-to-access to the key stats like we shared above. When you visit the Site explorer section then everything will be easier for you to get aware of anything. Like you have an easy to use menu. When comparing this tool with the SEMrush then users need to show some extra effort because here more clicks are required to get the final result. Both tools are leading but after getting a complete picture of domain analysis, Ahrefs tool is the winner.
No matter what tool or software you are operating, you always need customer support and that will be great if you select the tool which is best in offering accurate customer service all the time. Well, coming back to the point and let's talk about the SEO tools that we highlighted above. Do you think that both are offering this service?
If you have no idea then let's clear your doubt as you will get the services like phone support, chat support, and even email support when you strive for this superior tool called SEMrush tool. And if you are interested to work in Ahrefs then it offers you the service of chat only. You have SEMrush so it would be shocking for you to know but the fact is that the tool is ready to provide SaaS. Have you ever expected this from any tool to share the SaaS with the users? Thanks to this and finally we are happy to announce that in the support service, the SEMrush tool is a clear winner.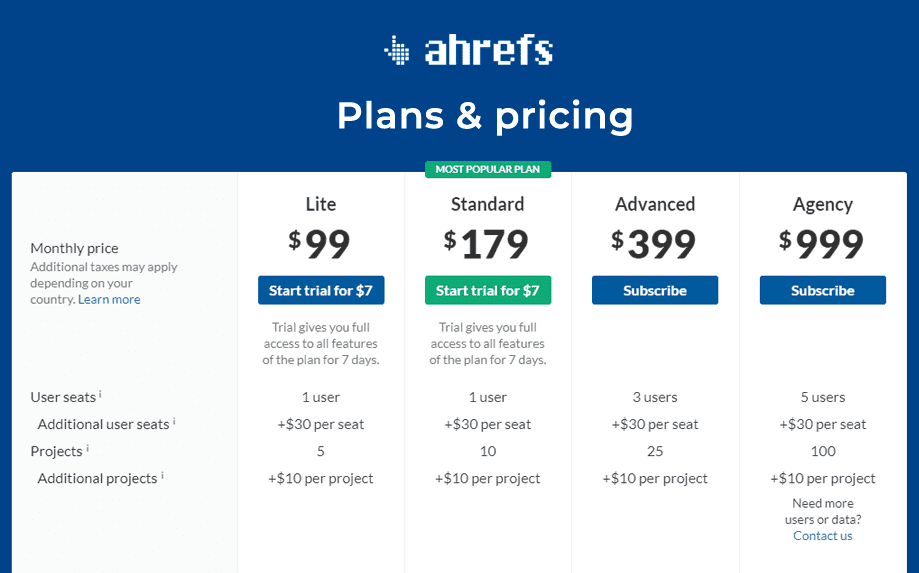 A final verdict
First of all, we want to clear this thing- both are perfect for the business and if we compare them as Ahrefs vs SEMrush then it doesn't mean that one is good and the second is worse. It's about the race between two tools which is beneficial for the SEO team to get a complete understanding of their work via these tools. Ahrefs is superior in its own way because it really offers bundles of functionality and SEMrush also plays a key role to give you immense features to enrich your experience. Here if you watch these platforms as Ahrefs vs SEMrush then clearly without any doubt SEMrush wins. Like you have read out the above points in detail as Ahrefs play well but we can't say both are the winners. SEMrush wins and we will suggest you to go for this tool first and make it your first priority now.