When one of the members of your CRM business department replies to a client conversation via tablet and others get stumped when this happens, it is also a major problem. The rest of the employees feels like no one replies to that regular client who always deals with our business. The situation can come when most of the employees reply with a similar message to that person. This is a big confusion! You are working in a CRM (Customer Relationship Management) world so how can you stay free without thinking about this problem. Your one mistake sabotaging all credibility. The best solution is to avail of the feature of the SuiteCRM BCC Archive plugin. What is it?

What is the BCC Archive for your SuiteCRM software?
Introducing a plugin called SuiteCRM Email Archiving which helps you to save the conversation in customer history in the CRM of your clients automatically to save your time. It's not like you can't reply to them from your smartphone or via Tablet.

When you are not present in the office and want to reply urgently to someone then take the assistance of this add-on to keep customer history updated in SuiteCRM software. Want to understand this with an example? Here we go-

For Instance: You have your Marketing team who daily deals with the potential leads of your business. If they receive any query from those leads regarding SuiteCRM plugins that you are selling then they can reply to them easily from any device. All they have to do is just use b[email protected] (just an example) in BCC. Then our extension BCC Archive will play a vital role by scanning the BCC Email address and then update the customer history in the CRM software. This enables you to create a strong rapport between you and your company employees.

Remember:
Everything will be updated in Real-time.
Conversation of both parties always remains under one hood.
Armed with this knowledge, we must say the plugin Email Archiving solution is imperative for the Real-Estate sector, Sales and Marketing, IT Business, Call center industry, and for many more. This ingenious extension for your SuiteCRM will always share an immaculate experience with these industries. What about the latest functionality? Any idea?

Every Feature of BCC Archive plugin for your business growth
The update process will be done automatically. But beyond just saving tons of time, you need to know some more salient features of it. Readout thoroughly-

The first and the most important feature to uncover is Real-Time synchronization. Whenever you receive an email and at whatever time you reply to your customer the plugin will update everything automatically in real-time. Don't feel like the extension SuiteCRM Email Archiving will take minutes or hours to do everything for you.
Like we informed you in the above example that this plugin scans the BCC. But the extension is much more advanced like it's easy for it to scan BCC, TO, FROM, CC, Body, and Subject. This is essential for both parties' conversation saving purposes and our plugin Email Archiving is outstanding in this task as well.
Another feature we have and it is about "Notification Alert". Suppose one of your employees understood the query of your customer. Then he/she prepared an email to reply to that person. Your employee completed the whole process while taking the assistance of our plugin as the email gets attached to the customer history. Whenever the email is attached, you will receive a Notification Alert on your screen. We guess it's best for the security concern.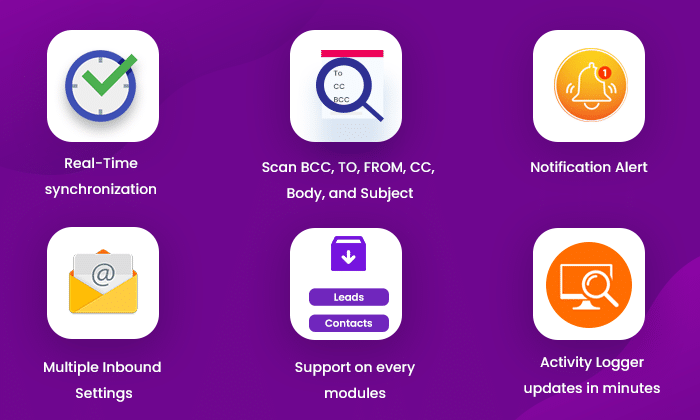 A user can now set Multiple Inbound Settings. We launched this feature where it might be beneficial for many businesses. Now it's possible for you all to add more than one Email archiver address in your BCC. Maybe this feature can entice you to go for the BCC Archive extension for your business activity. 
Suppose you are working on your task in the Opportunities Module and suddenly the same client shares a few emails to you for work purposes then it's easy to manage everything under one module only. No need to shift towards the second module or the other one. You can manage everything easily now.
Another feature of the Email Archiving plugin is scanning the email box of your CRM every minute. This activity goes automatically and you can check out scan timing and new parsed email in Activity Logger.
How much the Plugin may cost you?
If you think the plugin will not spin out of control and is essential for your business then we would like to inform you that there are two plans for it: Lite and Premium.

The cost of the BCC Archive Lite version is $299.00. The Premium of SuiteCRM Email Archiving solution plugin is $499.00. Select the plan while understanding the features and then make a decision. Additionally, this plugin is compatible with every SuiteCRM version.