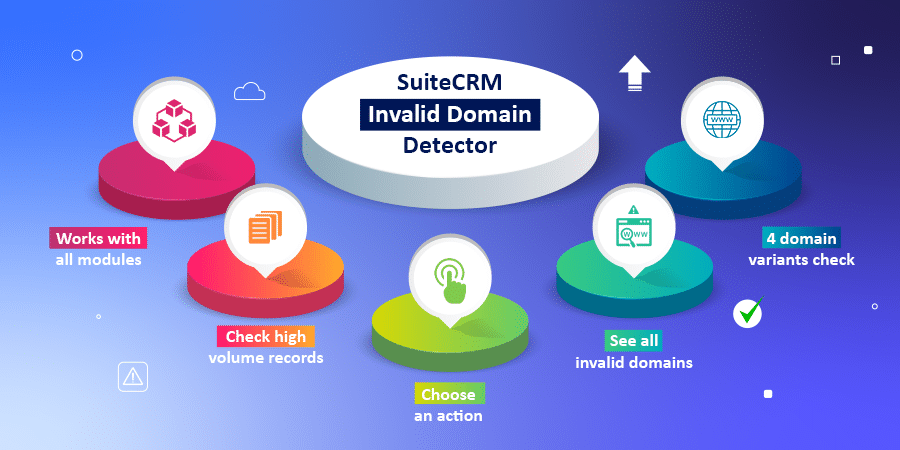 Invalid Domain Detector checks whether websites in your CRM are working correctly or not. This plugin has the capability to check the status of every website in every module in the SuiteCRM. It has been witnessed quite often that marketing and sales data in CRM software is inaccurate. There are industries like eCommerce stores or online stores, Landing pages or lead generation sites, media house websites, etc are entirely dependent on their website.
Using the SuiteCRM Invalid Domain Detector plugin, you get the status of website URLs instantly. Later you can also determine the action on the invalid domains, for example, keep them unchanged or remove them.
Real-life example: In the digital marketing industry, the authenticity of leads is justified by the company's website or domain. If the website is invalid or not working then the lead is declared invalid. The problem is a CRM contains thousands of leads at any given time and manually, it will take ages to check whether the respective website is working properly. Here, SuiteCRM Invalid Domain Detector comes into the picture because it can automatically check the website of every single record in any module. It even gives you the proper status to work with. Also, it is capable of removing invalid domains automatically.
Features of SuiteCRM Invalid Domain Detector
Works with all modules:

Select any module in CRM and then this plugin will automatically check all records for valid and invalid domains.

Check high-volume records:

Using this plugin, you can check hundreds or thousands of websites in one go.
4 domain variants check:

Including the exact website you added in the field, our plugin checks other variations. For example, if you added

example.com

then the plugin will check

www.example.com,

http://example.com

,

https://example.com

, and the original entry i.e.

example.com

.