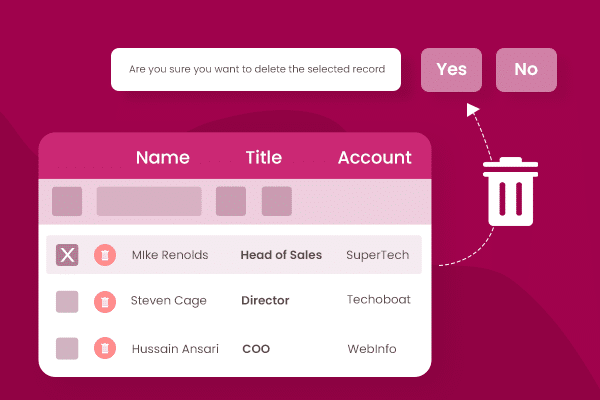 A Faster Way to Delete Records, Saves Many Clicks
Delete Directly From List View.

Extension is time-saving while deleting records.

It performs soft delete for future restorations.
Supported to All SuiteCRM Versions
Unlimited License for Single Domain & its Sub-domains

Unlimited

Lifetime Support
Screenshots
---
SuiteCRM Direct Delete from ListView
Here is the way for deleting the duplicate records of any module of your CRM. Use SuiteCRM Direct Delete from List view extension which saves your time by deleting the records more fastly. Deleting process one by one can take some quality of time, so no need to go for any old method when this extension can work rapidly. Before deleting any records, the "Yes" option always appears to confirm whether you want to delete that record finally or not.
For example: You have numerous records on Contacts modules but you may find some are duplicate and no use to keep them all the time. Just by going with Direct Delete from List View addon, you can delete it more swiftly in just one tap.
Key Features of Direct Delete from List View:
A soft delete process if you find any duplicate record.
A time-saving extension as no such long process to delete the unnecessary records.
You can delete the records one by one and also can delete in bulk.
In just one click, your records will be deleted.
Concluding Note: An easier way to delete all such records which are of no use to your work in CRM. The extension Direct Delete from List View can assist you to delete those records no matter whether one by one delete records you want to do or delete records in bulk. The extension is quite simpler and the accurate way to delete the records in just one tap. Read out the advanced features of this addon before going to use it for your work.
Frequently Asked Questions
How SuiteCRM Direct Delete for ListView plugin works?
If you have installed this plugin to your CRM system then you can literally delete the records in just one click. You'll be able to see a delete icon next to the name of the record. Simply, click on that icon or select multiple records and click on the delete icon.
What is the price of SuiteCRM Direct Delete for ListView Plugin?
You will be glad to hear that plugin is absolutely free of cost i.e. you don't need to pay a penny. Just click on Add to cart and get the package of this extension.
Is it going to be a soft delete or hard delete?
The plugin only soft deletes the records in SuiteCRM, so it means data will still be there in your CRM database.
Video
---
Reviews
---
All Add-Ons are life time purchases, there are no recurring/hidden charges