What is an Email Template?
Going to reach straight to the customers is not such a difficult task these days, credit to email connection but still, many are a novice in the email industry. Now the time is to keep you updated with the fact that much-needed Email Templates these days for your business tasks. Furthermore, Email Templates is an HTML preformatted email where every client get the chance to create their own creative way of templates if you want to. A big opportunity folks for you where you have the power to use it and write or create an email campaign. So, in short, you can say that to step forward the structure and content in the email campaign, email templates is the best method.
Benefits to use Email templates for business activities
The biggest advantage here is, you can simply put pictures that you want to and also change the text and some new content that you need. Here it saves your lot of precious time folks as you don't need what part to include of email and even you will not be confused where to insert the images. Time saves and effort too as you can focus more on some creative new content now.

The second advantage to go email templates is here you don't have to check again and again for formatting. Suppose you created an email template, you always go through checking error or anything did not complete in an accurate way. So here Email templates assist you regarding your email that it should look similar to your previous newsletters.
Third and the last benefit here is to say consistent as suppose if your brand has consistency then it is a plus point for you because you are able to get an overall experience from your customers rapidly. So using an email template, of course, flaunt your brand and those who are looking to gain leads, chances are higher now.  
Suppose you are going to start an Email Campaign for a particular product/service. First, you need a target list and the second important thing is Email Template.
Your Template should be in proper format and kept all the important details of the product.
How to create an Email Template in SuiteCRM.
1. Click on the email template from the navigation tab " ALL".
2. Click on create a new template.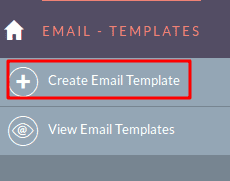 3. Fill all required fields.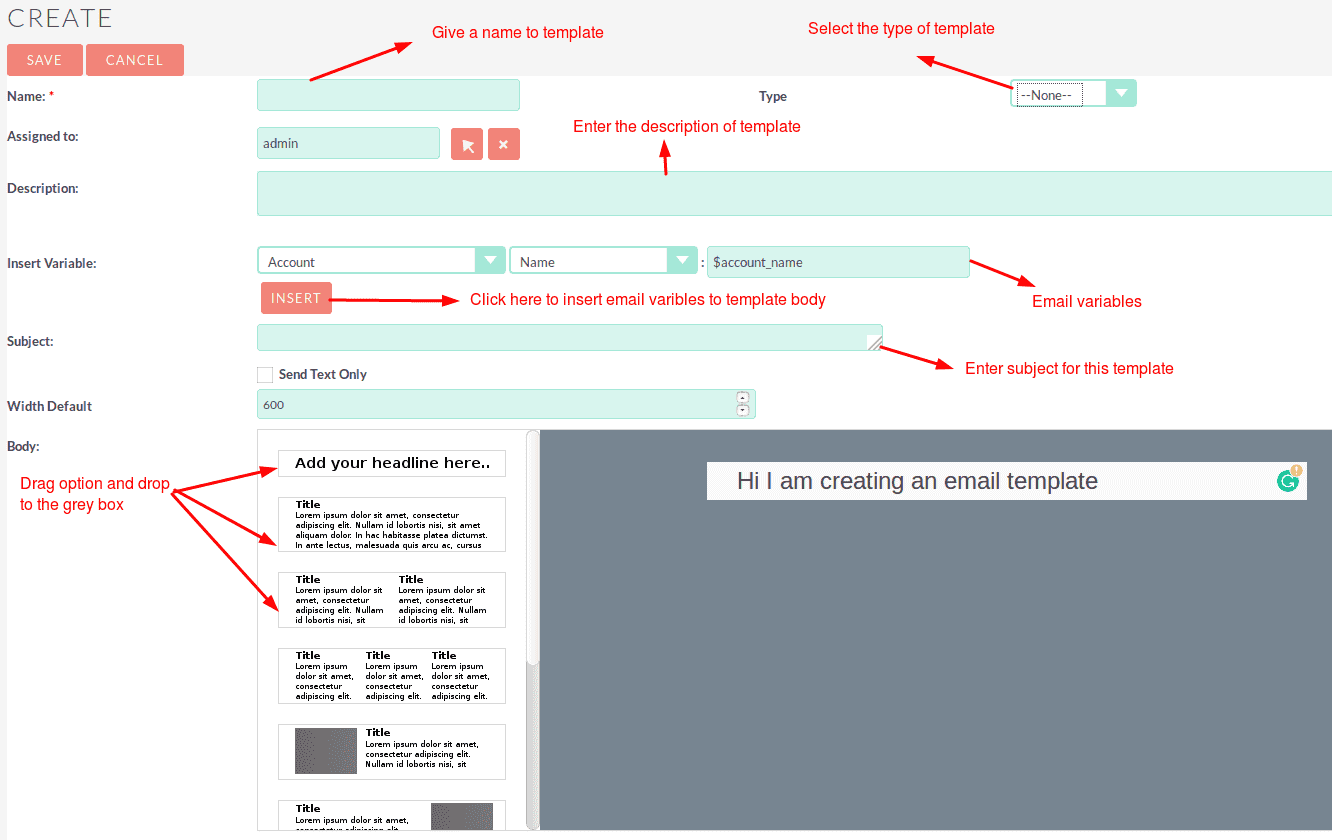 Important attribute of Email Template-:
Name -: Give a meaningful name of the template.
Description -: Enter the description of the template, not more than 160 words.
Email Variables:- We create templates for specific modules and fields where we want dynamic value in the name, address, email address, etc.that's why we use email variables.
Body -: Drag and Drop the template options to Grey Box and enhance the title and body of your own choice.
Click here to watch Video Tutorial :-