Recycle Bins are one of the handiest tools that users can possess in their arsenal. This is due to the fact that it provides flexibility to restore and recover deleted data in just a few clicks. Many software programs come with an in-built recycle or trash bin that can hold and restore the user's deleted data. But this is not the same with either SuiteCRM or SugarCRM. Both of these CRM systems don't have integrated Recycle Bin and thus offer lots of problems to normal users. Therefore, we decided to develop a sophisticated yet powerful Recycle Bin plugin for both SugarCRM and SuiteCRM. In this article, we are going to demonstrate each and every aspect and feature of Trash Bin or Recycle Bin Extension.
SugarCRM/SuiteCRM Recycle Bin: A Complete Overview
As you may have noticed from the heading, this Recycle Bin add-on is compatible with both SugarCRM as well SuiteCRM. In addition to this, it works completely fine with all versions and editions of both software. Now you know for whom this plugin is, next let us tell you what it is actually capable of. The end-users of this plugin are very much satisfied with its performance. They don't need to do coding just to restore deleted data anymore. You can guess from our customer's feedback, one of its major advantages is this is time-saving and provides instant results.
There are two versions of this extension i.e. Lite and Premium. Both versions are capable of restoring deleted CRM data. However, in the Premium version, you'll get some advanced functionalities. In the next section, we are going to describe the features of both versions.
Features of Recycle Bin "Lite" Version
Lite version of Recycle Bin comprises some limited features but all of them are time-saving and useful. Let's have a look at them one by one.
With help of this extension, you can restore records that were deleted after plugin installation.
The user will be able to see the date when the record was deleted, the person who deleted it, and also from which module.
Only the user with administrator access can restore data using the plugin.
Since it can restore the records in just one click, it will save you a lot of time.
This version lacks behind when it comes to mass restoration. You can only restore one record at a time. But don't worry, the Premium version consists of all advanced features and one of them is restoring in bulk. Read the next part to know more.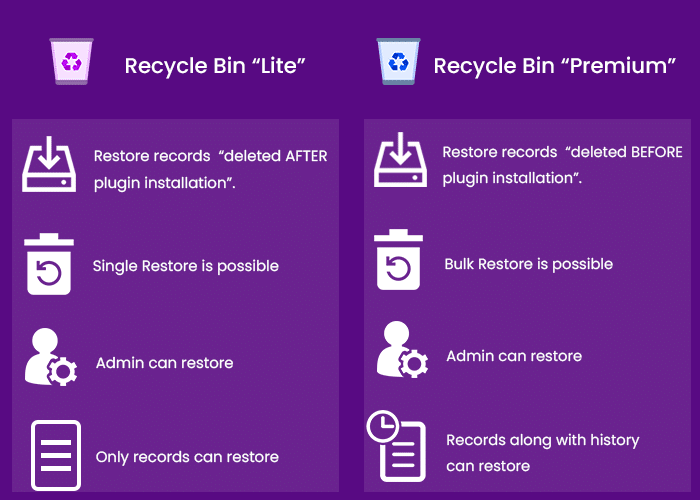 Features of Recycle Bin "Premium" Version
The Recycle Bin "Premium" version has high-end features in abundance. So make sure to read every line meticulously if you don't want to miss out on anything.

Not just one or two records at a time, the Premium version will allow you to perform the mass restoration. There is no such limitation of core or custom modules either. You can restore deleted records in bulk.
What if you want to restore records that were deleted even before installation? Yes, the extension can do this as well.
If you want then you can restore deleted records for some particular modules only then it is possible to do so. Suppose, you want to restore records of the Account module only then you can configure the extension for the same and later easily restore the records.
Recycle Bin Premium is capable of restoring deleted records to the original extent. It means every attached module whether it's emails, contacts, notes, or anything else, the plugin can restore every piece of information.
These unique abilities to restore records in bulk and even restore data that was deleted before plugin installation is simply outstanding. And now you must be wondering how much these plugins will cost you. Let us tell you there is good news for you. Go ahead read the next part to learn about Recycle Bin pricing.
SuiteCRM/SugarCRM Recycle Bin Pricing
The Lite version of Recycle Bin is "Free of cost" for both SugarCRM and SuiteCRM. But if you are not satisfied with the limited functionalities of Lite then you can always go for the upgraded version. The Recycle Bin "Premium" version is priced at $249 USD for both SugarCRM and SuiteCRM. Considering the value of the company's data, this is just a small one-time investment.