Businesses' daily work is to search for something to get the details of what they want. Searches always play a key role to present the information with plenty of results. When we work in the Customer Relationship Management (CRM) system, we search to get access to the result.
But we believe that we all should get the result promptly without any extra efforts when we search for something. This is why we are going to share one top-notch extension for your business today called SuiteCRM Advance Global Search. What is the role of this plugin in your business?
Real-life scenario: Daily, you search in your CRM and find numerous module results but when you have this extension in your CRM work activity then you can set the search preference as the "Best match" or we would say "Exact match". This will save your precious time as you no longer have to wait for the module to open that you are looking for. It will show you the result if you set the search preference.
Why is this plugin Global Search so important?
The most important function of the Global Search addon is to save your countless hours in business and you no longer have to wait to see the right module which you are looking to open. Additionally, the plugin is accurate for the Call center sector and even for the Real estate industry. Like if they share the name or email address of any person, it will present the results and even show you the result of which you set as the Best Match or Exact match. Moreover, this Faster Global Search extension integrates with the email module.
Top features of SuiteCRM Advance Global Search plugin
Well, the above piece of content that we shared about the Global Search plugin is not the only function. We are going to highlight the more remarkable features of this addon. Let's go-ahead-
When using this advanced plugin called Faster Global Search, you can set the search preferences to save your high efforts.
Faster Global Search extension enables you to keep monitoring your search history as well. This is important for most of the users to track history.
You can perform searches based on the selected module and yes, the modules can be configured.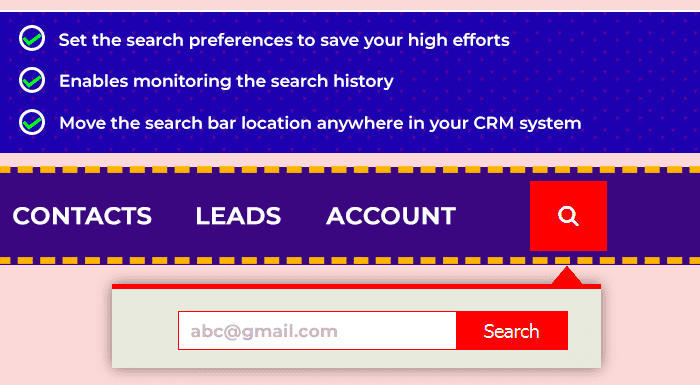 When using the SuiteCRM Advance Global Search plugin, you can move the search bar location anywhere in your CRM system.
The best feature is a real-time instant search with the selected modules and rules when using this stellar extension Global Search.
This time-saving plugin Global Advanced search increases the chance of boosting up your work productivity.
Final Takeaway
Start searching on the search module but this time it will not take your precious time when you entail Advanced search addon in your business. This plugin is totally worth it for you where many businesses want to save their efforts and no one wants to wait for long to get the right search. You can now set the search preference like a Best Match when you put your hands on this exceptional plugin called SuiteCRM Advance Global Search to improve your business. It will enable you to increase business productivity and give you more such numerous features that you never use before. It's time to work in a professional way and get an accurate result by going for this addon in your business.
You can also watch a video tutorial here:-