The Manual creating records in Suite/SugarCRM can compel you to do this all the time. How will you manage the other business operations? Every day we receive thousands of important emails from our leads and we don't want to manually create records relentlessly in the CRM software that we mention above. Generally, businesses want crucial emails to be transferred without any error and the process to be done promptly. What is a simple solution? If you are stumped then we want to introduce you to the "Email to Lead" world which is the pinnacle of every business success.
Introduction to Email lead Plugin
Put simply, the plugin Email Lead helps you parse the information of email and it will set the text format in the field automatically in SuiteCRM and SugarCRM software. You can see a professional process to understand who is your client, his/her email address, phone number, and other information.
Daily, we received plenty of emails from leads. You can now see that the entire email information in the field automatically keeps the record. This can be possible via Email to Anything extension. Outright Store introduced this plugin that doesn't spin out of control and has some magnetic features to give you an impeccable experience.
The extension is remarkable for making new Sales and increasing business Revenue. We shared this add-on for SuiteCRM and also for the SugarCRM system and it helps various organizations for reducing the loss of potential customers.
"Email to Lead has an Easy to Handle Structure data"
Email Lead plugin is Durable: What are its features?
Save yourself significant time when using the Email to Opportunity plugin in your business. We have some strong reasons why you should purchase it. Have a look at the jotted points given below-
Our Email to Lead Plugin is loaded with multiple functions. The first one is the Mapping of the Field. Suppose you as a user set the field of Contact Number in Detail View Page of Email to Lead Receiver Module. But when you receive an email from one of your valuable clients and the email entails Phone Number: XYZ. Do you think that your CRM (Customer Relationship Management) software can get to know and set accordingly? Yes, our plugin is beneficial for this purpose. It can easily catch the number. Here Mapping of fields is possible for everyone. It's easy for the CRM to know that the Phone number and Contact Number are similar. Automatically the number will be added in that field.
No such extra efforts are required when using this great addon in your business. It saves tons of time now. You don't need to create the records manually as we said above. When you have an Email Lead add-on, it will create the records in any module from Inbound Email. You are allowed to set various fields with predefined tokens. This addon- Email to Anything is outstanding for the Sales and Marketing sector.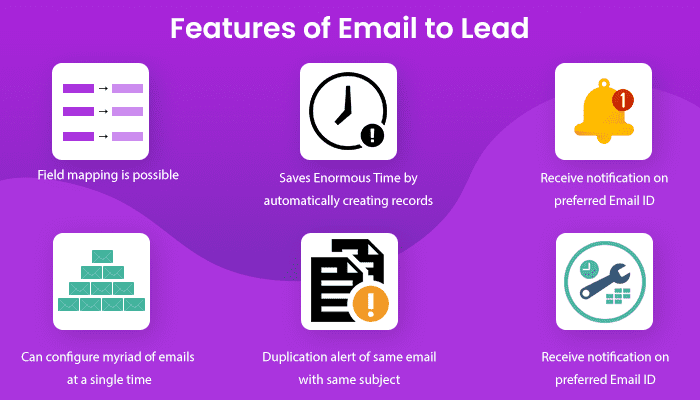 Another compelling feature we have is Notification. We don't know how much activity you will do in one day when using our SuiteCRM Email to lead or SugarCRM Email to lead. You will always receive a notification on your Email ID Preference of whatever you do. This is best for security purposes. You will never feel like the activity is not done from your side. Just for the security matter, we believe this feature is also appreciable.
Earlier, we have seen that businesses just can read one email in the field that is well-structured while using this extension. We want to update you now. A new feature is introduced in this plugin as the Email to Opportunity add-on can configure a myriad of emails at a single time. And also they can make various settings for that.
Another profitable function for everyone. Are you curious to know about it? If your goal of creating leads from email is pending then you landed in the right palace. We introduced a feature called "Duplication". Suppose a few days back you received an email from one of your potential customers who is working in the Real-estate business. You received and it works the way you wanted via this plugin. After that, you received one more email from the same person yesterday with the same email and same Subject. Here our plugin plays a key role as it alerts you with the Duplication feature. An alert icon you will see in your CRM in the upper right corner.
Another strong reason we have to entice you all is to purchase this extension for your business email handling. Users can set the Date to see all the unseen emails of their clients. When you go to Email to Lead Receiver Module, you will see the option there. Like you set the date and our plugin will read those entire unseen emails and create the record automatically from that date and yes, it can create new Cases for you too. The entire process of creating records or cases of unseen emails will be done automatically. Thanks once again Email To Anything to pave the way for handling everything rapidly. 
How many emails to Lead plugin may cost you?
Before going to know its actual price, let us inform you that the extension is compatible with every SuiteCRM version and SugarCRM version. Furthermore, we will offer you a Free Product Tour if you strive for this profitable extension in your business. The "Free Product Tour" is a good option to understand the Installation and Configuration more quickly.
Outright Store is offering this Email to lead in both Suite/SugarCRM software and the cost is the same $899.00 in both. Whether you are running your business via SuiteCRM Plugins or SugarCRM extensions, availing of the Email Lead plugin will never intertwine the process of your business.

Wrap it Up: If businesses today are going to keep a close eye on "How to create a lead from email" then this article is for you. Why don't you use numerous plugins entailing our one as well and gauge which one is easy-to-handle and is embedded with magnetic functions? We believe in our Email to Lead extension which guarantees you in upsurging business productivity and hiking up the revenue. If you like this add-on, just purchase it and insist others do the same.