It won't be erroneous to say that emails have completely transformed business communication. The technological marvel we're talking about has even influenced sales and marketing.
Consider a scenario where you have built an amazing product that everyone needs. Furthermore, you have prepared an on-point sales pitch for the prospects that you know inside out. Now, the only thing left is to find the most reliable way to reach each and every prospect.
Hold on for a second! You don't have the contact details of your ideal customer base. In order to show off your products and make customers' lives better, you need to contact them first. In this case, emails can help you out. But you have to do some research to find the invalid email addresses of prospects.
Or you can choose an email finder/email hunter tool to get the job done for you. First of all, it will spare you a lot of research time that otherwise you need to do by yourself.
This blog is going to cover topics like the easy and fast ways of finding valid email addresses and some best email finder tools (Both Free and Paid). Straight away, let's delve into the ocean of emails.
How can prospect's valid email addresses help?
The top decision-makers of the companies are not easy to reach out to, but still, they're the only ones who make major decisions. Here, we are talking about the CEOs, marketing heads, VPs, CFOs, etc of the company. So in order to collaborate, you either need to meet them in person or first approach them via personalized email. The first option might take too long and you could lose the opportunity. Therefore, most people prefer to send an email.
Let's have a look at another application;
The email hunter tools can also be handy for recruiters or head hunters who are looking for potential candidates for particular kinds of jobs.
You see how email finders can be helpful. You don't need to wait for people to visit your website and to contact you first. Instead, adopt a proactive approach and reach them via email.
Top uses of the email finder
We hope now you have understood the value of a list of valid email addresses. Keeping that in mind, let's have a look at the top applications of the email finder tools.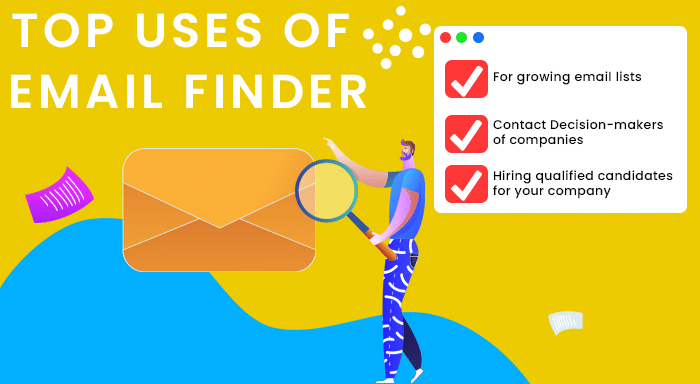 For growing email lists:– Nowadays, most businesses rely on email for spreading their information like promotions, production recommendations, new launches, etc. For this, they send emails to the list of customers. However, to increase the reach and customer base, a business needs to send emails to more people every time. An email finder tool can be helpful in this case because it can provide you with the genuine email addresses of the targeted customers.
Contact Decision-makers of companies:- Decision-makers like CEO, CTO, Directors, etc are those who make the final judgment for the companies. So, there are times when you need to contact these people for collaboration, offering products, and services, etc. The email hunter tool will make the process of contacting these people. With a typical tool, you only need to enter the website of the company and enter the position of the person you're looking for. It will instantly present you with their contact information. With the help of this, you can grow your business more quickly.
Hiring qualified candidates for your company:- Not just for reaching out to more customers and decision-makers of the companies, applications like email hunter can also help you in landing the perfect candidate for a job. There are some tools that allow you to search by using the criteria like skills, software experience, keywords, etc. By entering the appropriate set of criteria, you can easily find the right candidate for the job. This has proven to be quite time-saving for many companies.
Best Email Finder tools in 2022 So far
RocketReach
RocketReach claims to have a verified database of nearly 450 million users from 17 million companies worldwide. It can provide you the contact information of personals like email addresses, phone numbers, social media accounts, and a few other details. Now let's see the functionality of this email finder.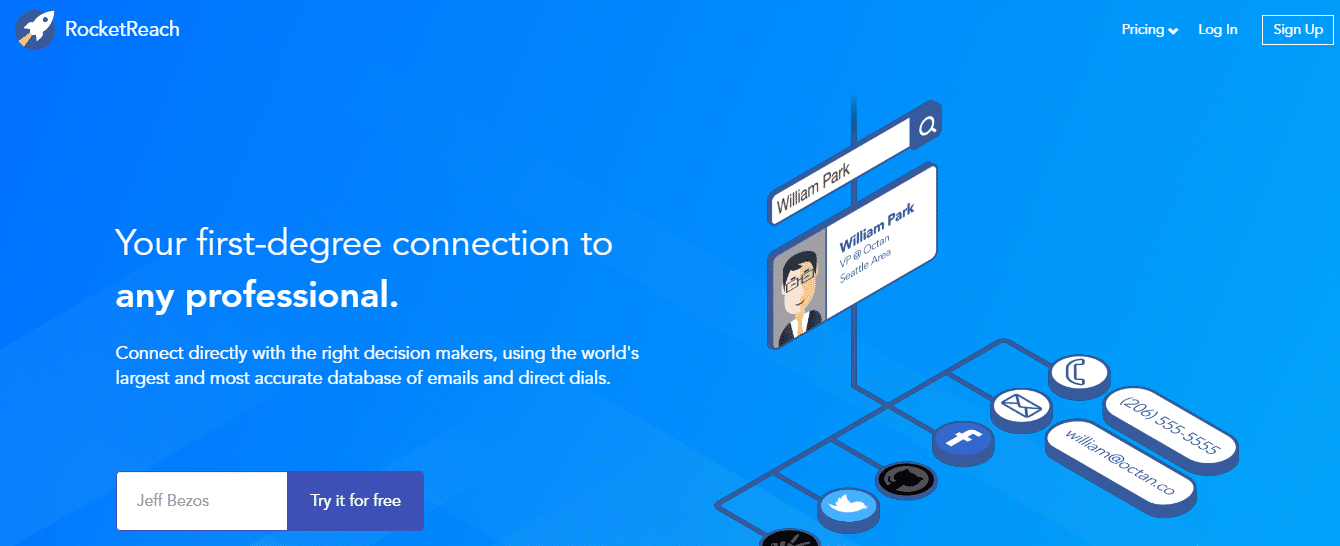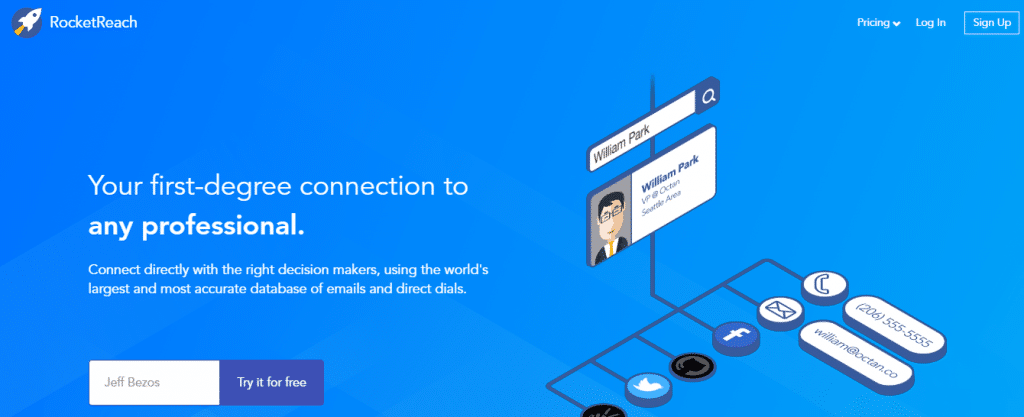 One of the best things about RocketReach is that it can seamlessly integrate with CRM software, so you get the contact information where it is required most. This will eliminate the process of importing contacts from one source to another and hence save a lot of time and effort. For example, our SuiteCRM and RocketReach integration plugins combine the capabilities of email finder in the most unique way. It allows you to search email addresses directly from CRM and save data into the CRM database.
In RocketReach, you will also get nearly 100 filters with which you can narrow down your search to the extremely targeted audience. You can search based on their current or past employers, skills, the software they use, and much more.
Plans and Highlighted Features
If you register for the first time then you will get 5 free credits and after that, you choose any of their plans. Currently, RocketReach offers 3 plans i.e. Essentials, Pro, and Ultimate.
Pricing: The most affordable plan is Essentials and it is priced at $59/month or $468/year.
The user can find emails by using names and domain names.
Compatible with Linkedin.
Bulk Search
Social media accounts and phone numbers
First-time users will get 5 free credits
If you like this, then we recommend you check out the top RocketReach Alternatives.
Hunter.io
Hunter.io or formerly known as EmailHunter is another email finder that can be used as a standalone tool or as a chrome extension as well. Just like RocketReach, it also allows you to search for the email addresses using the company domain. Hunter has indexed nearly 107 Million verified professional email addresses and it is increasing at the rate of 711,000 new web pages every day.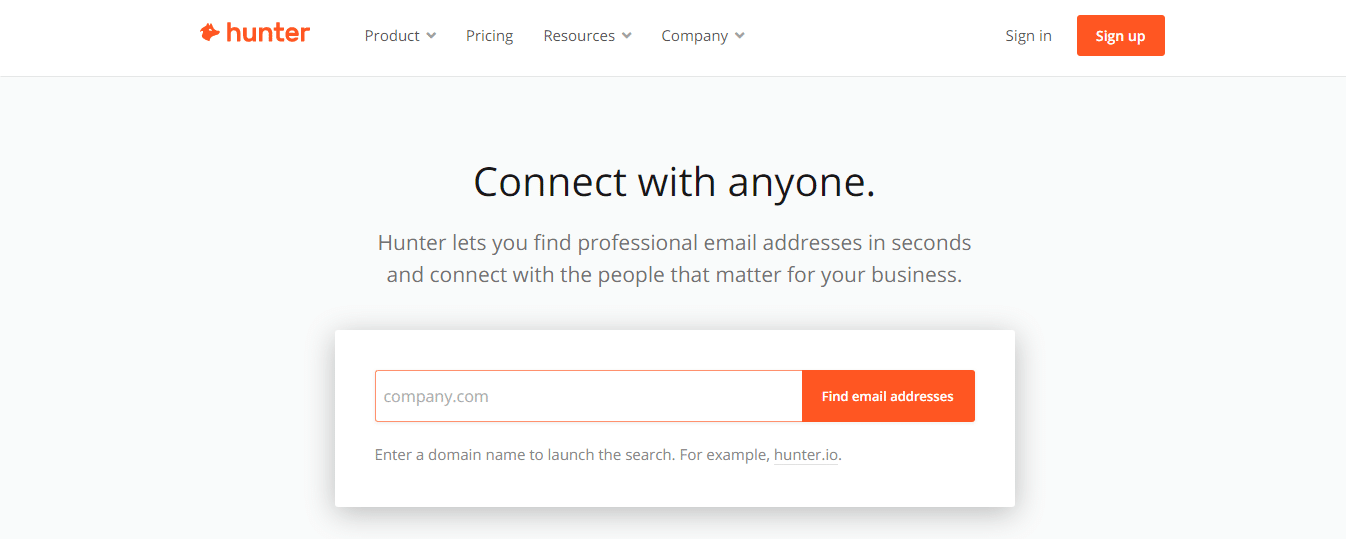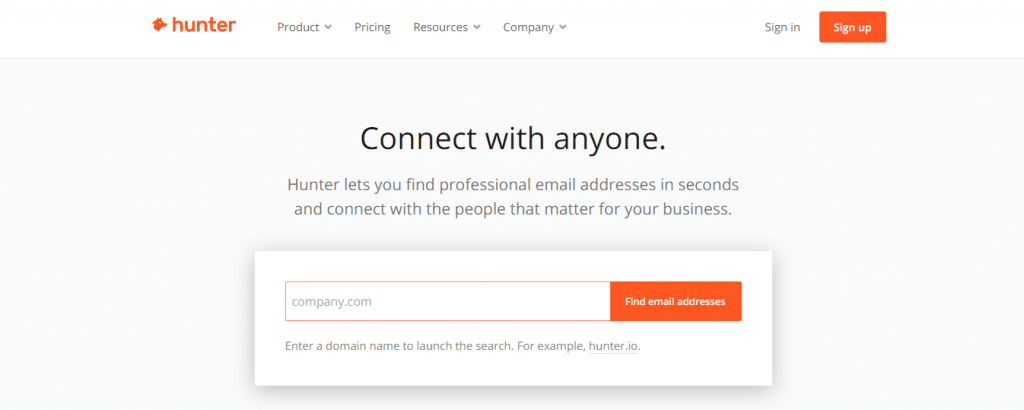 The USP (Unique Selling Proposition) of Hunter.io is: first, it provides the confidence level for each email address so that you can learn about the credibility of the email addresses. Second, Hunter also cites the source of the email address from where it has the email on the internet. In this way, you can be more sure of the email authenticity.
Plans and Highlighted Features
The free plan of the hunter enables you with 25 searches and 50 verifications in a month. Apart from that, there are 4 other plans i.e. Starter, Growth, Pro, and Business.
Pricing: The most basic paid plan (Starter Plan) is priced at $49/month or $408/year. In this, you will get 500 searches and 1000 verifications per month.
It shows the sources of the email addresses.
Distinguish personal name-based and role-based email addresses.
Finds email addresses using keywords and company domain.
Free plan for the beginner users
ContactOut
As one of the email finder tools on the market, ContactOut is a reliable resource for obtaining email addresses. It mainly features a Chrome extension that makes the email search process fast and easy. All you need to do is to go to your prospect's LinkedIn profile and reveal their email address through a convenient sidebar overlay that also lets you access some of the tool's many handy features.
For one, it links you to a simple and intuitive dashboard where you can save and manage your leads. Here, you can organize your leads in folders and export your contacts in a CSV file. You can access other useful features from the dashboard. The most notable of these is a search portal where you can find leads based on their country, work profile, education, and relevant keywords. It also has data enrichment tools that add contact information to lists of company domains, LinkedIn URLs, and email addresses. You can also start an email campaign in the tool, so you don't need to go to other platforms for your outreach.
With ContactOut, you can easily obtain email information with just a few clicks of your mouse. Its database is constantly updated with the latest email addresses, so you can be confident that you're getting the most accurate information possible. Whether you're looking for business or personal email addresses, ContactOut is your go-to email finder tool as it provides accurate email addresses with great ease. Try it out today and take the hassle out of emailing potential leads.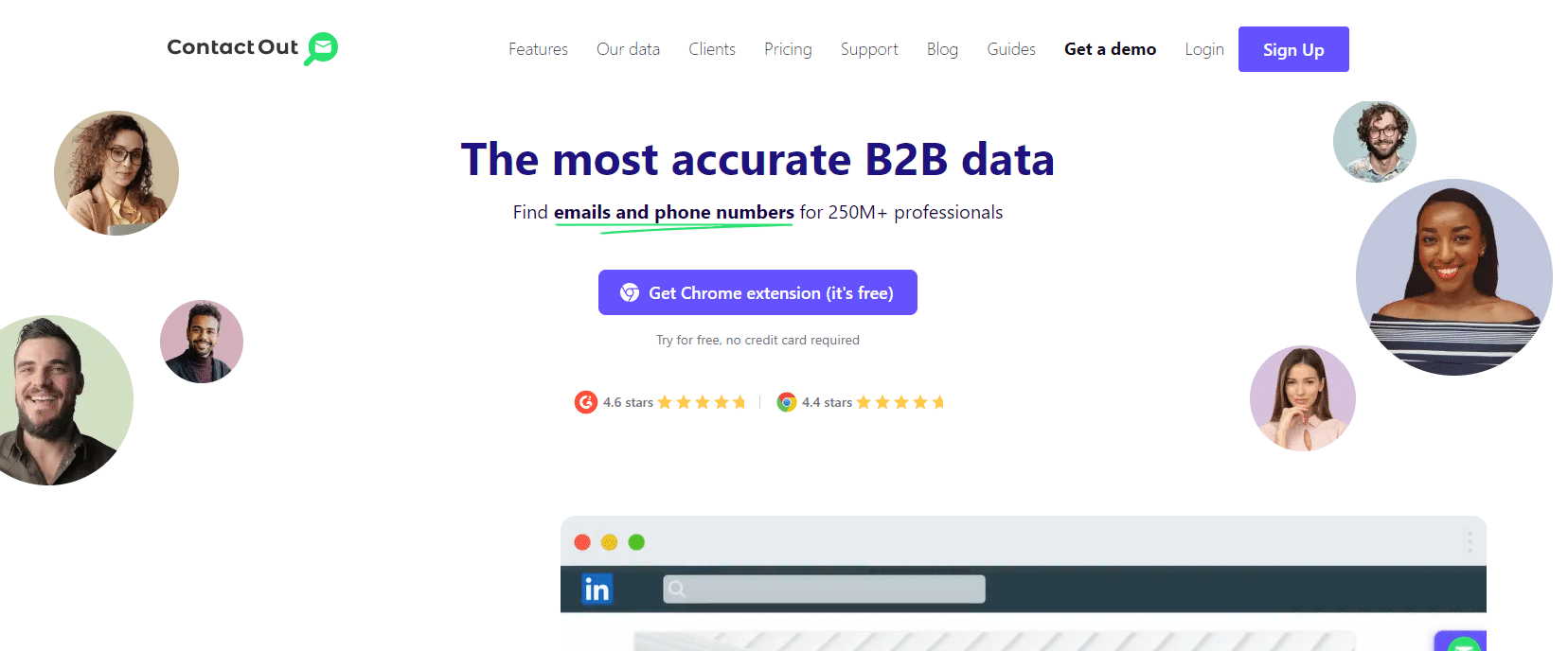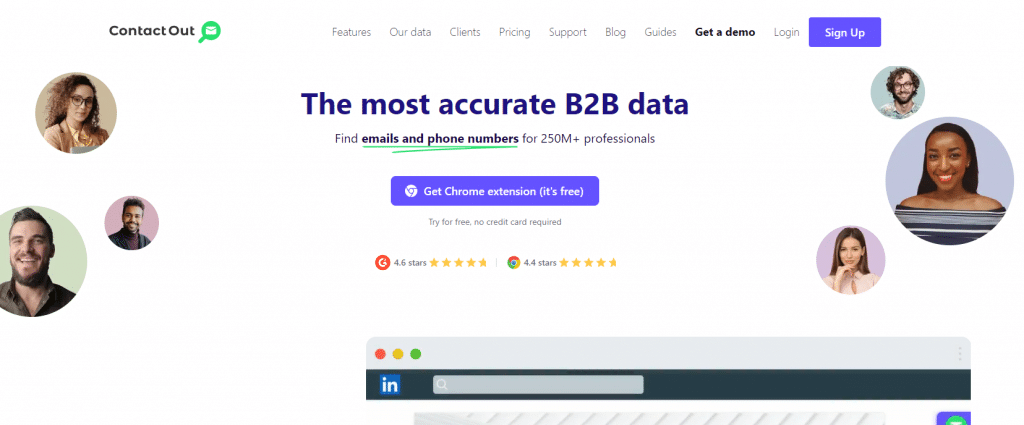 Plans and Highlighted Features
ContactOut offers 5 plans i.e. Free, Personal, Sales, Recruiter, and Team. The free plan gives you 40 emails and 3 phone numbers per month.
Pricing: Paid plan starts at $29/month or $348/year.
Adds a sidebar overlay in LinkedIn making it simple and easy for users to collect email addresses
Other features include Search Portal and Data Enrichment
ATS and Salesforce integration
Lusha
Lusha has one of the largest B2B email address databases. It includes 100 Million business profiles, 60 Million B2B verified email addresses, 50 Million contact numbers, and all of that from 15 Million companies across the world.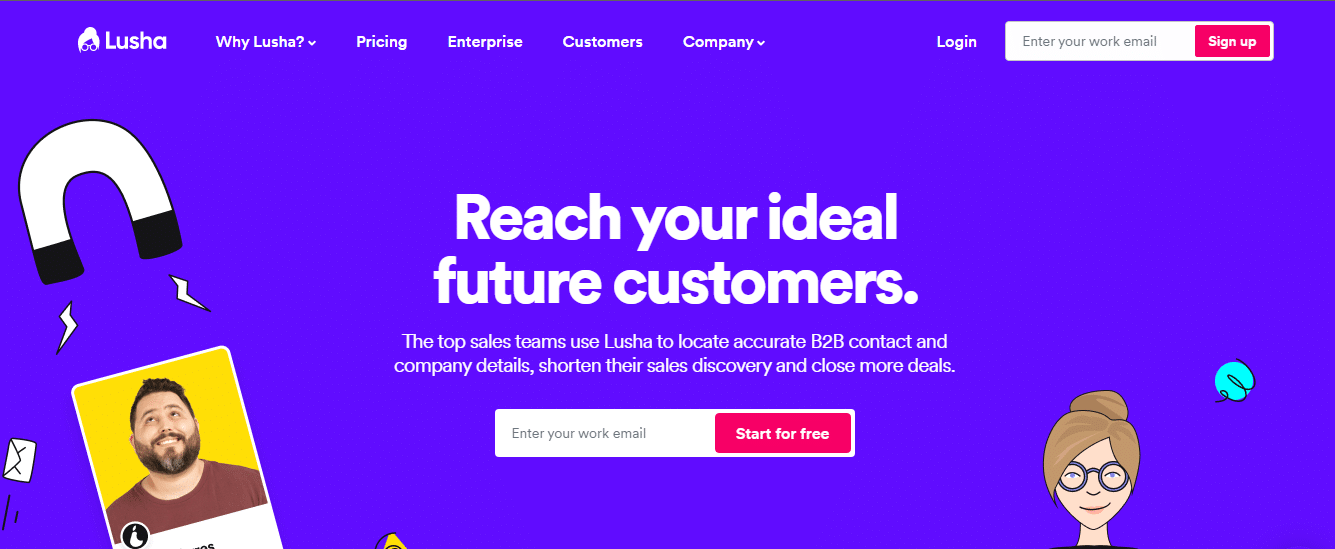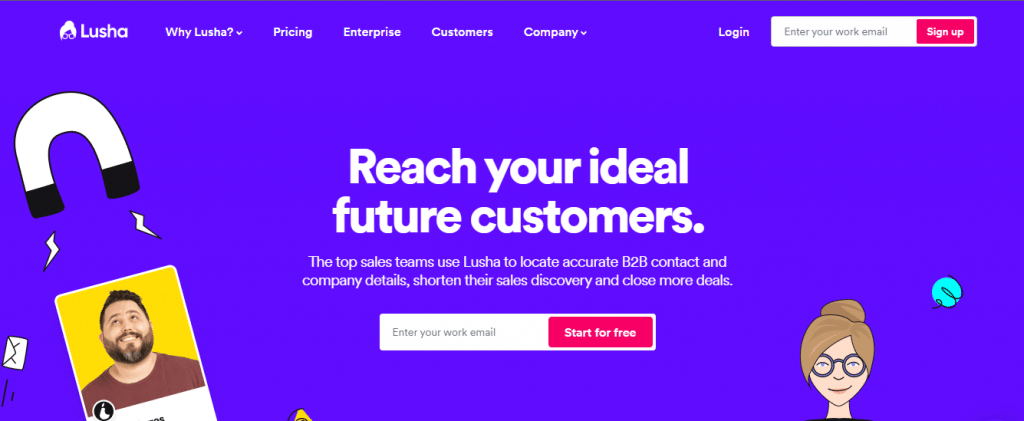 Lusha works best if you integrate it with other software like your CRM or Social media platforms. Unlike the other two platforms above, it does not offer the functionality to search email addresses using name or company domain. This is one of the major disadvantages of Lusha. However, it is quite efficient as a chrome extension and works quite well with Linkedin.
Plans and Highlighted Features
Lusha has four plans i.e. Starter, Professional, Premium, and Enterprise. The starter plan is free of cost and gives you 5 searches in a month. On the other hand, Enterprise has other features like API access, CRM integration, data export, etc.
Pricing: Apart from the Free, the next is a Professional plan that is priced at $99/month or $948/year.
No bulk email finding in the starter plan
No search using name or domain
Best to use with Linkedin or a chrome extension.
Offer a free plan to amateur users
Ending Note
Up until now, you understood the importance of having the correct contact information at the right time and how it can help in your business growth. However, when it comes to finding the information, you may encounter many ways like using social media or email finder tools, it's up to you to choose the best as per the requirement.