A database backup is one of the most common and secure techniques to protect your database from threats and any other kind of malware. By creating a backup of your database you sort of creating a checkpoint that allows you to restore everything back to normal if anything bad happens just like video games. Due to this reason businesses all over the world prefer to create database backups as frequently as possible. The time duration could be monthly, biweekly, weekly, daily, or thrice a day, usually it depends upon the type of database and how much data we are talking about here. In this article, we are going to talk about an extension called "Database Backup and Restore Manager" which is capable of doing all sorts of things that we mentioned above and even much more.
Why Database Backups should be integral for every business?
Reasons for creating the frequent database are countless but we are only going to mention a few. From this, you'll also get an idea of how Database Backup and Restore Manager can help your business.

Advance Data Protection: If you create database backup on online servers or cloud servers then it can protect your vital company's information from physical threats or natural disasters. Also, the data security and protection of cloud-based servers like Amazon AWS is impenetrable, which means virtually it is impossible to steal data from their servers. Furthermore, cloud servers are much more economical and scalable as compared to traditional infrastructure database backup.
Instant Database Backup and Restoration: Creating database backup in just one click which is provided by most services, but when it comes to data restoration, the process is complex and time-consuming most of the time. But this is not the case with our extension, we have made sure the restoration process is as simple and straightforward as the backup process. If a company loses its crucial information in any unfortunate events like virus or malware attack, ransomware, power surges, etc then they should be able to restore the database to the last checkpoint as soon as possible. Because every going minute will be costing millions of dollars to a company and its reputation.
Credibility and Accountability: If your company has a great damage control policy then your customers will be more comfortable working with you. Because they will know even if something bad happens, you can restore back to normal in no time. This gives birth to a sense of security in the subconscious of the customer.
Features of Database Backup and Restore Manager
Automatically Backup Data in compressed format: Our extension creates database backup in ZIP format file i.e. compressed format. This will save a lot of storage space and users will be able to create more backups in the same storage. Moreover, you can access this backup file in any remote location you want.
Restore the database from the server in one click: As we said earlier, we have made the restoration process easier than ever. Now, the user will be able to restore the backup file in just one click, no complex process involved here.
Choose for how long you want to retain backup: Once the backup file is created and uploaded on the server, you can choose the time duration for which it will be stored on the server.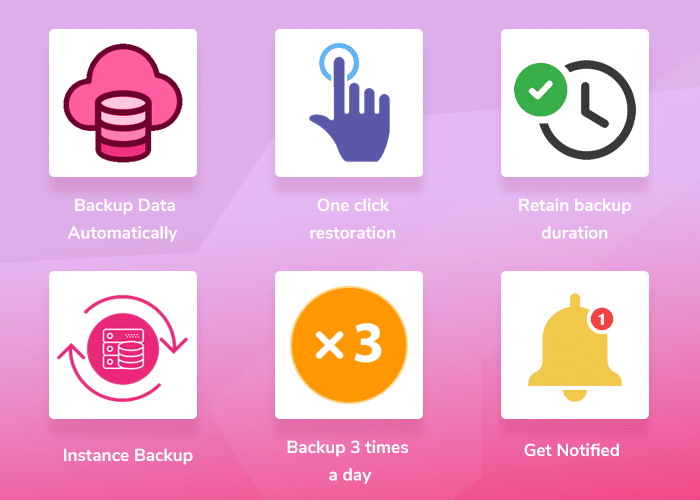 Instance Backup: The user can also create the database instance backup with the help of our extension.
Create automatic backup 3 times a day: With the help of our extension, the user will be able to create automatic backups of their CRM database up to 3 times a day. This is done based on the user's time zone. In addition to this, database backup will be created in multiple locations as well.
Get Notified when a database is created: The plugin will show you a notification whenever a backup of your MySQL or instance database is created. Furthermore, you can see additional details like the date, size, and name of the backup as well.
What is the price of Database Backup-Restore Manager?
The plugin is priced at $299 USD and is compatible with all SuiteCRM versions. The cost you see here is the one-time payment i.e. after paying once you can take benefit of this extension forever. The extension's ability to create automatic and scheduled backups of your CRM database is unparalleled. Apart from that, you can restore the database in just one click as well with the help of a link. Below is the video, you can see the functionality of the plugin working to the full extent.