Cloud call center is an online call center service where the inbound and outbound calls take place through the Internet only. Thus it can function from anywhere. This streamlines communication across multiple channels, that are phone, email, text, social media, etc. Many advanced features and functionalities can be added to it which you won't find in a traditional call center. Multiple calls can be managed from a device without delay or disturbance which overall increases the productivity of the agents as well as the service.
The two features on which the cloud call center runs are:
Interactive Voice Response (IVR) – This is the audible menu that you hear after calling. You can choose any option by pressing a number.
Automatic Call Distributors (ACD) – It is behind-the-scenes call routing automation. This ensures that every incoming call is connected to the right agent.
Working of Cloud Call Centers
Cloud contact centers store data in data servers instead of hard drives. This allows businesses to build custom solutions through application programming interfaces (APIs) rather than storing everything in separate hardware and software. Here the software applications are created by APIs. This gives the flexibility to set up channels and features according to your requirements and preferences. You can start your own cloud call center and add all the functionalities you want with a single software only.
Key Benefits of Cloud-Based Software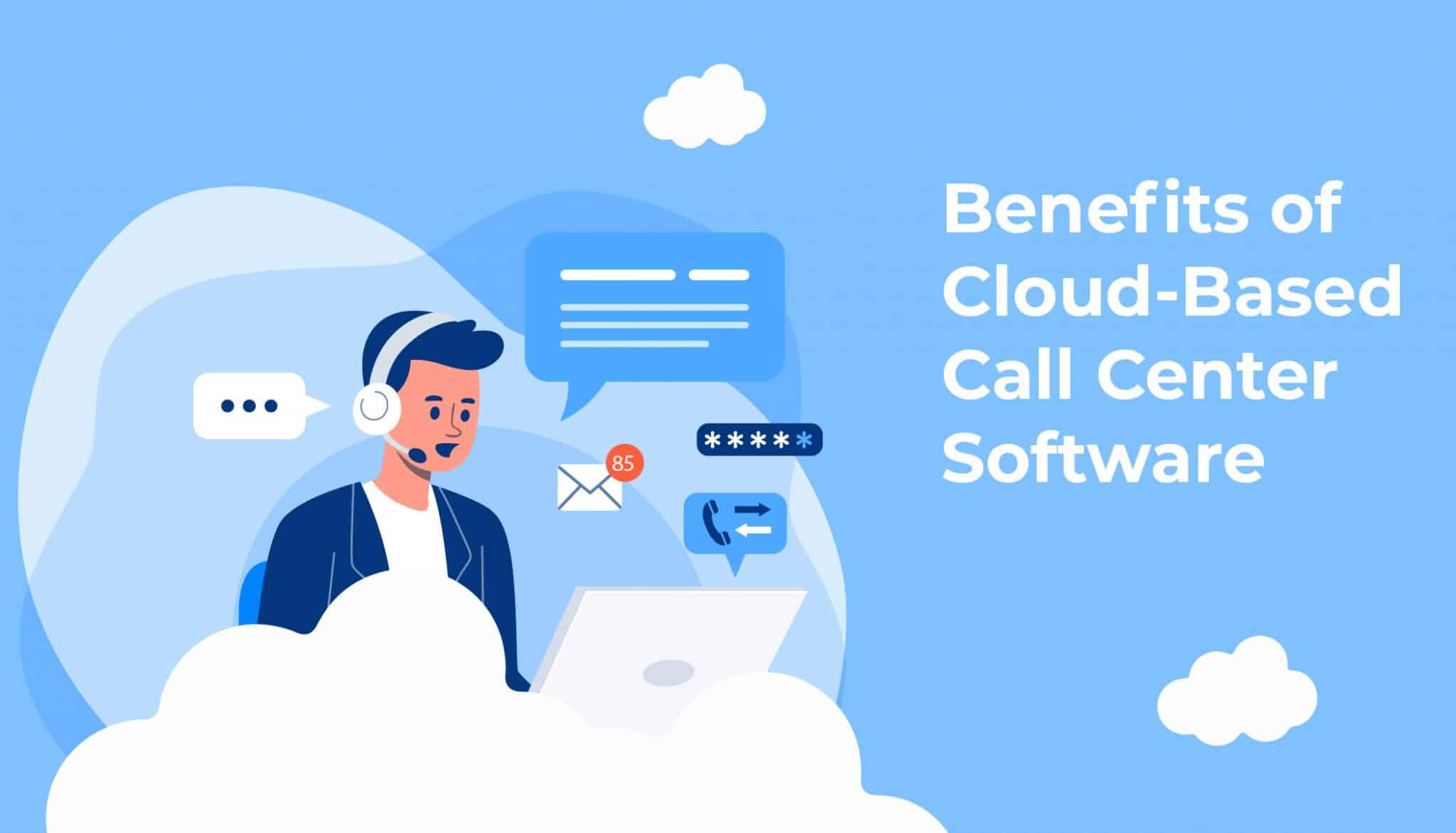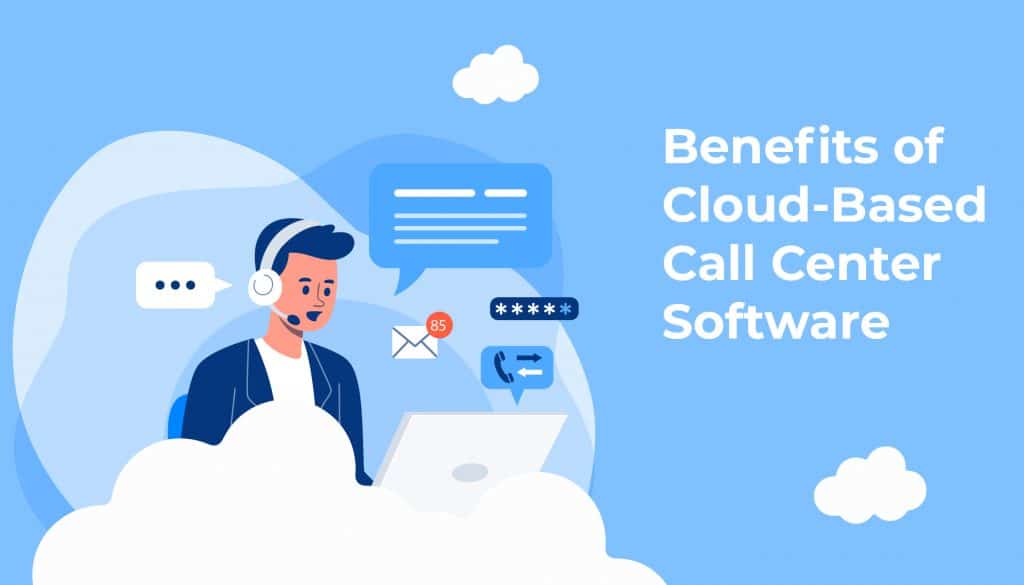 Elevated customer experience
Cloud call centers improve the customer experience. It eliminates the long call holds, prolonged IVRs, and other factors causing negative experiences. These negative factors affect your business. In cloud call center software there are many tools through which agents can give customers the best experience possible.
Cloud call center software is highly scalable. These can integrate with many other software applications and tools and many advanced features and functionalities can be added to it. This increases the scalability.
Get insights and analytics
With cloud call center software you can track your calls, and get analytics and reports of your performance. Also, you can collect feedback from customers. All these help in improving your performance.
With cloud-based softwares, you can expand your connectivity globally and everything will be adjusted according to the time zones. You can also provide your services anywhere in the world.
With cloud-based softwares, there is no hardware installation, setup, and maintenance required. This cuts down many costs only you have to pay for the software itself. This gives a boost to the ROIs.
Cloud Call Center vs Traditional Call Center
| | | |
| --- | --- | --- |
| | Cloud Call Center | Traditional Call Center |
| Installation and Setup | Very easy installation with available software devices. | Requires additional hardware devices to set up. Can take up to weeks. |
| Location | You can operate and work from anywhere. | You are restricted to a specific location. |
| Features | Has all the traditional features plus modern features like AI, Interactive Voice Response (IVR), natural language processing, live call monitoring, etc. | Only traditional features like call logging hold, and wait music. |
| Customer handling | Many customers can be handled from a single device. | Each customer has to be handled from a separate device. |
| Scalability | Very scalable. new lines can be added within seconds. | Not very scalable. For new lines, additional hardware installation is required. |
| Reliability | Very reliable since software upgrades are done automatically, or even if done manually will only take a few hours. | Not as reliable as a cloud call center. The quality of hardware deteriorates over time. |
| Advancements | Many advancements can be made in the software by updating it and adding extensions to it. | Limited advancements can be made by installing additional hardware devices. |
| Integrations | It can integrate with many software applications and tools. | It can have only limited integrations by installing additional hardware devices and tools. Also, the installation is difficult and time-consuming. |
| Expenses | Less cost of one-time payment or timely subscriptions. | High cost of installation and system maintenance. |
| Maintenance | Easy maintenance plus the upgradation of software is automated. | Hardware maintenance requires lots of manual work. |
Must-Have Features in the Best Cloud Call Center Software
The best call center feature should have a maximum of these functionalities.
Click-to-Call – It has click-to-call functionality which eliminates the need to manually dial and navigate all the contacts. This increases the agent's productivity.
Call Recording – It has a voice logger where all the customer interactions are recorded, logged, compressed, structured, presented as well and archived. You can access all call logs and recordings there.
Call Monitoring – This software will monitor the live calls no manual work is required there.
Live-call Transfer – It has a live call transfer feature through which you can transfer your live calls to multiple departments.
Auto Dialer – It automates all the outbound call operations.
Predictive Dialer – It determines the expected call connectivity, and the duration of the automated calls, and connects to the appropriate agent as soon as possible.
Progressive Dialer – It automatically dials the appropriate phone number by navigating through the contacts. This reduces failed calls and calls when the number is unreachable.
Automatic Call Distributor (ACD) – It manages large volumes of calls and connects you to a suitable agent as quickly as possible.
Analytical Dashboards – There are dashboards where all the analytics and insights of your call centers' and respective departments' performance are available.
Agent Self Monitoring – Agents can view and monitor their performance of the day.
Daily Email Reports – Admins should get the daily performance reports on emails.
After Business Hour Management – This feature is used when the agent is not available. Customers will get the option of voicemail or callback in case the agent is not reachable.
Interactive Voice Response (IVR) – This helps in identifying and routing all the customer calls to the appropriate agent depending on customer input.
Number Masking – It is used to safeguard customer identities and sensitive information.
CTI Integration – With this integration the average duration of call is reduced.
CRM Integration – It can integrate with CRM software hence you can have the advantages of CRM software as well.
Best Cloud Call Center Software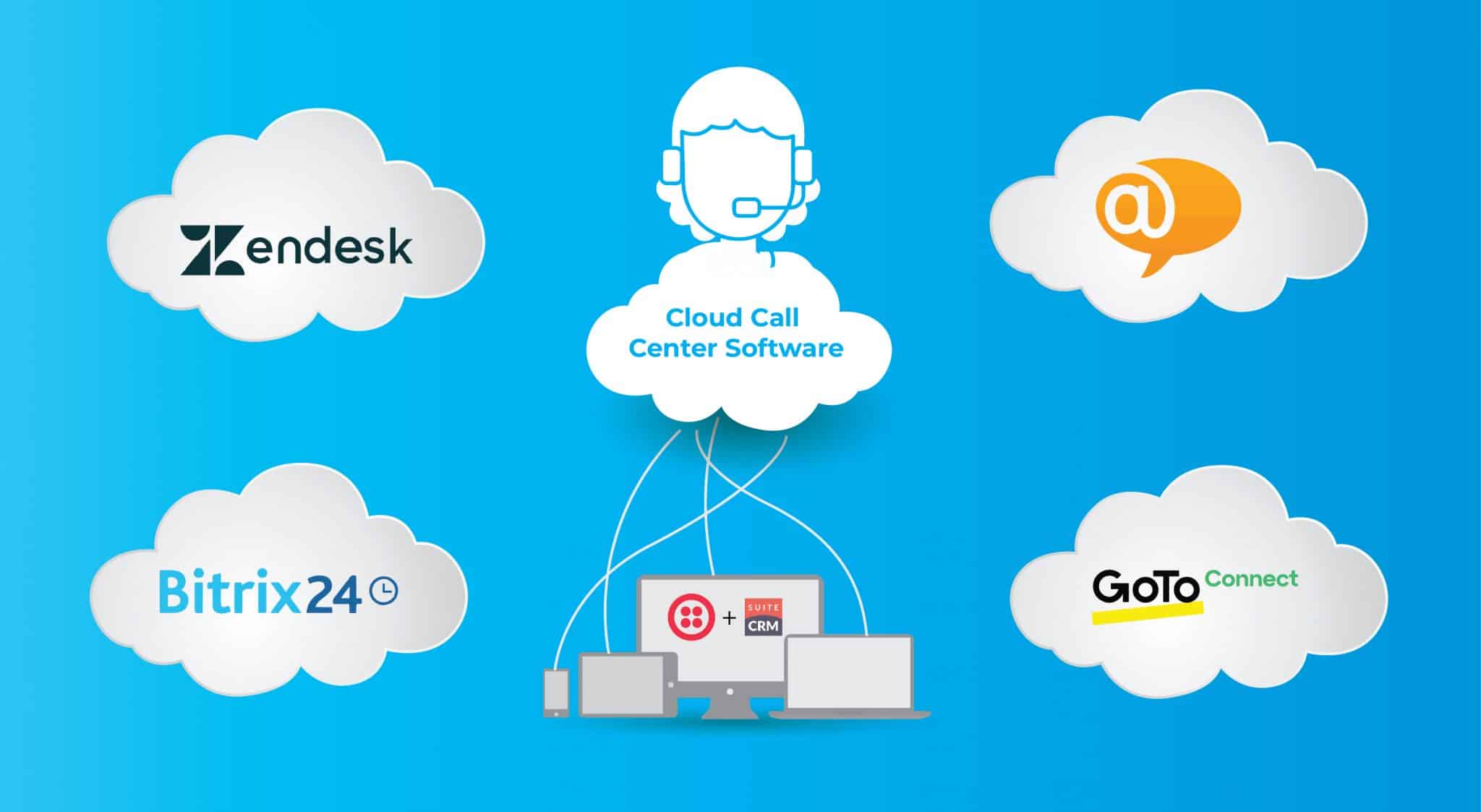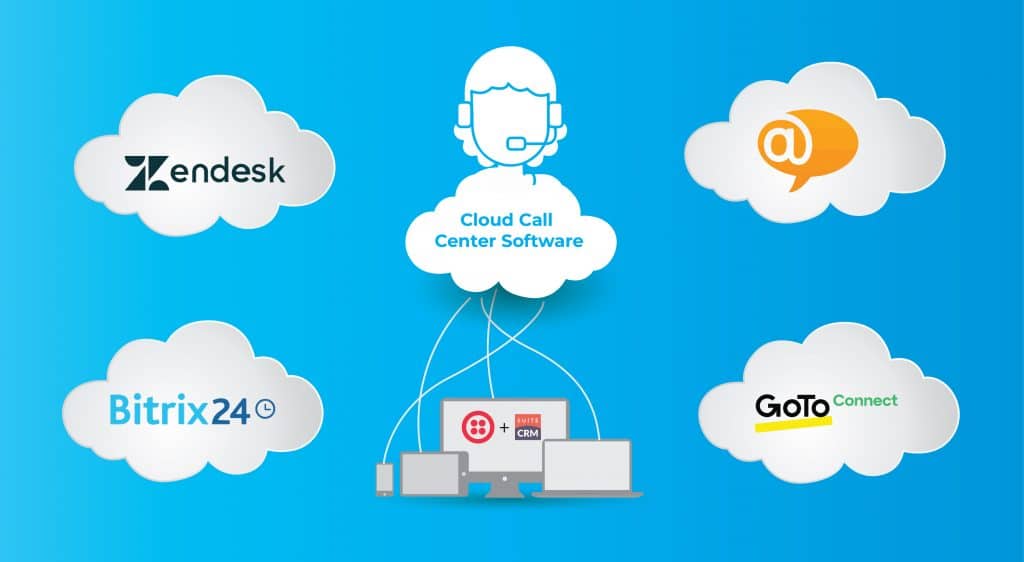 Twilio Dialer for SuiteCRM
This is an auto dialer for cloud call centers. It provides the Click to Call functionality to automatically dial and navigate through phone numbers. The auto-dialer will dial the next customer in the queue as soon as the current call disconnects. Furthermore, you can connect to your contacts without delay or disturbance. Admins can manage multiple contacts. You can also auto-generate calls from Listview. Also, you can put a ring on hold and set a delay time between two calls. You need to have a Twilio account with a balance in it to use this SuiteCRM extension.
It offers a call center package for every size of business. It has many customizable automation features. Other features provided by it are call recording, omnichannel support, interactive voice response, automatic ticket creation, etc. It can integrate with CRM software. Its pricing starts from $ 49 per month.
It is one of the best 24*7 customer support platforms. Customers can choose any communication channel according to their own requirements and preferences. Its features are outgoing calls, automated callbacks, advanced reporting and analytics, etc. it can integrate with other software tools and applications. Its price starts at $15 per month.
It works on a software-as-a-service (SaaS) model. You will get all the features and plans on the cloud. It has all the features and functionalities for inbound, outbound, and blended call centers. You can even add VoIP service to it. The features offered by it are voicemail to email, audio conferencing, existing number porting, unlimited extensions, smart call routing, call forwarding, ring groups, call queues, etc. Its pricing starts at $24 per month.
It is a call center software with all the features for inbound, outbound, internal, and external calling needs. It also offers project management tools and a website builder. Bitrix24 offers a free plan which is great for small and medium-sized businesses. Some of its features and functionalities are business hours setting, call routing, transfer, and forwarding, HD video calls, call back widget, IVR, call transcription, call recording playback speed, automatic dialing, etc. Its price starts at $49 per month.
Conclusion
Call centers play a vital role in every business. And if the traditional call center is replaced by cloud call centers then there are many added advantages. This will increase the scalability and productivity of your business. You will have a global audience reach and you can operate from anywhere. You won't have the restriction of the location. Many advanced features and functionalities can be added to it. All these lead to a much better service.