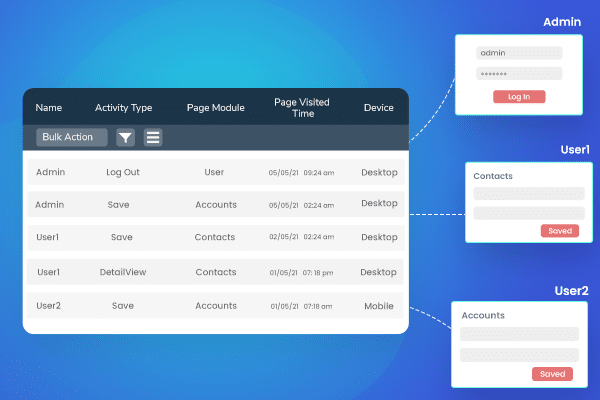 User Activity Monitor
Learn about details like User's Country, IP Address, Device of login, etc.

Get a complete view of the login & logout time, Idle time, & Auto logout.

Use Activity Day Summary to see User's every action throughout the day.
Supported All SuiteCRM Versions
2 Licences ( Production and Development )

Lifetime Support

Unlimited User
Screenshots
---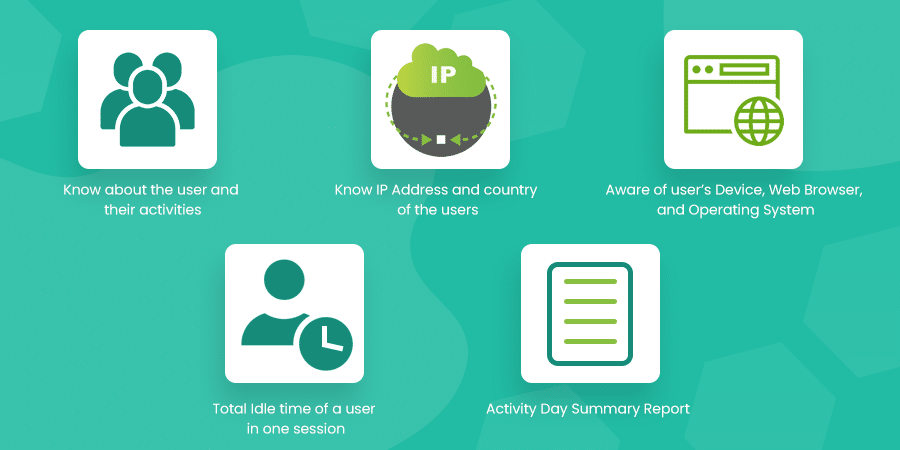 Monitoring the activities of end-users is a very common practice adopted by businesses to avoid any insider threads, which could be unintentional or malicious as well. This is kind of a proactive approach that the company leverages to anticipate suspicious activities and nullify them before they cause any catastrophic damage to their business and customer data. The SuiteCRM User Activity Tracker plugin that we have developed allows tracking the user's activity with great precision.
Real-life Example: Suppose, you are a manager and want information about the user who deleted a lead in SuiteCRM or access to some client's document. Then how is it possible to do so? The answer is the User Activity Tracker plugin, which can provide a holistic view of user activity. You can also know if someone login to your SuiteCRM from outside your country, which is essential from the security perspective.
Unique and Advanced Features of SuiteCRM User Activity Tracker
Know about the user and their activities in SuiteCRM: The plugin will provide you information about the user along with the activities which they are performing on a specific day and time.
Be informed of all modules in which users were active: In the Activity Holder, the user will be able to see in which modules the user was working. In addition to this, you can also see the exact time and date when the activity occurred.
Learn about the IP Address and country of the users: The plugin will also let you know the user's country and IP Address of the computer network they are connected to.
Aware of the user's Device, Web Browser, and Operating System: With the help of this, you will learn whether a user is working on a computer or phone. Furthermore, you'll have knowledge about the web browser and operating system the person is using.
Keep track of the total count of Auto Sign Off: In SuiteCRM, the user gets automatically logged out after some predefined idle time. The user activity plugin is capable of keeping the count of total logged-out that happened whenever the sessions expired.
Know the Morning login time and Evening log-out time: The plugin can also save the morning login time and log-out time in the evening of the users. You can use this time to learn when a particular user was last active.
Total Idle time of a user in one session: If you want to know about the user's idle time or inactive time then our plugin can do it as well. In the User's Activity logger, you can see the total idle time of a user.
Total Login time and the total number of login hits: These parameters will tell you about the total time when the user was logged into the SuiteCRM and also, how many times he/she has logged into the system.
Activity Day summary report: In the Day Summary Report, you can easily access all parameters that we have mentioned above.
Advanced search: You can use this feature for searching in the user activities. For example, you can search for a particular IP address, activities like delete, create, etc.
Frequently Asked Questions
Which activities of users can this plugin track and record in SuiteCRM?
After installing this plugin in SuiteCRM, you will know in which module the user was working on a particular day and time. Also, you will know about their IP address, Country, their Operating System, Web browser, Device on which they are working.
Can I see how the total number of times a particular user logged in and logged out?
In the Activity Day Summary report, you will be able to see the total number of login and log-out hits. In addition to this, you can also see the total idle time and active login time of a user as well.
Will I be able to see how many times a user has automatically logged out of the system?
Yes, we have made sure that you can easily see the number of times a user automatically signed off from SuiteCRM, which mainly happens due to inactivity.
Video
---
Reviews
---
All Add-Ons are life time purchases, there are no recurring/hidden charges