Much awaited festival is coming soon folks as everyone waits for the December month to come soon and the wait is for the festival i.e. Christmas. Yes, we are talking about the festival that brings joy in everyone's life who celebrates with their near and dears. Ask from anyone how they celebrate in their homes as they purchase many gifts, buy Christmas tree, some gift cards and many more purchasing items are there. They do this to feel the festival is important in their life and Christmas always remains their first and biggest festival. Purchasing is the first priority for them when the festival day begins because the month December is full of big and special offers and nobody wants to miss these chances. They always wait when the special offer can make them feel valued as you have seen the day of "Black Friday" where they know what people are in search for. So, folks now the surprising part we are going to share with you that Outright Store is offering sale 20% off on all products of their store.
Sale season is going on, purchase our products according to your choice
Is it fascinating? Outright Store wants their clients to meet up with their highly-advanced products in their store that are ready to assist them. Well, for products we are offering this scheme of sale 20% off so you can enjoy this month and make your Christmas day a memorable one for you. Now the question is when the offer will start for you? Next week from 23rd December it is going to start so you need to hurry up folks because the offer will end on 31st December 2019. If you really want to flaunt your product then make sure you must show something amazing with offers. This is what we did for our clients as if you purchase our products now then we would like to inform you that Outright Store offers 3 days free trial on some of their products. Excited! So, if you purchase from our store then the products whose cost is more then $150, we offer 3 days free trial on that one. There is no such free trial on regular products whose cost is less than $150.
Big discount scheme on exceptional products, worth to use
Two things are worth here as the first one is not to miss this 20% off opportunity and the second is to use this offer and purchase products from our store that are worth it for you. Most of us move forward and look for those products which can help us in our day to day activities as our products are one of those that can change your business and make sure you reach new heights of success.
Some of the finest products we have like-
Our products are not good but a great where every product offers different-different functions which are something new for you that you have not used earlier. This kind of major announcement is everyone waiting for and yes we did to bring something unbelievable that is worth.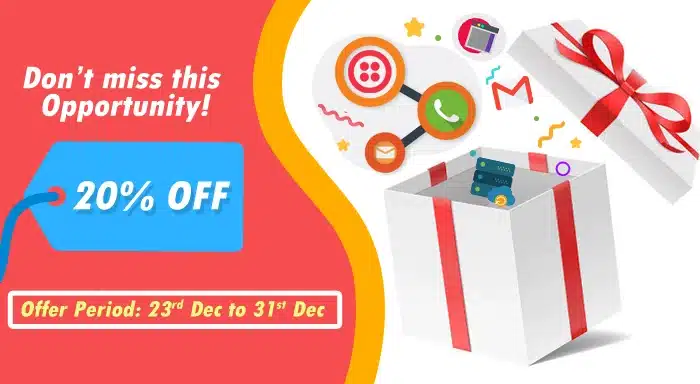 Putting it all together:
Christmas festival come once in a year and if it brings full of surprises which is fascinating, what else is life. Outright Store is offering a scheme of sale 20% off and the offer is going to begin from next week 23rd December. You are just one click away to use the most advanced and highly appreciable products that can save your quality of time regarding your business work. We wish you will not miss this chance and go on for this opportunity and in last, just want to say Merry Christmas in advance.