You will rarely find a business today that hasn't heard about the Twilio Live concept. It is offering enterprise-grade options to improve customer engagement in virtual meetings.
During the pandemic time, no other communication channel outdo Video conferencing. Big brands have done a bunch of tasks from office handling to big live events. All has been done with no hurdle. Note this: Approx 98% of organizations found the video communication channel the most suitable during the pandemic as compared with other channels.
Understanding all its importance, Twilio software introduces "Twilio live" to smoothen your communication and aid to curate customer experience.
What is Twilio live?
Find the most compelling way to get in touch with millions of audiences through this concept which guarantees to deliver a live streaming experience. This rich API platform covers an entire audience across the globe to strengthen your organizations.
The less latency streaming platform, the more it is powerful for customer engagement. So, this API platform has low latency and shares one-to-one conversation faster in 2 seconds. Mostly you have seen that outdated technologies have latencies between 30 seconds to 2 minutes. You need to fret no longer when you are operating this Twilio API platform.
What General manager of voice and video at Twilio say?
The general manager is Hakim Mehmood and he says, "The rise of virtual experiences and the popularity of platforms like Clubhouse and TikTok has signaled that the next big channel for customer engagement is live audio and live streaming."
"Twilio lives gives businesses the building blocks they need to create personalized experiences for their communities and interact with millions of customers in a fresh and exciting way."
Companies can build live streaming experiences that are magnificent for their brand. It is not for only 2-3 industries as this API is a complete package of benefits for all-size businesses today.
Integrate it with your best new or existing application
The platform is providing APIs, SDKs, and sample code for Android and IOS
It will provide iron-tight security and privacy for entire cloud-based services
Some top-notch brands such as Reddit and Weve are using it.
Beneficial for Live shopping and Education institutions
Famous brands are providing live shopping and they have accelerated the marketing experience for customers. When you choose such an API platform of Twilio software you can present your products in a great way to valuable customers. It will connect shoppers and hosts via online chat. This is also crystal clear that live shopping has high production quality.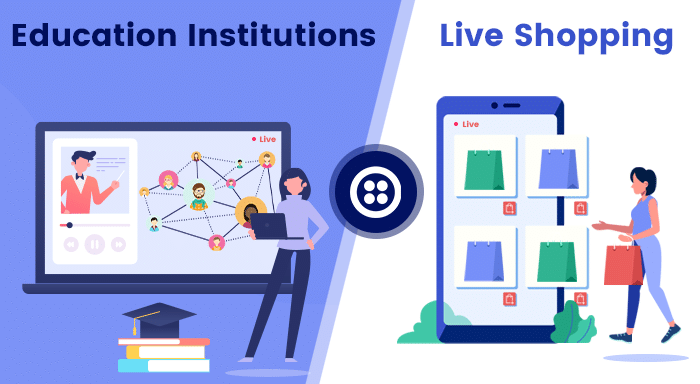 If we talk about education and training institutes then they are always worried about class size and engagement level. Well, a large number of students daily engage with you but that doesn't mean you have to teach to selected people for better engagement.
Strive for this API Twilio platform to enable your business to support an endless number of students with no difficulty. It saves huge dollars and makes education accessible. If your institute works on online seminars then you don't need to jump into any other traditional technology.
More capability of this API platform
It can save audio and video in real-time
This live streaming software provides streamer API with low latency to web clients or external channel
Pricing chart of Twilio live software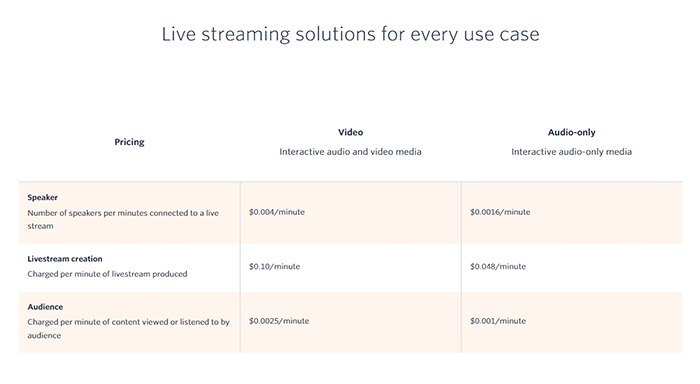 Let's sum it up: These days, real-time video and audio communication are best for business. Audiences love to communicate with every brand in this way as they find it more comfortable and seamless. Twilio prepared the best API platform called Twilio live which is a complete example of raising customer engagement. This customizable software promises to provide a live streaming experience to all companies. A user can sync with their own application to enjoy a video conference experience. Use this platform first for countless audiences at an affordable rate. Good luck!