Whenever it's about mentioning open-source Customer Relationship Management software then we always put a spotlight on the "SuiteCRM" which has a specialty of this. Even we are very well aware of its upgrade and some amazing features which never halt business growth. Now the big news for you all is SuiteCRM 8 is coming soon this year.
Working in the CRM industry professionally then you all must be aware of the upgrade and any changes that you need to do. Why? It can be very helpful in your coming days like no one wants to work with the vintage system as everyone needs to change it with stellar features. This is what SuiteCRM software did as they are soon presenting SuiteCRM latest version and that is SuiteCRM version 8. Hope you are aware of its previous version that how superior features it presented for smoothening your business activities like 360-degree view, integration matter, community and much more.
The question is what new process or what new changes you will check out when you work with SuiteCRM 8? We believe that it will bring up some outstanding functions that can be easy for you to work better for your CRM business. We are going to uncover some crucial information that we get to know about this new version of SuiteCRM. We will start with the basic
What new concepts are ready to come in SuiteCRM 8.0?
We researched and got some information about this new version that they are looking to present for the users.
First is about User experience as the team of SuiteCRM software ready to enrich the user experience and even they are looking to share an interface that you will definitely like. For this SuiteCRM latest version, they have designed the front-end application perfectly where it enables users to do the task more swiftly without any issue. This is not only just about making it look better but also regarding the user work.
This can be new for most of you as they have introduced the Core framework for all users which is easy for deprecation regarding residual SugarCRM contribution just from the codebase. How about maintaining the application? It is possible now with some great features.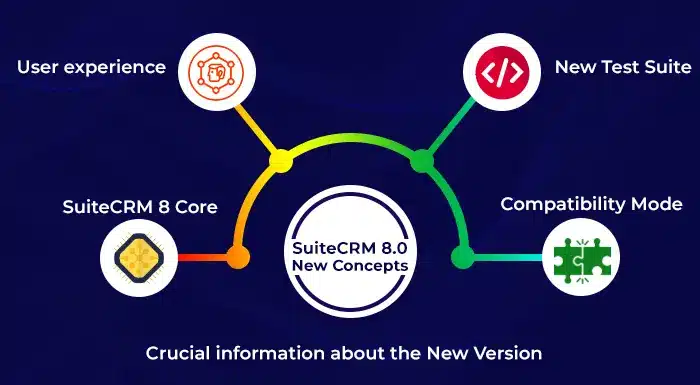 An introduction of compatibility mode
This time in the SuiteCRM 8.0 version they are presenting a compatibility mode where you have a chance to select from the view and module which also be rendered on the new angular engine. It will also be referenced from the version SuiteCRM 7.
They are giving their best regarding the design value so that it looks something different in comparison with other versions of SuiteCRM. We are keen to share one more thing that they are also ready to present a new test suite for Angular UI and also SuiteCRM 8 Core.
Four aspects of SuiteCRM 8 Alpha, check what they are introducing
More information we got about SuiteCRM 8 Alpha and there are four aspects they are looking to present something new. Have a look at that-
SuiteCRM 8 Base and Legacy handler
First, SuiteCRM 8 Base and Legacy handler and the changes they are bringing up are-

Angular UI Template
GraphQL API
Decoupling of SuiteCRM 8 Front end and Back end
Multi-language support
Seamless integration with SuiteCRM 8
SuiteCRM 8 Alpha List View
Moving on to the next aspect of this SuiteCRM latest version and that is ListView and they will share-

New List view UI
List view charts
List view pagination
New Basic filter design
New fields rendering in Angular
SuiteCRM 8 Alpha Record View
The next is about the Record view and here the new things were-

New Angular UI
Record view widgets
Status bar widgets
New history timeline
Sub-Panel insights
SuiteCRM 8.0 Beta phase
And the last aspect is the Beta phase, so let's see what changes you will watch-

Kanban view
Saved filters
Non-core bulk action
Extension framework
List view actions
What's more insight you need to understand?
Not only the above details the team informed its users but also they have shared more such information that every SuiteCRM user should know. Like the first thing is this SuiteCRM latest version always stays as open-source as you will get full control over there. Their code is always available free to use for anyone and there are no such license fees.
Secondly, they informed about the integration matter. You know the importance of Integration these days to ease your problems. Therefore, the product will be easy to integrate to promote innovation with the community. And last but not least, they also expound that they are introducing self-service and easy to customize products where there is no need to learn some highly advanced technical knowledge.
Final word
It's important for your business to choose what is best for business and if we mention open-source software then, of course, you will run there first to get a seamless experience. One of the CRM software open-source and that is SuiteCRM which has bundled advantages to give you a perfect result-driven solution. And this year they are ready to launch their new SuiteCRM version 8 for you all that can be very interesting regarding its features and big changes. Nevertheless, we got some information about this version and we have presented above that what they are looking to bring. If we get any update further, we will inform you.