Businesses of all sizes are switching to automation for enhanced workflows and productivity. Similarly for appointment scheduling also businesses are switching to automation. Appointment scheduling is much more than just scheduling an appointment it can send notifications to your team members and clients, and it can also help you receive online payments.
It is usually done by using booking forms. It is similar to web forms. Web forms automate the appointment scheduling process, capturing leads, and customer surveys. The booking form is solely used to book appointments and meetings. It organizes all the information that the customer needs before the meeting and it also avoids overbooking. This way the process becomes more effective and customers are delighted. The meetings are also automatically organized in your Calendar.
Appointment scheduling is the management of scheduling your online meetings or appointments. It enhances the contact between a business and its customers and clients.
Benefits of Automated Meeting Scheduling
You can configure appointments according to the requirements and preferences of the user.
You can check the availability of each user for the appointment. And accordingly, make the most suitable arrangement. This also reduces appointment overlapping
Your customers and clients can check availability against already scheduled appointments.
Cancellation and rescheduling is easy. So even if ardent available on that particular time it's not a big deal.
Increase lead generation and conversion rate.
Must have Features of Appointment Scheduling
Notification to recipients
You have to send notifications to your recipients. By sending notifications your team will be better prepared for the meeting.
You should allow the rescheduling of your meeting to make your clients realize that your business understands their needs.
Contact details in the Confirmation Message
You must add contact details in the confirmation message of the meeting.
The time and meeting platform link etc. You should also tell them the medium through which they can contact you like phone, email, live chat, etc. if your client or team members need more information. Then there should be an option of rescheduling the appointment.
For in-person meetings, add a Google Maps with directions in your online form. Also, send the address to the client in your confirmation message. For online meetings, send the meeting platform's link. Also with the confirmation message link include other information, like the client's name, the time of the meeting, etc send them the person details who from your team is responsible for contacting the client, so your client knows with whom they will be talking to.
You should be able to customize the appointment page according to your requirements and preferences. Your clients will like it more when the online forms are personalized for them.
Sharing of appointment page in multiple ways
You should be able to share appointment links with your contacts in multiple ways. Either you can send them personally or embed them on your website and social media channels to accept appointments.
Use Cases of Appointment Scheduling Software
All professionals now use online meetings and online appointments. Dentists, hairdressers, psychologists, etc. use booking hours for booking their appointments. For that, they use online booking forms containing all the required fields. They add a booking form on their website or application. The appointments can be of various types. Then an automatic confirmation with a thank you note is sent to you. You can even add a payment option to it.
Many a time you need conversations with your team for discussions about your organization. Working from home is common nowadays. Hence online meetings are very convenient for owners and employees. You can simply send invitations to the people you want in your meeting. Also, you can build a form asking for attendance from participants. You can use software for appointment scheduling or integrate with application with applications like Google Calendar and Zoom.
Due to the pandemic work from home has come into play and continues today to a great extent. Similarly, online interviews are also widespread now. This way you can take interviews from anywhere across the globe. You can create an online form asking the candidates to fill in their details and the time they will be giving the interview. If the candidate clears the first round and makes it to the second round. Then you can send them another form. This process continues.
Webinars and Online Classes
During the pandemic, online classes become very prevalent. Many long-distance education now also offer online classes. Free webinars are a great method to generate more leads and convert them into customers. After a successful webinar, some of the attendees convert into your clients. You can invite people for free webinars and online classes by creating proper online forms.
How to Create Meetings using SuiteCRM Email to Anything?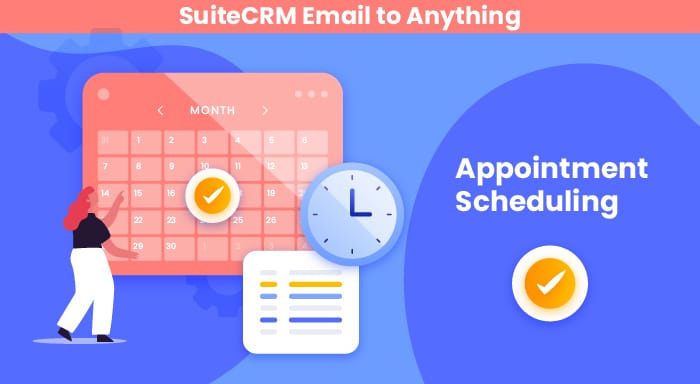 Suppose you have a web form on your website through which visitors can fill out and submit their information. In the form, you can ask for information like name, contact information, purpose of meeting, etc.
In the Email to Anything Receiver settings, choose the primary module as leads and the secondary as meetings.
When a visitor fills out and submits the form, the information will be sent to an email.
Our SuiteCRM Email to Anything will parse all the information from the email and create a lead by the recipient's name and a meeting.
After that, an agent could reschedule or confirm the meeting and notify all recipients through email or SMS.
Just like this, SuiteCRM Email to Anything automates your appointment scheduling workflow.
So, don't wait any longer—start simplifying your scheduling process and improving your overall efficiency by implementing an appointment scheduling tool. Your time is valuable, and with the right tool, you can make the most of it. Try one out today and experience the convenience and productivity it can bring to your life.
Conclusion
In conclusion, using an appointment scheduling tool can revolutionize the way you manage your time, streamline your business, and enhance your customer experience. Whether you're a busy professional, a small business owner, or part of a large organization, this technology offers numerous benefits. Consider integrating an appointment scheduling tool into your workflow today. Whether you're a healthcare provider, a salon owner, a consultant, or anyone who needs to manage appointments, this tool can make a significant difference.