The document is the key to any organization, and CRM can facilitate to grow of your organization. Everyone desires to transfer multiple documents in a single click. However, SuiteCRM document module uploads just one document in a single click. Don't worry we've got created an addon known as SuiteCRM Document Bulk Uploader that will be available for you.
Overview
SuiteCRM Document Bulk Uploader is the plugin for SuiteCRM. It helps the user to transfer quite one document on a single click. It helps the user to visualize the transfer standing of the chosen documents. Document Bulk Uploader supports all kinds of modules of CRM.
Key Features
Upload multiple documents in only a single click
Track document upload standing
Show all broken documents and uploaded documents
May save the document on the core document module. Also, the system can auto connected them with the parent record.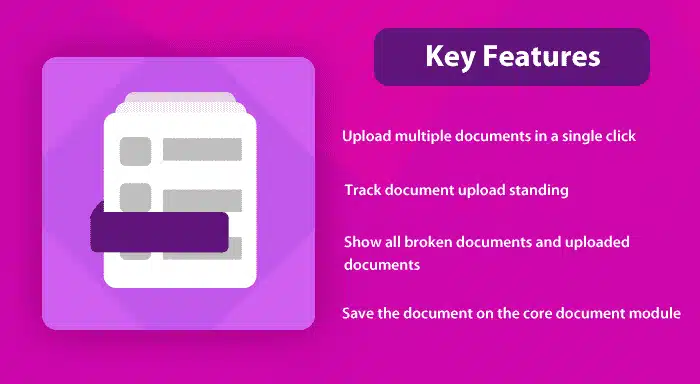 Upload Multiple Bulk Documents in one single click
Time is extremely valuable within the current controlled business world. Time will increase productivity and improves the standard of the work. Document bulk transferer saves the user time having to upload every document one by one. With one click, the user will transfer multiple documents and conjointly track the upload status of selected documents.
The Value of Document Bulk Uploader
The document plays an important role in our life. every document has its own worth. CRM helps the organization to enhance the connection with the customer. The users of the CRM manages all client documents in one place. They perceive each client requirement fully to produce the most effective service. SuiteCRM Document Bulk Uploader saves the time of the user and simples the document upload method for SuiteCRM. The user will transfer the multiple documents of CRM customers in one click.
The extension Document Bulk Uploader is tested at various available versions of SuiteCRM and working awesome on each platform. The installation of this extension is super easy and hassle-free. If you face any issue during installation, there are documentation and installation guides. It is available at the Outright Store.
Please don't forget to give your kind review of the product. You can suggest improving product functionality there. Outright Store always tries to provide the best solution and services to the customers and your reviews are very important to improve the software.
Today, businesses should endeavor for Document bulk uploader extension in their CRM system. If you want to clear more doubts, have a look at the video tutorial of this add-on.